The two-day U.S. Gran Prix of Cyclocross scheduled for this weekend (yes, the same big crazy two-day event as last year) could sport an all-Bend podium.
As was evidenced by this weekend's races in L.A., Bend's pro 'cross racers are in fine form. On Saturday four Bendites finished inside the top 10 of the national level race: Ryan Trebon (2nd); Chris Jones (7th); Adam Craig (8th); Chris Sheppard (9th). Sunday was similar as a Trebon, Jones and Craig all repeated their top-10 performances. Bend's Brennan Wodtli finished inside the top 20 on both days and Barry Wicks took 17th on Saturday.
In the pro women's races, Bend's Serena Bishop Gordon finished 12th on Saturday and 10th on Sunday.
Absent from the races was Alex Candelario, who, like Jones, is another recent Bend transplant who's posted impressive results this 'cross season. Carl Decker was also not in attendance.
But, the most hilarious news of the weekend came from the annual Singlespeed Cyclocross World Championships (SSCXWC), staged in conjunction with the CXLA races.

Wil Matthews
Bend vs. Bend at the SSCXWC in L.A.
In the super-silly and massively fun stand-alone race, Craig pipped Trebon at the line, and with the victory, earned a trip to the tattoo parlor—Craig's second. He also won the singlespeed mountain bike bike world champs a few years back. It too came with a mandatory tattoo prize.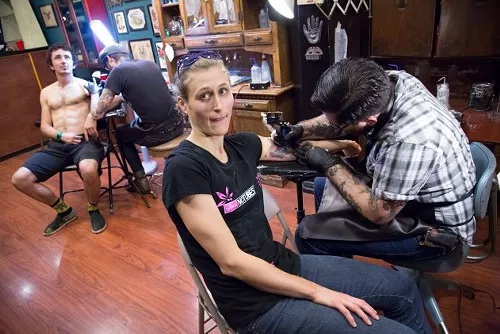 Craig gets his second such victory tattoo.
This bodes well for this weekend's 'cross series finale, the Deschutes Brewery Cup on Dec. 8 and 9. For more info, click on the link.
The amateur races kick off at 8 a.m. Saturday, but the pro men and women don't race until the afternoon (ladies first at 2:15 p.m., both days).