Aurora Borealis in Oregon? You bet your sweet colorful sky! The flickering lights, mostly caused by the sun's radiation, can sometimes be seen up to hundreds of miles from their origins at the poles, but rarely reach as far as our Oregon skies.
Regardless, May 31 was a night of amazing photography opportunities as the colorful lights stretched across the state and we slept right through it! Luckily, someone was paying attention. The video below was taken by Brad Goldpaint, an unassuming photographer at Crater Lake last Friday night, read his explanation below.
I drove to Crater Lake National Park on the night of May 31, 2013 to photograph the Milky Way rising above the rim. I've waited months for the roads to open and spring storms to pass, so I could spend a solitude night with the stars. Near 11pm, I was staring upward towards a clear night sky when suddenly, without warning, an unmistakable faint glow of the aurora borealis began erupting in front of me. I quickly packed up my gear, hiked down to my truck, and sped to a north facing location. With adrenaline pumping, I raced to the edge of the caldera, set up a time-lapse sequence, and watched the northern lights dance until sunrise. The moon rose around 2am and blanketed the surrounding landscape with a faint glow, adding depth and texture to the shot. The last image in the sequence above shows the route of the International Space Station (ISS) which flew over at 2:35am. —Brad Goldpaint, Goldpaint Photography
And the lights were visible even closer to home. The Source received this photograph submission from Jason Brownlee, shot at Sparks Lake on the same night.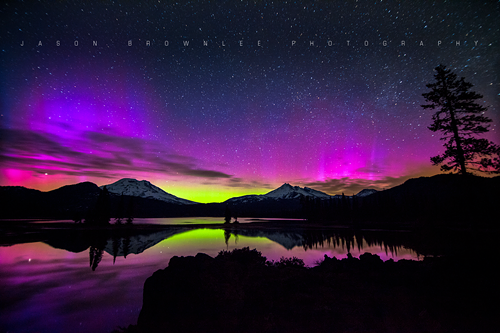 Last night I was lucky enough to be out under the stars and away from light pollution and got to watch a rare show for those of us living in Oregon.—Jason Brownlee, Jason Brownlee Photography and Design