When it's gorgeous outside, Central Oregonians need little additional reason to sit out and sip something delish. Here's where to get your slice of patio heaven.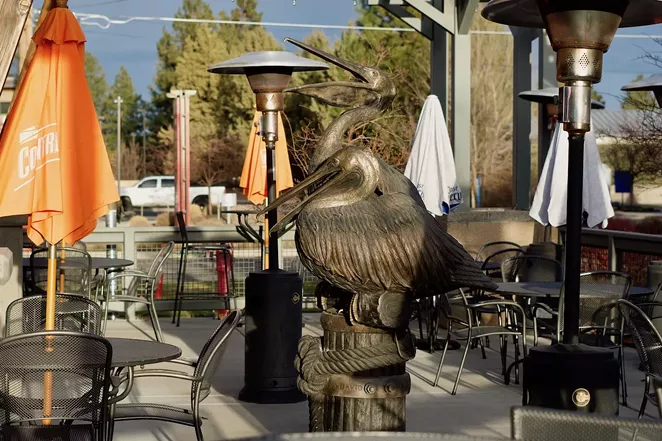 Grant Woods // Source Weekly
Baltazar's Seafood Restaurant
Any patio well stocked with chips and salsa, fresh guacamole, plenty of beverages, and a good host, is a solid place to hang out. With warmer weather on the horizon, the outdoor dining area at Baltazar's Seafood Restaurant will be buzzing. Feel free to stay after sunset, there are plenty of traditional Mexican serapes to keep you warm.
1455 SW Knoll Ave., Bend
541-382-6622
facebook.com/BaltazarsBend/
Sunriver Resort // submitted
The Backyard at Sunriver Resort
The outdoor seating at this Sunriver spot has views that go on for miles. If a patio with an endless and open view isn't enough, Carson's has a menu boasting burgers, sandwiches, soups, salads and much more. This isn't a place for a rushed meal. Relax and take it all in.
17600 Center Dr., Sunriver
541-593-3790
destinationhotels.com/sunriverresort
Keely Damara // Source Weekly
McKay Cottage
Restaurant For eight years running, McKay's Cottage has been voted the best breakfast in Central Oregon in the Source's Best Of readers poll. The restaurant and its friendly staff serve both breakfast and lunch.
62910 O.B. Riley Rd., Bend
541-383-2697
themckaycottage.com
Keely Damara // Source Weekly
Bangers & Brews
Looking for a patio suitable for the whole family? Look no further. This restaurant serves "Gourmet sausages with an Argentinean flair." Local ingredients, meals made from scratch, and plenty of fresh air. When it's time to leave, grab a jar of Grandma's Homemade Chimichurri.
1288 SW Simpson Ave., Bend
541-389-2050
bangersandbrews.com
Grant Woods // Source Weekly
The Lot
Sit on the heated benches and pick from an assortment of food truck cuisines. The Lot is a compact spot that offers plenty for everyone. Live music, beer and kombucha on tap, and always vivacious. The Lot is a top-notch patio for all four seasons.
745 NW Columbia St., Bend
541-610-4969
thelotbend.com
Chris Miller // Source Weekly
Wild Ride Brewing
With great beers and a host of food carts posted up around the patio, you can't get much better on a summer's day in Redmond.
332 SW 5th St., Redmond
541-516-8544
wildridebrew.com
Keely Damara // Source Weekly
Sisters Coffee Company
With delightful, locally-roasted coffees as well as inspired sandwiches and snacks, this is a patio worth chilling on—at least till 6 pm.
273 W. Hood Ave., Sisters
541-549-0527
sisterscoffee.com
Keely Damara // Source Weekly
Worthy Brewing Company
The grand daddy patio space on the deep east side of Bend, featuring multiple levels of outdoor seating, live music and a lovely demonstration garden to boot.
495 NE Bellevue Dr., Bend
541-639-4776
worthybrewing.com
Grant Woods // Source Weekly
McMenamins Old St. Francis School
It's not an easy task, transitioning from an old Catholic schoolhouse into a place where everyone wants to hang out. The patio at McMenamins is awesome. The fire pits are plentiful and well stocked with wood. To understand how movies, live music, soaking tubs, outdoor dining, and secret bars work in cohesion, you'll have to see for yourself.
700 NW Bond St., Bend
541-330-8563
mcmenamins.com/old-st-francis
Grant Woods // Source Weekly
Spoken Moto
One of the most versatile patios on the list. Spoken Moto is a great place for coffee, beer, food, motorbikes and even studying. Somehow the open design and patio setup allows for all of these activities to coexist. There are several food truck options, and even the dogs are welcome.
310 SW Industrial Way, Bend
541-306-6689
spokenmoto.com
Keely Damara // Source Weekly
10 Barrel (West)
A patio that has it all— an outdoor bar, plenty of seating, a fire pit for cool summer nights, and it's dog-friendly. 10 Barrel on the west side has plenty of outdoor space for the four and two-legged patrons. Enjoy the beer options, fill up on great food, and get your puppy fix all at once.
1135 NW Galveston Ave., Bend
541-678-5228
10barrel.com
Cabin 22 // submitted
Cabin 22
Named Best Patio in our 2017 Best Of readers poll, this expansive patio features giant fire pits that make it inviting during those cool winter days, as well as the often-chilly high desert summer nights. Conveniently located just off Century Drive as you descend the mountain, it's an easy stop for sipping and chilling.
25 SW Century Dr., Bend
541-306-3322
cabin22bend.com
Grant Woods // Source Weekly