About 3.65 percent of people reported biking to work in Bend in 2016, according to U.S. Census data published by the City of Bend. That figure was up from 2009, when just 2.4 percent of Bendites reported riding to work. Still, it's a far cry from some other cities. Corvallis, Ore., for example, boasted a rate of 11.2 percent in 2012. Even often-humid, or often-frigid Minneapolis, Minn., beat out hyper-athletic Bend, at a rate of 4.1 percent in 2012.
Keely Damara
The 20/40/60 team sets out from the Source office to navigate the mean streets of Bend.
While Bend has no shortage of cyclists, many simply don't commute. Why? Cyclists we talked to report not feeling safe on the streets.
In its 2018 Assessment of Bicycling in Bend, the City of Bend found that the city has a number of "low stress islands" where people generally feel safe riding—but those areas are separated from one another by high-stress zones or areas missing bike facilities all together.
These days, the best-practice methodology for developing bikeways and encouraging people to use active transportation centers around analyzing "levels of traffic stress," or in other words, how stressed people feel when riding in certain situations. "LTS4," for example, involves interacting with high-speed traffic—such as riding along a roadway with four vehicle lanes and no bike lane. That's something just 1 percent of the community would feel comfortable doing, according to the City of Bend's Assessment. "LTS1," on the other hand, involves paths or trails that are completely separate from traffic (or routes on a neighborhood street) where an estimated 90 to 95 percent of people would feel comfortable riding. LST2 typically involves a bike lane that's "comfortably separated from traffic."
As part of its soon-to-be-updated Transportation System Plan, Bend's Citywide Transportation Advisory Committee has been looking at draft policies that include proposals to close the gaps between those low-stress islands. The Bend Park and Recreation District could also play a role. Last year, BPRD released its comprehensive plan, which called for a more connected trail network to help people get around the city, away from roads.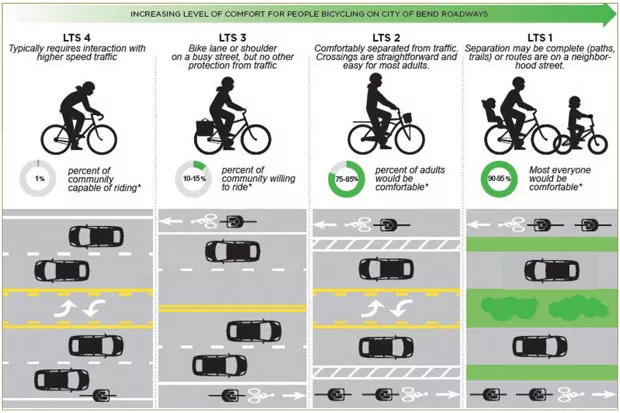 City of Bend
Adopted as Best Practice by the Oregon Department of Transportation in 2018, the City of Bend also uses the "Levels of Traffic Stress" model.
In honor of the Bike Issue, a Source team consisting of a 20-something, 40-something and 60-something rode parts of the current Low-Stress Network. (Generally, low-stress is identified as LTS1 and LTS2 areas.)
Here are our impressions of where Bend's bike infrastructure stands today.
Source intern Bron Wickum, 20-something
As someone who was born and raised in Oregon, I'm accustomed to bike travel—but usually there are four windows, a metal frame and an engine around me as I navigate about town. This time I was on the outside looking in. Yes, it's true, for one day I was convinced to ride a two-wheeled contraption powered by my legs as a means of transportation. I haven't been on a bike in six years, but once I channeled the mechanics of my 8-year-old, speedster self, (and received some light coaching from Nicole) I enjoyed the ride.
The wind in my face, the cars zipping by on Greenwood, going through tunnels and around Pilot Butte. Everything was going so smoothly—and then there it was: the hill. By far the hardest part of the ride, Nicole stormed ahead. Being the youngest on the ride I had to—at the bare minimum—keep up. I pedaled hard and by the time I reached the top I was gassed. As we made our way down the hill one thing took me by surprise: how quickly we were able to travel. We weaved through streets and took short cuts through neighborhoods that were far less stressful than the busier roads. At the end of the day I didn't get hit, and that's good for my stress levels.
Source Editor Nicole Vulcan, 40-something
I admit it, Benditos: I am one of those Portlandia-style commuters who don't really get why you insist on driving downtown, 10 minutes from your home, only to circle around looking for parking for 10 minutes or more, when you could ride or walk down and cut down on parking woes at the same time.
Still, in asking our intern to come along for this ride, I was aiming to see Bend's bike network through the eyes of someone who doesn't ride it every day: The multiple, vulnerable crossings of Third Street, the unprotected bike lanes with only faded pieces of Thermoplast between us and giant trucks revving their engines, the drivers who race up to your back tire while you're taking the lane through a roundabout. It can be scary, for sure. City cycling requires full-on defensive riding.
Seeing it through Bron's eyes, I'd wager to say that Bend's low-stress network of bike lanes is actually more high-stress than the map indicates. It isn't very low-stress for unsure adult cyclists—or kids, or teens who don't know the rules of the road—to navigate a bike lane next to the road, slow speed limit or not. In exploring the low-stress network, we found that much of it actually falls into that category: lower-stress, maybe... but not devoid of stress.
High points of the network include riding the Larkspur Trail that goes away from the road and circles the base of Pilot Butte on its east side, and later, on my own, riding West Bend Trail, a 2.3-mile stretch that lets riders ride separate from the road, parallel to Skyliners Road. Both of those trails are part of Bend Parks' current trail network, providing a much-needed respite from the streets. Bend's leadership is going in the right direction by first identifying this low-stress network and then making a plan to broaden the network. For now, though, it's anything but low-stress for new riders.
Copy Editor Richard Sitts, 60-something
As a longtime bicycle lover, I welcomed the opportunity to ride some recommended bike routes around our fair burg. It was a fine way to spin away a chunk of the first truly balmy Friday afternoon of spring. We followed the city map as best we could but chose to improvise at times.
We ended up pedaling about an 8-mile loop around town, incorporating the low-stress network of suggested roads and bike paths. My riding homies let the old man set the pace, so off we set from the Source office, sashaying north toward Pilot Butte, via Franklin Avenue and residential streets along the way. On Greenwood, we eschewed the cinder-carpeted bike lane for the smooth sidewalk, and in front of Lava Lanes, hooked up with the Larkspur Trail, and eventually cut over to Pilot Butte Middle School.
Nicole Vulcan
Source Staffers Bron Wickum and Richard Sitts.
Kind cars stopped and let us cross Neff, followed by a long coast down Revere toward Riverbend Park, onto Portland and over to Newport, where a roundabout spit us out westbound toward a refreshment at The Lot. From there, it was an easy roll through the Old Town neighborhoods back to the office. I found that the suggested map routes built in too many left-hand turns, which I try to avoid. We easy riders preferred mellow residential streets to busier streets with marked bike lanes. Nicole and I are regular bike commuters, so it was fun to show Bron that it can be fun to pedal around town. I encourage every able-bodied woman, man and child to give it a go.
Bend's Citywide Transportation Advisory Committee was scheduled to discuss the city's draft bicycle and pedestrian policies, along with other elements of the transportation plan, at its meeting April 24.
Stay updated on the City's Transportation System Plan—which involves much more than bike infrastructure—at: bendoregon.gov/city-projects/transportation-system-plan. Check out Bend Parks' current trail network at: bendparksandrec.org/parks-trails/trail-locator.