Editor Nicole Vulcan taking a swing at the ol' Pickleball
Now that all the Wimbledon stuff has died down, the world can stop talking about tennis, and focus instead on the number-one growing racquet sport in the nation: pickleball.
People love the sport; perhaps even disproportionally so in Central Oregon, where the Bend Pickleball Club boasts on its website as having over 2,500 members. The website of Cascade Indoor Sports, soon to open a private indoor pickleball-slash-trampoline facility in northeast Bend, recalls how club members, a few short years ago, used to sneak onto the tennis courts at Pine Nursery Park, eventually working out a deal with Bend Park & Recreation District to build dedicated courts. The District offered the land for the courts; the club raised half the funds to build them. According to that account, the club went from 84 to 350 members in one year.
Christie Gestvang shows Anne Pick and Richard Sitts the ins and outs of Pickleball
With membership soaring and the club set to host the U.S.A. Pickleball Association's Pacific Northwest Regionals Aug. 10 to 13, we set out to find out what all the fuss is about. Christie Gestvang, Central Oregon ambassador for the U.S.A. Pickleball Club and owner of accessories/instruction company Pickleball Dawg, was happy to oblige, meeting us on Sunday morning for a primer.
The first lesson: Pickleball is a combination of racquetball, ping pong and tennis... and it's a lot more fun than watching Wimbledon on TV.
Anne Pick, 20-something-ish
I'll be honest, despite being the youngest, I considered myself to have the greatest disadvantage when it came to pickleball. Racquet sports have never been my forte. I think it's the hand-eye coordination element, which is the same reason I'm not successful at video games. Or maybe there's just too much space in my brain taken up by song lyrics.
The day started out with me aimlessly driving around the parking lot at Pine Nursery Park. When I finally stopped and asked two lovely women where I could find the pickleball courts, the first woman gleefully responded, "Oh! I love pickleball!" Once I found my way there, Richard, Nicole and I met with Christie who taught us the basics, the history of the sport and offered information about the Bend Pickleball Club. I was stunned to find out the club has 650 paying members! I'd heard ramblings about pickleball throughout the office, but had no idea it was this popular.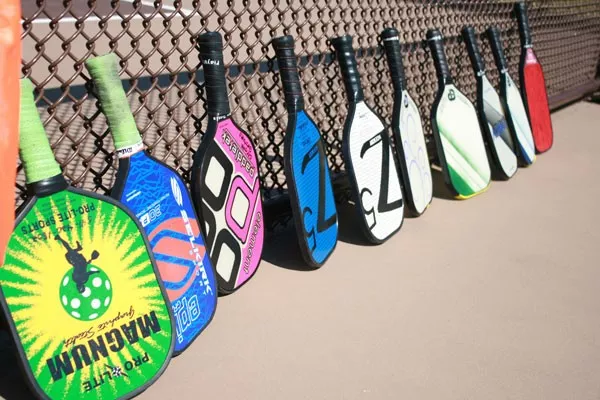 Racquets come in all shapes and sizes.
The rules seemed simple enough, and one thing Christie said that resonated with me was that the game was created based in fairness—which I love. I'm generally not that competitive, unless you ask one of my sisters, that is. Rules designed for fair play and making games fun definitely stuck out as a great reason to take up pickleball.
Christie had to keep telling me to keep my wrist straight. Taking that kind of instruction can be difficult for me, as my brain doesn't compute that way (see above). By the end, she complimented my strokes. Despite losing to her and Nicole twice, I came out feeling confident in the game I'd just learned to play. I don't know if I'll ever play pickleball again, but I would definitely love to introduce the sport to my mom.
Nicole Vulcan, (almost) 40-something
I grew up next to a neighbor with a tennis court, where every summer, my mother would send us over to take our turns attending Jean Nash's tennis camp. While my sisters and I didn't emerge victorious tennis pros, Williams sisters style, I'm sure my mother had a great time sipping margaritas with us kids out of her hair.
The point: I have a little experience on the tennis court—which meant that I was ready to crush some serves over the net at my opponents on the pickleball court. My mistake. Pickleball doesn't require the force of tennis, especially on the serve. Where tennis can involve an overhand serve that sees the ball howling over the net, pickleball serves are underhand. They can howl a bit too, but with a smaller court than tennis, and a light, plastic whiffle ball, it's not quite so much. In fact, "dinking" the ball, as in, hitting it just enough to "dink" it over the net, close-in, is the money shot in this game, not the hard hit.
Unless someone is serving toward you, pickleball is largely played near the "kitchen," the line closest the net. While you'll need agility to shuffle across the court, you're not likely to suffer extreme rotator cuff or elbow injuries with pickleball. It's just more mellow—and with my nearing-40 body suffering silly, lingering injuries on the reg, that's a good thing.
On sweltering, humid summer nights in small-town southeast Kansas, there wasn't a lot for high schoolers to do on Friday and Saturday nights besides hang out at the lighted asphalt tennis courts in the city park. Rather than burning gas and cruising the repetitive loop through town, we'd work up a dank sweat on those dark, muggy nights. Slurpies were our salvation!
Richard Sitts, 60-something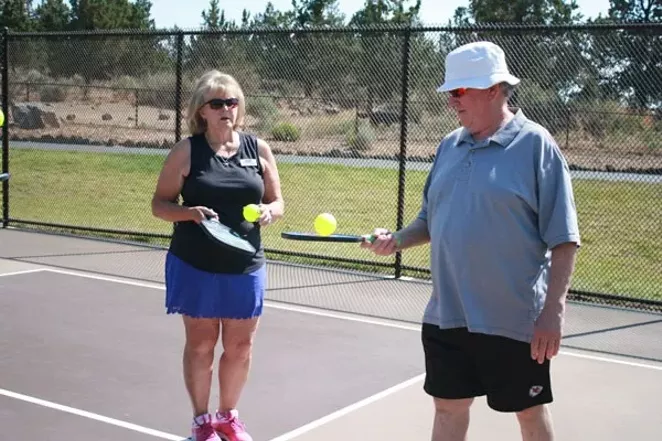 Richard Sitts practicing his agility
Who knew that tennis experience would come in handy 45 years later when I tried out pickleball for the first time. Knocking that baseball-sized plastic ball around brought back ingrained memories of nailing perfect tennis and ping-pong shots. Christie, our pickleball sensei, said that my tennis and ping-pong experience would serve me well. During our two games of doubles (I won't mention the scores—I'm sorry, Ann, you deserved better) I hit many more bad shots than good, but I could see myself getting better at this game and having fun doing so. I liked how pickleball concentrates the fun of tennis and ping-pong into a smaller space, thus requiring less movement on my part.

Another thing: Pickleball people are about the friendliest folks you'll come across. Christie could not have been a kinder and more supportive teacher, not to mention a walking encyclopedia of pickleball knowledge. My wife, Floy, dropped by to watch us play, and another pickleball club member, Brian (I didn't catch his last name), reached out and gave her a tutorial on the sport on an adjoining court.
Pickleball wasn't entirely foreign to me; I wrote a story about it several years ago, back when it appeared to be an activity geared toward older participants. But now, it's ON for all ages. Even former pro tennis players are lunging into the sport.
It's fun, you can play at your own speed, and there's an informal vibe that is welcoming. And bottom line, it just seems like a great way to get some fresh air and exercise with minimal wear on the bod.
Pickleball Zone Bend USAPA PNW Regional tournament
Aug. 10-13
Pine Nursery Park
Places to play:
Larkspur Park
1700 SE Reed Market Rd., Bend (Bring your own net)


Pine Nursery Park
3750 NE Purcell Blvd., Bend
Organized play through Bend Pickleball Club Mon.-Sat. 7am-12:30pm; courts also open to the public


Ponderosa Park
225 SE 15th St., Bend (Bring your own net)


Quail Park
2755 NW Regency St., Bend

Summit Park
1150 NE Promontory Dr., Bend

La Pine Community Center (indoor)
16405 1st St., La Pine ($2 drop-in fee)

Sam Johnson Park
333 SW 15th St., Redmond

Other private facilities available; check BendPickleballClub.com for more courts.