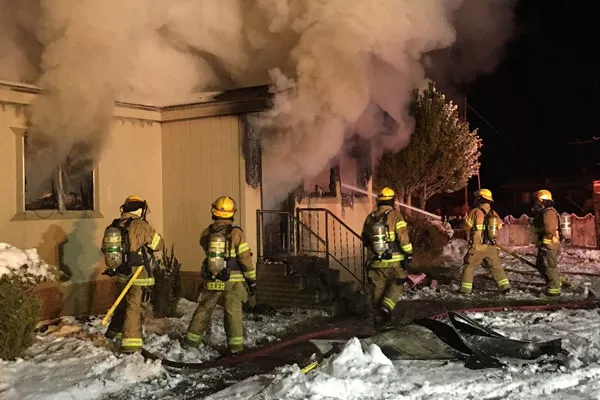 Courtesy of Deschutes County Sheriff's Office
Everyone safely escaped this Feb. 24 fire that destroyed a home in Sisters.
On Sunday, Feb. 24 a fire engulfed a house in the Panoramic View Estates neighborhood in Sisters. Although the house is a total loss, the homeowners were able to pull their children to safety.
According to the Deschutes County Sheriff's Office, the homeowners heard noises in the bedroom area of the home before finding smoke and flames in their children's bedrooms. They tried to kill the blaze with fire extinguishers, but had to flee wearing only pajamas.
The Sheriff's Office said firefighters from Cloverdale Rural Fire Protection District, Sisters—Camp Sherman Fire District, Black Butte Rural Fire District and the Crooked River Ranch Rural Fire Protection District—all were dispatched to fight the blaze. The City of Bend and Redmond Fire Departments provided backup services while the firefighters worked into the early morning in freezing temperatures to knock down the blaze and investigate the cause.
The Oregon State Fire Marshal's Office has taken over the investigation, and according to the DCSO, the cause is believed to be accidental.