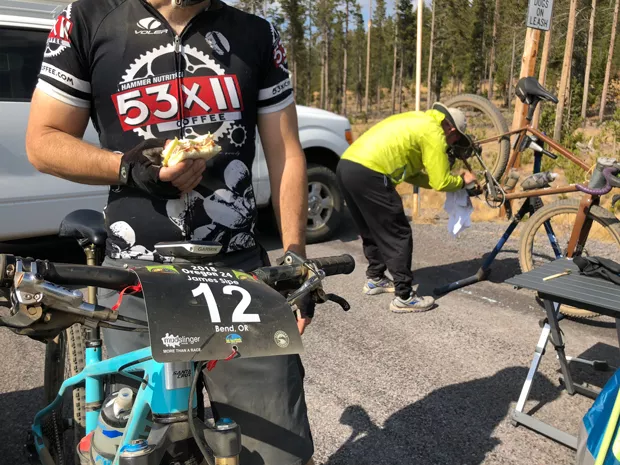 Lisa Sipe
Grabbing a sandwich before heading out for a lap at the Oregon 24.
I scooped the golden pancake with a tiny camp spatula and placed it on a plastic plate. After being up for most of the night supporting my husband, Jim, who was doing a 24-hour mountain bike race, I was starving. The night dipped into the 30s, and I had huddled around our outdoor heater to keep warm while using it to dry some of Jim's sweaty clothes. With the sun up and Jim off on his seventh lap, I was happy to make myself a warm breakfast. I moved the plate of pancakes over to reach the maple syrup. With syrup in hand, I moved the plate back and discovered I had set it on the still-warm grates of the camp stove, the plastic melting into my pancakes. Tears welled up. I ate a cold fig bar.
That was my first year doing support. Since then I've learned a lot about gear, food and shelter, so my current setup is pretty dope. My job is to refill water bottles, make electrolyte beverages, clean sweaty sunglass lenses, charge lights for night laps, provide encouragement—and, most importantly, have food ready. Jim's job is to complete as many 11-mile laps as possible in 24 hours, but he's allowed to take breaks whenever he wants.
He needs to eat 300 to 400 calories per lap, and the majority of the food needs to be consumed on the bike. It's challenging to know how much food to make because I don't know how many laps Jim will be able to do. He's done anywhere from six to 14. When he gets tired his taste changes. One year he only wanted minestrone soup at night; the next he craved potato soup and didn't touch the minestrone.
My camp kitchen included a propane two-burner camp stove, two pots, a frying pan, utensils and a 10-gallon water jug. I've tried reusing pots but found potato soup hardens around the edges, and if Jim has a longer lap the soup thickens into mashed potatoes. With a limited water supply I don't have the luxury of cleaning pots. One year I put soup in plastic bags and reheated it in a large pot of boiling water. The soup didn't thicken, and I could keep reusing the pot, but I had to worry about the bag opening in the water. The next year I discovered vacuum sealing and it changed everything.


Lisa Sipe [race-food-photo-by-lisa-sipe-1.jpg]
By pre-portioning and vacuum sealing meals, feeding an athlete during a race is as simple as boiling water.
Now, before a race I freeze different meals, put them in plastic bags and use the vacuum sealer to provide a leak-proof container. For the recent Oregon 24 at Wanoga Sno-Park I made cream of potato soup, sweet potato burritos, and beef, sweet potato and rice, and potato and cheese two-bite hand pies, and pizza rolls. All the recipes were from the books, "The Feed Zone Cookbook" and "Feed Zone Portables."
In five laps, Jim ate a sweet potato burrito, one-and-a-half turkey sandwiches and a bowl of potato soup. Then he quit. Jim had been ill three weeks before the race and it came back to punch him in the face. Because all the meals were frozen I took them home to use later.
This isn't the only way to eat during an endurance race. I've seen racers consume just energy bars and drinks. Others eat at whatever food cart is at the race. At one event the racer camped across from us ate sugary breakfast cereal in between laps. I offered him a warm bowl of soup in the middle of the night and he took it without hesitation. Eating sweets all day sounds good on paper, but you eventually crave something savory.


race-food-photo-by-lisa-sipe-2.jpg
Hand pies are a perfect portable package.
Endurance food prep is very niche, but anyone can benefit from using a vacuum sealer. Besides freezing prepared meals, you can use it to sous-vide. This method ensures even cooking, retains moisture and prevents overcooking on the outside. The vacuum sealer is also useful if you buy meat in bulk because you can vacuum seal portions while preventing freezer burn.