Ryan LoPilato's first musical project was under the name of Haunted Houses, started around 2009, when he was in high school. LoPilato says he would create and record through a process called "surrealist automatism," which is defined as: "a method of art-making in which the artist suppresses conscious control over the making process, allowing the unconscious mind to have great sway." In laymen's terms, that means a lot of improvisation and being in the moment.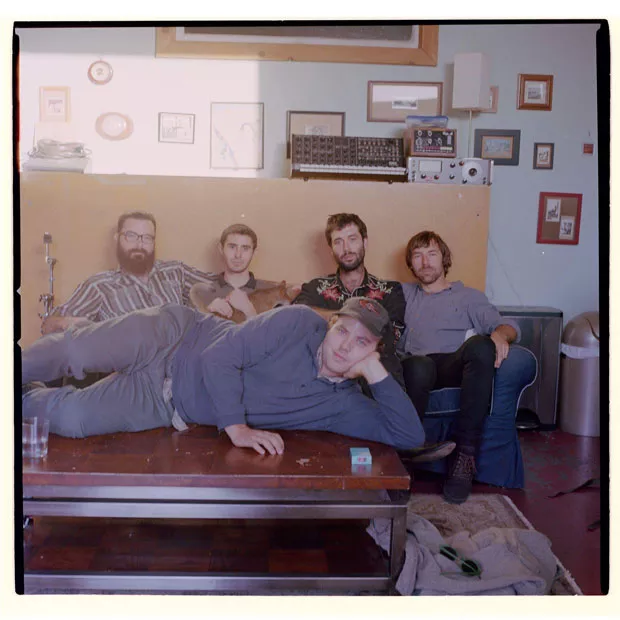 Laura Kiernan
Credit Electric has a single release planned for Feb. 22.
"It was something that was just pouring out of me all the time. Through a lot of – I guess I could say emotional instability or through adolescent angst, or whatever it might be," LoPilato recalls. "Through that I had all this material, just all these ideas flowing through. As I grew older into who am I now, I wanted to really refine the elements of that realness and rawness that was created in these momentary bursts of music."
While in search of this artistic growth, LoPilato was able to find a group of guys in the Bay Area, following his move there from New Jersey. That's when Credit Electric formed. The lineup consists of Cameron Iturri-Carpenter on lead guitar, Evan Hiller on pedal steel, Nathan Smith on bass guitar and Steve Boyd on drums. LoPilato offers vocals and guitar. The current group has been together for just over a year.
"We're a self-described rocking chair band," jokes LoPilato. "But what we're going for? I'm not really sure. I think it's more so just trying to bring something that's really true to our hearts and honest to the table."
Credit Electric's music is something you can get lost in. LoPilato mentioned that it's for the whole spectrum of moods that people feel every day—a pretty spot-on assessment. You can find something for the down days and even something for those minutes spent daydreaming about the one you love. The ambient qualities of Credit Electric's sound are what allow you to really sink in and feel the moment around you as the songs pass by.
"It's very therapeutic for me. I have to do it. There's really no other option," LoPilato says of his always flowing creativity. "It's just really cool to have the support of these four other guys in the band that are killer musicians, that just enable that to blossom and become something greater."
Fireside Show Feat: Credit Electric with Afterlife Revival
Sun., Feb 10. 7pm
The Suttle Lodge & Boathouse
13300 Hwy. 20, Sisters
$12