For fans of a cappella sounds, it doesn't get much better than this.
Thursday marks the start of the festivities, as Naturally 7 opens Bend's fourth annual, three-day A Cappella Festival at the Tower Theatre. Naturally 7, an internationally-renowned vocal ensemble, is known for the way the singers use only their own voices to mimic specific musical instruments including horns, percussion and strings. The group's rendition of Phil Collins' "Feel It (In the Air Tonight)" has received over five million hits on YouTube.
Submitted photo
The University of Oregon's Mind the Gap performs Friday at the Tower.
While some tickets were still available for Friday's "Raise Me Up" event – featuring a joint performance by YouTube phenom Peter Hollens, together with all 14 festival ensemble contestants – all other individual events and full festival passes were sold out at press time. (Find current ticket availability on the festival website.)
On Friday, "An A Cappella Evening" at the Tower will feature performances by local vocals Bend Camerata and University of Oregon's Mind the Gap (a three-time festival Sing-Off winner), followed by the collaborative performance of Peter Hollens' ensemble, doing Josh Groban's "You Raise Me Up." That event will be videotaped and later unveiled on Hollens' YouTube channel, which boasts over two million subscribers. "The whole world can see the Bend audience singing with him," says festival director Carol Rossio.
On Saturday, genre master, producer and teacher Deke Sharon will host the festival finale, "Sing-Off!" in which the 14 participating groups will perform at Summit High School. Sharon founded the Contemporary A Cappella Society and has arranged over 2,000 songs. He was also the vocal arranger and producer for Broadway's first A Cappella musical, "In Transit," according to information on his website. Judged by Naturally 7, one performance group will win a $1,000 Best of Festival prize. A second place, People's Choice winner will receive a $500 prize.
At a post-festival event Sunday, Wanderlust Tours will lead hikers on an easy snowshoe trek through old-growth forest to a natural amphitheater carved out of snow. There, Bend Camerata will perform in the natural, acoustic performance space. Listeners will be treated to warm cocoa, with or without a splash of Hazelnut Espresso Vodka from Crater Lake Spirits. Root beer will also be provided as a non-dairy, non-alcoholic alternative. The "Art In Nature" trek will meet at the tour center at 1pm Sunday.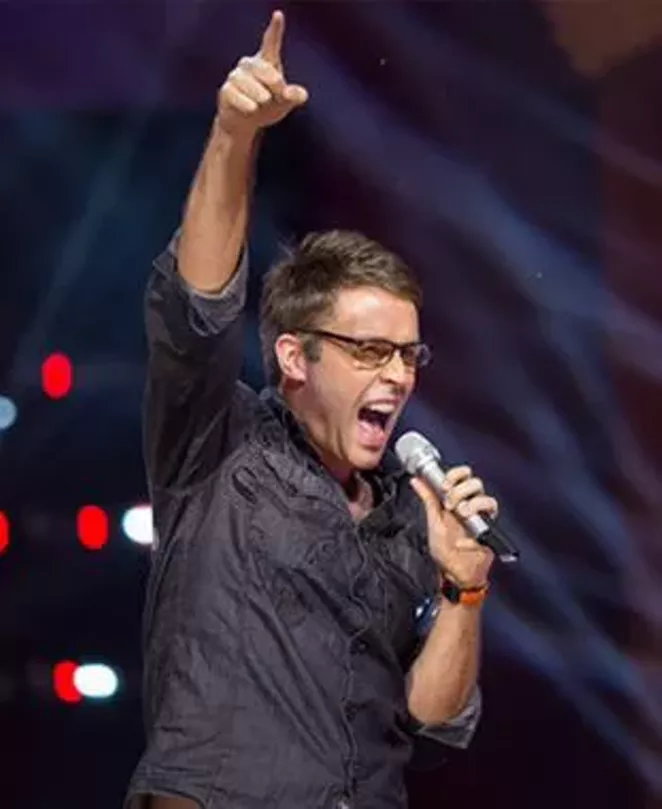 Submitted photo
Deke Sharon will host the "Sing Off!" finale Saturday at Summit High School.
"We'd like to get regional high schools participating," Rossio says of the yearly festival. The organization hopes to involve more area musical groups in future events as performing or educational partners or sponsors. "To have this experience, to learn, perform and interact with these superstars," she says, "it's a once-in-a-lifetime opportunity.
"You never know whose life you're going to touch with something like this. The music is fabulous for these young singers to be exposed to, even if they don't ever pursue a career in music."
A Cappella Festival
Feb. 7, 8 & 9
Tower Theatre
835 NW Wall Street, Bend
towertheatre.org
Prices vary. See bendacappellafestival.com