Submitted
Kids plus fishing equals big-time smiles.
Of the growing number of outdoor educational opportunities for kids in Central Oregon, one program is something of a rite of passage for a Central Oregon spring. The Kokanee Karnival, held at Bend's Shevlin Park, welcomes hundreds of 4th and 5th grade students from schools in Bend, La Pine and Redmond each year. As well as teaching kids how to fish, it teaches fish conservation with an emphasis on the sensitive nature of the fishery in Central Oregon. This year, 50 volunteers worked with 340 kids over six days to close out another year.
The Karnival's roots date back to 1996, when organizations such as the U.S. Fish & Wildlife Service, the Oregon Department of Fish & Wildlife, the Deschutes National Forest, Central Oregon Flyfishers and Sunriver Anglers sponsored a field trip allowing students to observe spawning kokanee salmon. The first kids fishing clinic took place the following spring. By 2000, 10 elementary schools were participating.
Frank Turek serves as chairman of the Kokanee Karnival. "Our goal is to help them become stewards of the environment. They'll become good sportsmen, they'll learn about the environment and do stuff outside instead of video games," he says. It's a hands-on experience for the students, as well. As Turek likes to say, "Tell me, I forget. Show me, I remember. Involve me, I understand."
The Karnival agenda begins with an event that challenges both body and mind, as students learn about salmon and steelhead migration from spawning grounds to the ocean. In a "hook & ladder" obstacle course, they each take on the role of a fish and must negotiate their way past predators, dams and anglers to survive. Teachers and volunteers dress up as predators. The vast majority of the students don't make it through the gauntlet.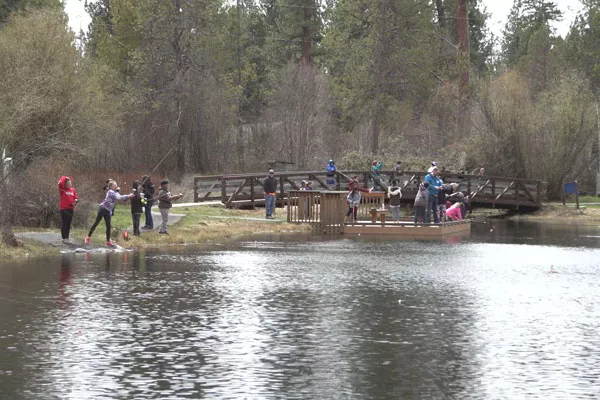 When students see how few fish survive the migration, they're challenged to come up with conservation measures to protect them. "The kids are learning about the salmon, and particularly about the Chinook salmon of the Deschutes River. So, they're learning the different life cycles and habitat needs and, in the case of the salmon, their incredible journey to the ocean and back," says Jennifer Luke, a fish biologist with the Oregon Department of Fish & Wildlife, who adds that it's a priority for kids to have fun. "Not all the kids are going to be lifelong fishermen, but may learn to appreciate the sport and the fisheries in our area."
Students also learn to cast, tie knots and bobbers to their line, and get the ABCs of lures, bait, and flies. They also learn how to care for their catch. To learn about the danger of hypothermia and weather-related dangers, students place their hands in buckets of ice water, soon pulling them out because of the freezing cold. Lesson learned.
Kids from Pine Ridge Elementary in Bend were excited about their recent day at Shevlin Park. Mason Procknow is all smiles, saying he loves to spend time outdoors and go fishing. "It's going to be one of my hobbies for this summer. My Dad and I are planning to go to Odell Lake and catch some mackinaws," he says. Mason says the biggest mackinaw (lake trout) he's caught was 24 inches, which he kept and ate. He also says he loves to fish East Lake for kokanee.
Olivia Sullivan is equally excited about the Kokanee Karnival. "I love being out here. Being in nature and fishing—I love fishing." Olivia has been fishing since she was five, mostly at Shevlin Pond, which is free to kids. "Yes, I catch a lot of fish," she says, adding that she started out with a small pink-colored pole but has moved to more advanced gear as she's gotten older. She soon plans to start fly fishing. For her, the outdoors is magical. "I could have a stick and a rock and I'm happy. I love the outdoors."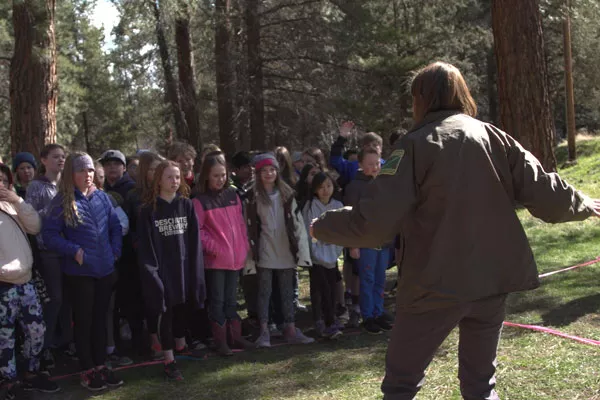 While the fishing was slow on this day of the Kokanee Karnival, not all was lost. Several kids successfully baited hooks, cast to the middle of the pond and reeled in rainbow trout. Karnival chair Frank Turek summed up the efforts.
"So many of the students say it's the first fish they ever caught. They thank us for showing them how to do it, and if they catch a fish we issue them a 'First Fish Certificate' signed by the director of the Oregon Department of Fish & Wildlife," he says.
If they want to keep the fish, Turek cleans them and puts them in a zippered plastic bag so students can take them home. "Some of the fish can be quite big, and students will tell us they had it for dinner that night. That gets them truly interested in fishing."
Central Oregon Daily's Brian Jennings produces "The Great Outdoors," on the air 6 pm Wednesdays on KOHD (ABC) and 7pm on KBNZ (CBS).