Riverbend Brewing Company's latest beer is a classic interpretation of a Northwest IPA. It's clean looking, tastes great, and at 7 percent alcohol by volume, will give drinkers that after-a-hard-day relaxation IPAs are known for.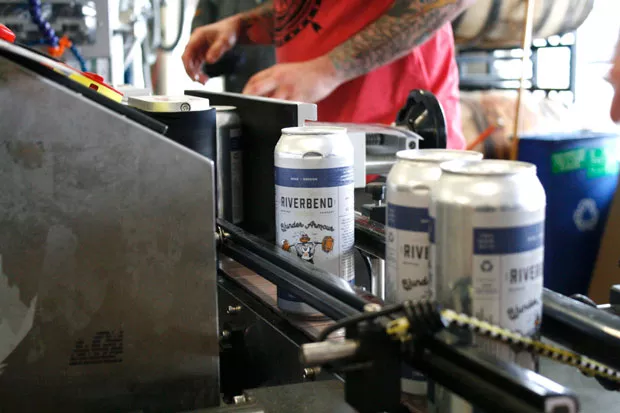 IsaacBiehl
Cans of Riverbend's Blunder Armour roll off the canning line in the war against clothing giant Under Armour.
But it wasn't created just to make another great-tasting IPA. Instead, it was created in part to help out another local business. On Oct. 24, 2018, Bend's Cascade Armory—which designs and sells casual clothes including hoodies, flannel shirts and hats —received a cease and desist order from one of the titans of athletic apparel: Under Armour. Under Armour said Cascade Armory's "use and application constitutes trademark infringement, trademark dilution and or unfair completion under federal and various state laws."
"We've known Alex (Short) from Cascade Armory for many years now," Riverbend's Head Brewer Chasen Schultz told the Source. "He's been a good friend of ours, and we heard about what Under Armour was trying to do to them with the cease and desist orders. We figured this was a great way to help, not only helping financially, but just by helping shine some light on the whole issue of corporate bullying."
Schultz said a portion of sales of every case of 16-ounce cans and kegs sold will go to Cascade Armory's legal fund.
"We're going to continue brewing this beer for the next foreseeable future," Schultz said. "As long as it keeps selling and people keep supporting it, we're going to keep it around."
Isaac Biehl
Riverbend's head brewer, Chasen Schultz loading a case of Blunder Armour at the brewery.
Schultz said each batch of Blunder Armour will be slightly tweaked to keep things interesting. In the first two batches, Schultz said they used a different yeast strain. With future batches, they'll vary dry-hopping, kettle hopping and yeast strains. And, they've put different "code phrases" on the bottom of each can for consumers to check out on social media to find out exactly what's new with each batch.
On April 6, Riverbend, Cascade Armory and the On Tap food cart pod teamed up for the Blunder Armour release party. Short told the Source that Blunder Armour's first keg sold out in record time. In addition, Riverbend sold another keg and many cases of beer. Short said he also sold about $5,000 in clothes at the event.
Chris Miller
Cascade Armory's Alex Short standing next to a pallet of Blunder Armour.
"The support from the community was incredible," Schultz said. "People were buying handfuls of four packs. Just looking around at On Tap, if felt like every other person had something Cascade Armory on."
Schultz said Riverbend canned about 350 cases and 16 kegs of Blunder Armour for its first run. He said the kegs are already gone and that retailers are taking the cans this week.
Even though Riverbend's pub is now closed, the brewery is still producing beer. Beer lovers can find Blunder Armour at select rotating taps around Bend and the packaged beer at Market of Choice, Newport Market, C.E. Lovejoy's Market and Broken Top Bottle Shop. Larger chains, such as Albertsons and Safeway, carry Riverbend's usual suspects.