What holds a child's interest? New studies explore the power of interest and recognize that a child will continue to learn if the subject is engaging. The world presents a wonderful amalgam of ways to spend time. Why not make it personal? Here we interview several focused local kids who are hooked on their thing.

Bram Crocker
Piano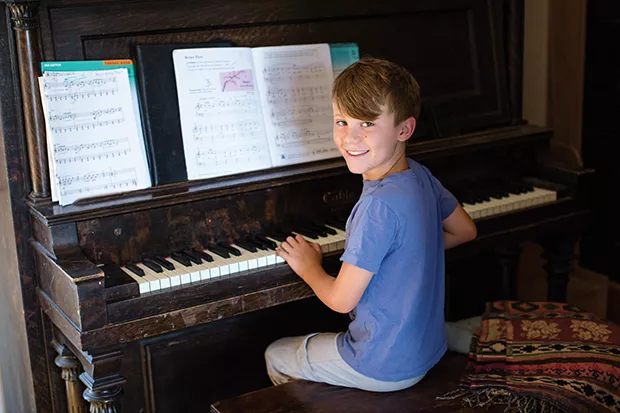 Natalie Stephenson
Bram Crocker
Every morning while his family makes breakfast, Bram Crocker, 10, starts his day by making music. Bram was raised around the color and rhythm of song. During his early childhood, his mom, who also sings and plays the violin, would play the piano at home. As he grew older, Bram started to sit down and play too. At just 6 years of age, he started to pursue the piano more formally. Currently, he takes hour-long lessons once a week, but plays just for fun at least 20 minutes each day.
"I've been playing a traditional Japanese song called Sakura a lot," says Bram, pointing happily to the sheet music perched on the well-loved piano in his family's living room. "I really like how it flows as I play it." It is easy to see just how important music is to Bram within just a few minutes of meeting him. He lights up as he talks about his favorite pianist. "You can feel the music when you listen to Bach. It's strong and intense, and it really moves with me."


Regarding the challenge of playing an instrument, Bram shares, "The hardest thing that I struggle with even now is reading sheet music, especially while trying to look at the notes and the keys at the same time." He mentions that it's always been easier for him to play music by ear by listening to a song and memorizing the keys. Although reading sheet music has been a challenge for Bram, he works hard to get better at it with the help of his musically inclined mom. He also has some advice to give to other kiddos (and to anyone facing a challenge): "If you get stuck, you can always work through it, and it feels great when you finally do. You get better at a song every time you play."
Cooper Stephenson
Fly Fishing

Natalie Stephenson
Cooper Stephenson
Two years ago, 13-year-old Cooper Stephenson discovered just how much fun fly fishing could be. As a young kid, Cooper would go on line fishing trips with his dad and loved every minute of it. His dad eventually introduced Cooper to fly fishing as he got older. "Learning a new and completely different kind of fishing than what I was used to was really fun, and I really liked making flies with my dad," says Cooper. It's probably a safe bet to say that Cooper was quickly hooked!
Lucky for Cooper that he lives in one of the premier spots for fly fishing with some world class rivers in his backyard. He loves to fly fish on the beautiful Metolius River in warmer weather whenever he gets the chance. "It's a really nice atmosphere to fish in, and I usually go with my dad and my grandpa," says Cooper. "I think fly fishing is something I'll continue to do throughout my life."


"This is a difficult one," he says, visibly wracking his brain to figure out the most difficult part of his favorite outdoor activity. "I think it would have to be getting used to casting differently than how you do in line fishing. Fly fishing is definitely more difficult and complex. In regular line fishing, you can just toss your line into the water, but in fly fishing there's a lot more strategy and thought involved." Cooper adds that although challenging to get the hang of, it was a natural transition because he already loved line fishing. "It's something that takes a lot of patience, but also teaches a lot of patience."
Travis Griffiths
Taekwondo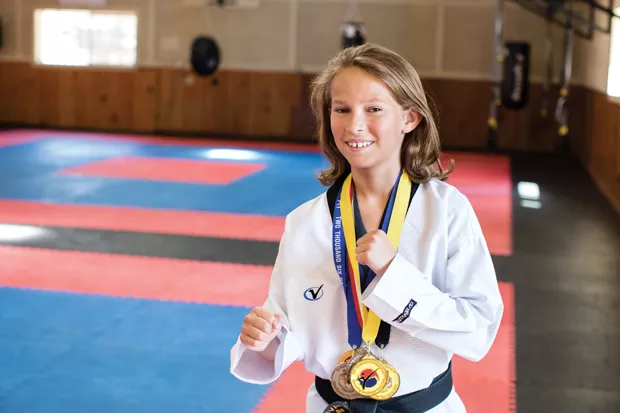 Natalie Stephenson
Travis Griffiths
At the tender age of 12, Travis Griffiths proudly holds a second-degree black belt, something which took him six years of hard work and determination to achieve. "Getting to a black belt has been a big challenge for me. Even when I got tired, it was something I persevered at every day." He explains the process of climbing the ranks of Taekwondo belts, and just how difficult it is to move up. "You can't earn stripes or move on to another belt unless you know how to do everything at that level, which means you have to practice a lot." Travis' passion to excel in what he loves drives him to keep working hard at it.
Regarding advice for other kids interested in getting into Taekwondo, Travis says, "If you want to get good at it, don't miss too many days of training because you'll get rusty." Aside from practicing, Travis filled me in on the hidden secrets of what will really make you stand out in Taekwondo: "Our master always tells us that if we want to stay, we have to get good grades. Doing well in school will actually help you in Taekwondo. Also, it's important to be very respectful and never give up. Taekwondo teaches you a lot about respect, and also that courtesy will win you a lot more fights than the actual fighting."

Travis practices Taekwondo at High Desert Martial Arts at least five times a week, sometimes six. He spends anywhere from two to five hours each day on his skills, depending on if school is in session and what he's practicing. One of the most rewarding parts of Taekwondo in Travis' eyes? Being able to learn, but also being able to teach. "Even if you're not a black belt, you can still teach other kids and help them learn at any level. It's something that you constantly get to learn more about, but you also get to teach at the same time, which is really cool."
Miya Corpstein
Acting


Natalie Stephenson
Miya Corpstein
Miya Corpstein, 15, shines when she talks about her love for the theater. Her dream job is performing on Broadway. "Just being on Broadway, no matter what the show is or what the role is would be absolutely amazing," she says. When she graduates from high school in a few years, she dreams of going to college at The American Musical and Dramatic Academy in New York City, right in the hub of musical theater. "[Broadway is] so inclusive of everyone and is a venue where you can really focus on storytelling and connecting with the audience. That's something that movies can't do."
Wondering if she ever gets stage fright, Miya responds, "Oh yeah! I get nervous really easily; a lot of younger actors ask this question." Miya chuckles, "But once you get on stage it all goes away. Just take deep breaths and remember what you have to do. Everyone gets stage fright at one point or another, so don't worry if it happens to you." Miya also adds that she usually tries to get into character before she goes on stage, which helps to ease her jitters as well. This past summer, Miya had the opportunity to perform in a children's choir at the famous Sydney Opera House in Sydney, Australia.


When asked how she got into acting, Miya recalls, "My brother did theater before I got into it. When I was 8, I saw one of his plays and wanted to do it too." Miya's first role was in a non-musical play, "Stefanie Hero" with Bend Experimental Art Theater. She had always loved to sing but didn't think she would pursue musical theater specifically until 2nd Street Theater in Bend asked her to be in the musical production, "Tommy."
"That's what made me fall in love with musical theater, and I haven't stopped since." During the school year, Miya is also an active member of Summit High School's theater program and will be in their production of "White Christmas" this winter.