Ask an advocate for the homeless population in Bend—or a person experiencing homelessness—about one of the top needs for our community, and you're likely to hear "warming shelter" at the top of the list.
Advocates have long lamented the fact that there's no low-barrier warming shelter for people when the weather dips below freezing. At least, there wasn't until recently.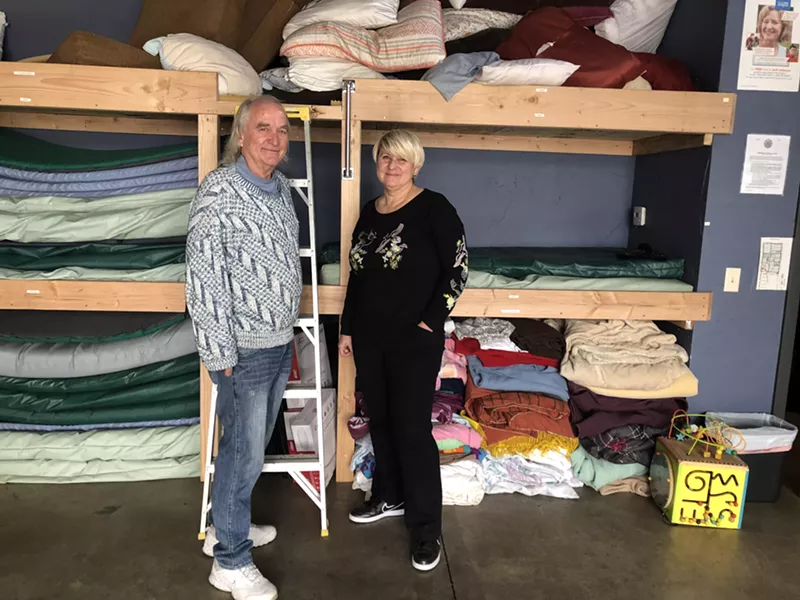 Nicole Vulcan
Larry Kogovsek and Sally Pfiefer stand in front of the newly-constructed bunk beds in the Sagewood Sanctuary, located inside Pfiefer & Associates on NW Greenwood Ave.
Three weeks ago, the
Sagewood Sanctuary
Warming Shelter opened inside
Pfiefer & Associates
, a facility offering drug and alcohol treatment support, housing services and other support for some of the area's most vulnerable.
Sally Pfiefer,
owner of the building, says she saw a need in the community and decided to act. She hadn't thought about opening a shelter on her own, she said, "but it was 4 degrees, so I said, let's just do it here," Pfiefer told the Source Friday.
Unlike other homeless shelters in the community, Sagewood is "low-barrier," meaning people are not required to be sober or to participate in faith services in order to use the facility. The facility does not allow drug or alcohol use on site.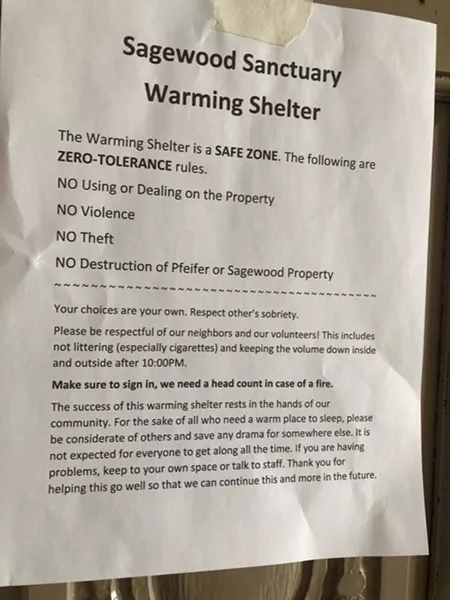 Nicole Vulcan
The "low barrier" or "low bar" shelter posts a few basic rules for attendees.
Pfiefer says the facility has been inspected by the fire department and is able to house up to 20 people. Over the past three weeks, the facility has been open for two weeks, opening anytime the weather is expected to dip below freezing. Attendees sleep on mats on the floor or in a newly-constructed bunk bed, and volunteers bring soup, bread and other basics for those who haven't eaten elsewhere.
Larry Kogovsek is president of the board of directors for the Sagewood Sanctuary, sleeping overnight, along with another volunteer when the shelter is open.
Nicole Vulcan
Sally Pfiefer moves chairs around to show off the new bunkbeds in the Sagewood Sanctuary. The room, inside Pfiefer & Associates, is home to group meetings and other support activities during regular business hours.
Speaking about the "low-bar" status for admittance, Kogovsek says, "it's about relationships, and trust." Kogovsek regularly works to support the homeless population throughout Central Oregon. Both he and Pfiefer see this as part of an overall solution to
address homelessness
, and both continue to work to secure land to build a permanent homeless village in the area.
The Sagewood Sanctuary opens at 8pm on freezing nights, closing again at 7am the following morning.
Sagewood Sanctuary
Located inside Pfiefer & Associates
23 NW Greenwood Ave., Bend