B
end is home to actors, musicians, artists, entrepreneurs and plenty of other talented people from all over the world. Jim Wetherbee is one of them, having moved to Bend after retiring. He has an especially unique story, even for Bend. Wetherbee spent more than 31 years at the National Aeronautics and Space Administration, as an astronaut and then as the director of flight crew operations.
"When I was 10, I decided I was going to be an astronaut, and it was the only thing I've ever really wanted to do, so I feel very fortunate that I was able to do it," he said. "When you're a little kid, you don't really think about the possibility. For me, it was a certainty."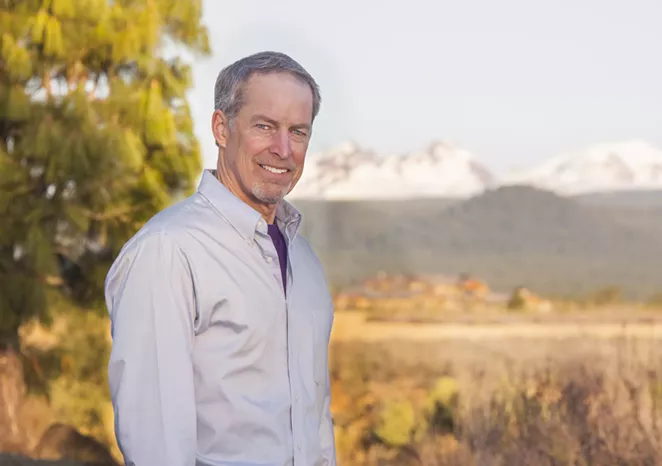 Robin Wetherbee
Astronaut Jim Wetherbee and his wife, Robin, chose Bend after moving all over the world during his time with NASA.
Wetherbee flew his first mission in 1984, and eventually flew twice to the International Space Station, twice to the Russian Space Station Mir, and two other times to lower orbit. After NASA, he spent some time in the gas and oil industry, a job that moved him and his wife Robin all over the world.
"I always told her, 'When we retire, you get to choose where we live,'" he remembered. "For a while, we were stationed in Anchorage, Alaska, and she fell in love with the mountains, scenery, the wildlife, photography, hiking. But she also wanted the summer sports, and so if you want all four seasons, there's not a lot of places in the country that you can go. She did a lot of research and finally settled on Bend, which we think is paradise. And we've been here for three years."
NASA
Wetherbee has flown a number of missions to the International Space Station and elsewhere in space.
Music is another passion of Wetherbee's. He started playing drums in high school, joining the marching band in college at Notre Dame. He stopped playing during the Navy and his early years at NASA, but it wasn't until a group of guitarists at NASA decided to create an astronaut band that Wetherbee picked up his love of music once again.
"Three of the astronauts played guitar, and they looked around for a drummer, and the audition to join the band consisted of one question. There was no skill required. The one question was, 'Do you own a set of drums?' And when I said, 'Yes,' I was immediately in the band," he remembered. "We call ourselves Max Q, which is an aerodynamic term which means... It's the region that the vehicle flies through the thickest part of the atmosphere with the most dynamic pressure, and there's a huge amount of vibration, acoustic noise, but no music, and so we figured that would be a good name for a rock band."
Wetherbee played in the band for years, even playing on "Good Morning America" at one point. When he moved to Bend, he joined the board of directors at Cascade School of Music.
Wetherbee's taking his love for music and leading a presentation to benefit the Cascade School of Music. The school is planning a move into a larger building, something they've needed for a while.
"There's so many musicians and young people who are interested in taking music lessons," he explained. "They have a big waiting list. Now we have a new building that will be open soon."
Wetherbee will be playing drums with high school band, Anything But Vanilla, for the presentation, as well as talking about his life at NASA—two of his passions.
NASA
Wetherbee says mental discipline helped him in music as well as his career.
"The ability to develop the mental discipline is almost exactly the same as climbing on top of a rocket and launching into space," he said. "If you want to be good at anything, it requires the commitment to practice a huge amount. And not only does it make you better, and then you can perform, but it also gives you the confidence to perform and not worry about dying, either literally in the space program or figuratively on the stage."
Cascade School of Music's new building will be located at 510 NE 3rd Street, and will give them 25 rooms for students — compared with the nine they have now.
On Space and Music w/ Astronaut Jim Wetherbee
Fri., Nov. 9 5:30-8:30pm
Unitarian Universalist Fellowship
61980 Skyline Ranch Rd., Bend
Tickets at ccschoolofmusic.org