Miguel Edwards made his first sculpture when he was around 5 years old. It wasn't made from metal, or at the same scale he works with today, but it was definitely a big moment for Edwards' artistic beginnings. His family had just moved to El Rito, N.M., working on building an adobe home and shop to fit their lifestyle. Deciding to let his son loose, Edwards' father gave him a hacksaw and let him check out some of the plumbing materials, which led to the birth of a PVC pipe masterpiece.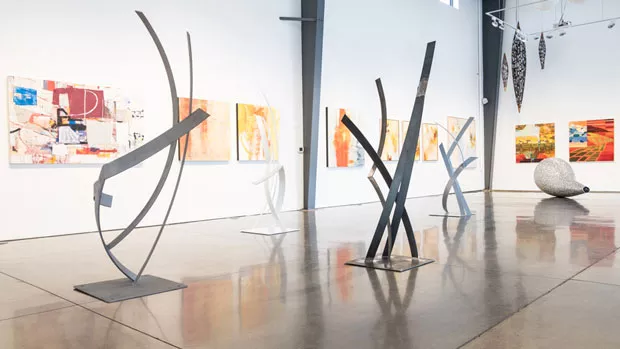 Submitted
Edwards creates a variety of sculpture styles.
You can't technically be born an artist, but if you could, Edwards—whose work, "Hope Rising," graces this week's cover—is probably the closest you can get. Both of his parents, as well as various relatives, dabble in a variety of mediums, from painting to loom building to photography – and did I mention his dad is a mechanical and nuclear engineer? As evidenced, Edwards comes from a long line of critical thinkers.
"My parents didn't really try to influence me too much. If I wanted to do this or try that, they were just encouraging of whatever that was," recalls Edwards. "Which was making toy guns and wooden swords for a long time."
Once he got a little older, Edwards moved up to things like nunchucks. His dad even showed him how to take a glossy magazine page and turn it into a personal blowgun—a piece of knowledge Edwards passed on to me while sitting at his kitchen table.
"We were more into developing the technology than we were into wreaking havoc," jokes Edwards.
Along with designing and creating sculptures, Edwards is a renowned photographer. His photography actually helped improve his eventual sculpture skills, as Edwards found it would be much cheaper to fabricate his own steel frames for his photos instead of paying someone else to do it. So, he purchased a welder and started to design his own frames.
In 2009, Edwards had some friends on the board at the Center on Contemporary Art in Seattle, Wash., who were starting a new show called "Heaven and Earth" that needed more artists. Edwards created "El Sol,"—a big turning point in his career, he now says. It was the stepping stone that led to the creation of "Perseus I," a wind-powered kinetic sculpture that also uses solar powered LEDs. Edwards says CoCA became a huge part of his life. He eventually became a board member for eight years, serving as both the vice president and president.
"I feel really lucky that I have been able to do what I do," says Edwards, "because it really kind of happened overnight."
These days, photography plays a big role in Edwards' sculpture designs. When building his pieces, Edwards thinks a lot about the way the light will hit different parts. Light highlights different gradations in the art, and the steel allows him to visually "defy gravity" in a way. His works can be giant interactive pieces ("Perseus I" stands over 22 feet high) or smaller accent pieces like "Moon Rock" or "Valence II." Edwards primarily uses steel and glass, but he isn't afraid to get a little outside of the box. For the Seattle Erotic Arts Festival in 2014, Edwards actually constructed a steel bed with interactive video and LEDs.
"I might be working on four pieces in one day," Edwards says of his process. "You'll see something in one piece and be like, 'this would be cool if we did that,' and then like 'but that doesn't really work there,' but I like that idea, so I'm going to take that idea – it's kind of like they're birthing each other."
This flow of ideas can be a blessing and a curse. Sculptures need a certain space to be created and maintained, which can often be hard to come by. With rent, time constraints and just general life, this can make for a pretty stressful environment.
"My whole sculpture career has been at borrowed shops. I've been this nomadic sculptor," Edwards recalls. "A tremendous amount of my life has been infrastructure right now. The building of my business and clients here. But art of whimsy, art for me, that stuff is all – it's this carrot I keep dangling in front of myself."
Since moving to Bend in January 2018, Edwards is feeling that carrot get closer and closer; his new life starting to grow. Following the creation of the Cauldron for the 2018 Special Olympics, a piece he titled "Hope Rising," Edwards is excited to be showcasing it at this year's Oregon WinterFest. It's almost like his grand introduction into the community.

"One of the challenging things about moving to Bend was starting over. Not only did I have to wire a shop, I had to find new vendors and a crew – but the community in Bend has been really welcoming and downright amazing," says Edwards. "Many people helped on the Cauldron but I especially need to thank Shane Price who spent weeks by my side and Jeep Meyers of Blue Flame Specialties for his fire and gas skills." Safe to say he's come a long way from PVC pipe.
Artist's Reception
Thur., Feb. 21, 5-7pm
Umpqua Bank
390 SW Century Dr. #100, Bend

Seattle Art in Public Spaces Presentation with University of Washington Press
Fri., March 8, 6pm
Roundabout Books
900 NW Mt. Washington Dr., Bend