W
hile some angry Oregonians protest "stay at home" orders and call for re-opening the economy, those who have actually been diagnosed and hospitalized, such as Redmond local Michael Wilder, suggest that everyone continue to follow orders around preventing the spread of novel coronavirus.
After roughly one month of social distancing and abiding by Gov. Kate Brown's "Stay Home Stay Safe" orders, some Central Oregonians are ready to get back to work.
Many Oregonians commented on the post, weighing in on the current circumstances and either fighting for a reclamation of "freedom" or insisting that it is far too soon to throw in the quarantine towel and return to normal, day-to-day living.


Submitted
People demonstrated in Redmond Friday, urging Gov. Kate Brown to re-open the state.
Meanwhile, Redmond's City Hall was the site of a demonstration on Friday, in favor of re-opening the state's economy.

"Time for all of us to get back to work. If people are scared to leave their homes, they can stay, but 90% of people have nothing to fear; it's like getting a cold," wrote one Facebook commenter.

But for Redmond, Oregon local and COVID-19 survivor Michael Wilder, his experience didn't resemble the common cold—not at all.

As he puts it, "Oregonians tend to have a strong independent streak. We don't really like the government telling us what to do." Though as Wilder soon witnessed firsthand, listening to government guidelines can quite literally be a matter of life or death. The otherwise healthy 38-year-old recently came out the other side of a near-death experience with COVID-19, the disease caused by the virus.

"The symptoms came in a two-phase series, really," he told the Source Weekly. "First I developed a very high fever, body aches, joint pain… a striking pain in my temple. These symptoms lasted for around a week. I felt on the up-and-up when the symptoms started to subside, and I figured I was pulling through the other side. However, the following Saturday I started having trouble breathing. On Sunday morning the breathing issue was more significant—I could still carry a conversation, but I was really struggling to breathe. I checked into the Redmond Hospital and was transferred to St. Charles in Bend. They tested me [for COVID-19], and while it took four days to get the test results back, I was presumed positive because all of the symptoms lined up. Nobody was surprised when the CDC responded and confirmed that I was positive."

Wilder was moved to the Intensive Care Unit, where he was put on 9 liters of oxygen. "The doctors and nurses told me that if I had come in any earlier, I would've been turned away," he said. "And if I came in any later, it would've been really bad. As far as near-death experiences go, it turned out as well as it possibly could have."

Wilder's symptoms lasted for a two weeks total, and he was advised that he could stop self-quarantining 72 hours after the last of his symptoms were resolved. His wife and children, who were exposed before he was admitted to the hospital, were advised to self-quarantine for 14 days after their last exposure to his active symptoms.


Cayla Clark
Downtown Bend remains a ghost town... but is re-opening local businesses worth potentially risking a second wave of COVID-19 cases?
While many who lack firsthand experience dismiss the virus as a non-threat and nothing more serious than the flu, Wilder is proof positive that even healthy 30-somethings are at risk of death if they don't have immediate access to professional medical care.
"It's not something to freak out about," said Wilder. "But it's absolutely not something to dismiss. The healthcare system is swamped. They aren't trying to drum up business. There was some shortage of PPE for the nursing staff while I was there, though I will say I was really impressed by how they prevented that from impacting my care. It isn't about getting sick or not getting sick, it's about having someone there to help you breathe when you can't breathe. It's about not all getting sick at the same time. For me, the symptoms got very serious very quickly. Respiratory symptoms are scary. I highly recommend following the guidelines implemented by healthcare professionals. If you're having trouble breathing, check yourself into the hospital. It's a really big deal. I encourage people to take it seriously."

Currently, the state seems divided on whether or not to continue taking protocol seriously. There are those who believe most of us have already had the virus without even knowing it, those who believe that the inevitable suicides that will coincide with economic collapse will outweigh virus-related deaths, and those who believe that a second wave will inevitably wipe out more people than this one if we re-open the state too soon.

While Central Oregonians might be growing more and more restless as the weather grows nicer and the days grow longer, one thing is for certain: historically, we accomplish more when we work together than when we fight with one another. "It's our responsibility to listen to healthcare professionals," Wilder added.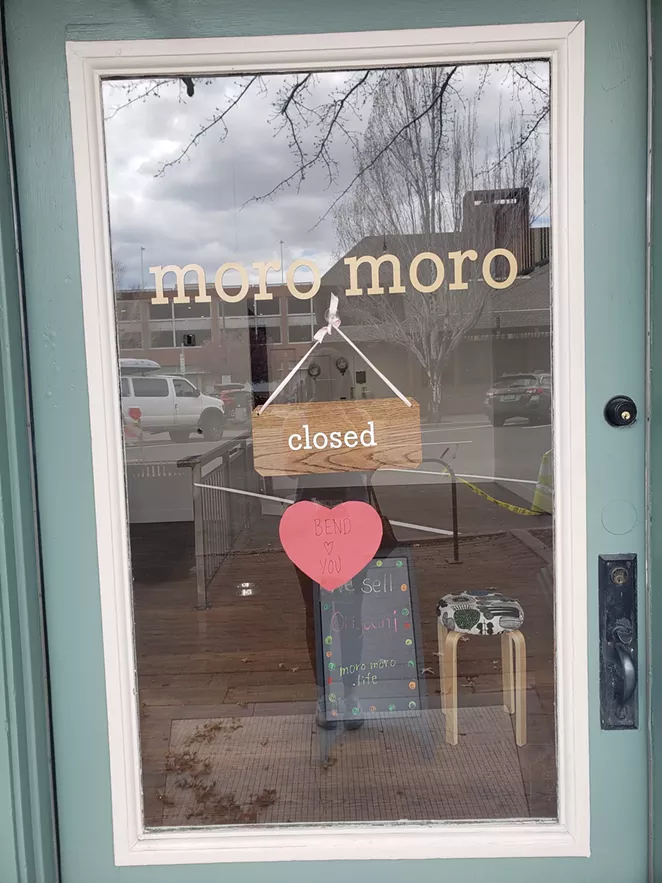 Cayla Clark
Bend shows its support for temporarily closed businesses throughout town, like Moro Moro, a recently opened boutique downtown, now moving to selling origami online.

Even those who adhere strictly to suggestions and mandates are not completely safe from the spread of the virus.

"I want to add that we were following all of the recommended guidelines," said Stephanie Wilder, Michael's wife. "We were working remotely, we would only leave the house to go to the grocery store. Just because you get sick doesn't mean you did anything wrong. If you do get sick, the CDC will ask you to provide a list of everywhere you've been within the past 14 days. It's invasive, people might not like it. But it's our responsibility to keep one another safe."