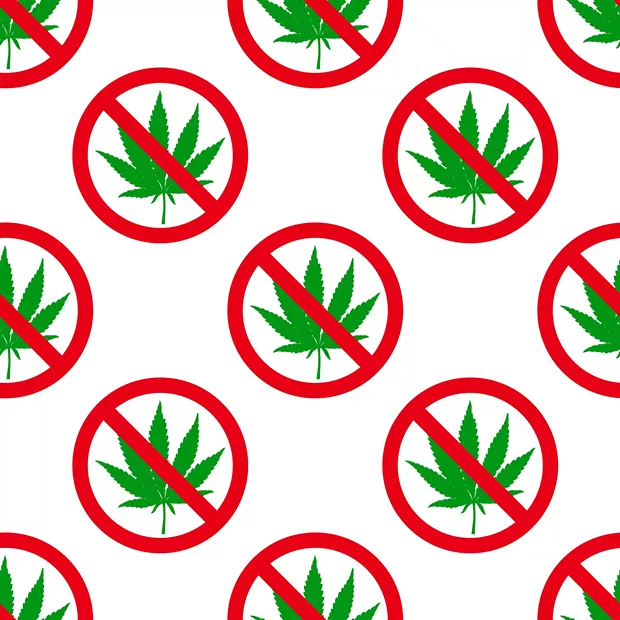 Question: Is there really a newly discovered secret multi-agency federal government committee, currently drafting prohibitionist anti-cannabis policy, to generate reports to be spoon-fed to the rapidly diminishing-mental-capacity Commander in Chief ? Wow...How high would I need to be to believe that? [Takes hash hit off bong.] That's how high.
Late last month, BuzzFeed news broke the story of "The Marijuana Policy Coordination Committee," comprised of 14 federal agencies and departments, including the Drug Enforcement Agency—longtime advocates for super sensible cannabis policy.
"I should imagine a committee with such an innocuous name would have been convened to examine and report of how this fine country could best protect, support and financially benefit from the rapidly growing cannabis industry," you say, while the rest of us shoot you a look, because JFC, you need to wise up. And take off that ironic hat.
The Committee was coordinated by the White House Office of National Drug Control Policy, which, like anything they undertake, is predisposed toward irrational fear and loathing of cannabis. They enlisted the assistance of this partial list of Federal Departments and Agencies: Defense, Drug Enforcement, Education, Environmental Protection, Health and Human Services, Homeland Security, Justice, Labor, Transportation and Veterans Affairs.
Enemy of the State and member-of-the-free-press BuzzFeed News obtained documents revealing this until-now-unknown committee, meaning it was a secret committee, and we all know what universally good things come from secret government-based committees. Policy informed by unknown groups is always best.
A July meeting summary included the belief that, "The prevailing marijuana narrative in the U.S. is partial, one-sided, and inaccurate...," which totally sounds like what a non-biased committee seeking information would say. But don't worry! The White House is gonna fix it so good, and it's going to do so by collecting its own information (likely partial, one-sided and inaccurate).
BuzzFeed News writes that the committee asked agencies and departments to "provide data demonstrating the most significant negative trends," and to "identify marijuana threats; issues created by state marijuana initiatives; and consequences of use, production, and trafficking on national health, safety, and security." And, to provide an example of a "story, relating an incident or picture, that illustrates one or more key areas of concern related to use, production, and trafficking of marijuana..."
The summary concludes "...if the administration is to turn the tide on increasing marijuana use there is an urgent need to message the facts about the negative impacts of marijuana use, production, and trafficking on national health, safety, and security."
Meanwhile, in June, Trump said he would "probably" support the bipartisan Gardner-Warren bill, aka STATES Act, which as the Los Angeles Times describes, "would allow states to go forward with legalization unencumbered by threats of federal prosecution." Such action would be likely welcomed by voters. A Pew research study this year shows 61 percent of adults favor cannabis legalization. In addition, nine states and Washington, D.C., already have recreational cannabis programs, along with 30 states and D.C having medical marijuana programs.
The goals of the ONDCP seem in line with people such as Attorney General Jeff Sessions, a rabid lifetime prohibitionist, but whose tenure in the AG job is tenuous at best. It also smells sweaty and desperate, a representation of the fear that the walls of self-serving interests and deliberate misinformation are beginning to crumble. People are accessing clean and safe cannabis products with greater ease, and discovering they have been lied to for generations about the dangers and risks.