Warning: Mild spoilers for "Avengers: Endgame" and Full-Blown Spoilers for "Avengers: Infinity War"
During the current social media culture wars, it's impossible to go into a movie completely blind. Even after the tragic and brutal ending of last year's "Avengers: Infinity War," in which we saw a huge chunk of our favorite heroes get turned to dust after Thanos snapped his big purple sausage fingers, we know they won't be dead forever.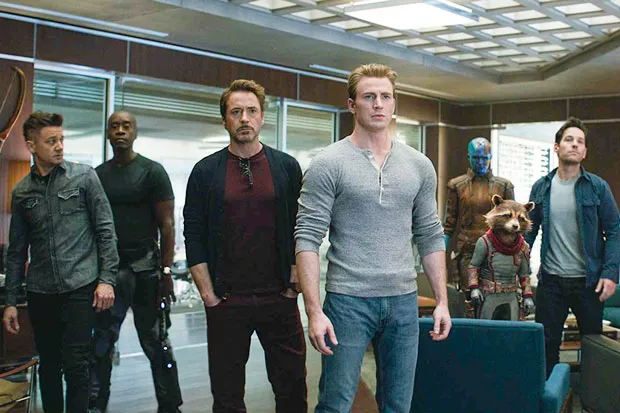 Courtesy of Disney
Marvel gets the band back together for one last gloriously entertaining show.
Obviously, they won't stay dead because Marvel and the Mouse House have a multi-billion-dollar franchise on their hands—but also because there have been trailers for a new Spider-Man movie for months, and Black Panther is a new cultural milestone. Disney doesn't drop sure things. So, in our new pop-culture-savvy society, we know most of our dead heroes must come back to life in "Endgame." We just don't know the specifics.
So not only does "Endgame" have to upend those expectations in surprising ways, but it also has to be a satisfying conclusion to "The Infinity Saga," a story told across 22 films over the last 11 years. After the chilling finale of "Infinity War," I spent months thinking about how "Endgame" would return the Marvel Cinematic Universe to the most profitable status quo. For the most part, the film defied my expectations at every turn.
At a whopping 181 minutes, "Endgame" is basically three movies in one. The first deals with the fallout from "Infinity War," as we spend time in a world where billions of humans died in an instant. The second part is the nuts-and-bolts adventure chronicling how Iron Man, Thor, Black Widow, War Machine, Ant Man, Rocket, Nebula and Steve Rogers try to avenge humanity. The third part... you're just gonna have to experience for yourselves. Sorry. I'm not a dick.
"Endgame" takes its time getting to the fireworks factory, mostly content to spend time with the characters we've spent a decade getting to know as they mourn, kill, love, laugh and die. The movie isn't wall-to-wall action like "Infinity War;" instead it's an elegiac and bittersweet love letter to the fans who grew up with these characters—and to the idea that some stories last much longer than those who tell them.
I've been a die-hard fan of the MCU since 2008's "Iron Man," so I was always going to be deeply invested in "Endgame." Still, nothing really prepared me for how the film made me feel. Nothing like this has ever been done before and it's pretty doubtful lightning can strike like that again. Instead of the pew-pew-pew superhero movie making me feel like a little kid again, running home to read the newest issue of Jack Kirby's "New Gods," the film without hesitation reminded me why I never stopped loving them in the first place. Always a True Believer.
Avengers: Endgame
Dir. Anthony & Joe Russo
Grade: A
Old Mill Stadium 16 & IMAX, Redmond Cinema, Sisters Movie House