The first time I walked into Tin Pan Theater, I knew I wanted to make it my life. I was hosting trivia at Goodlife Brewing and was looking for prizes to give away. Tin Pan had been open for two weeks, and after Google Maps incorrectly led me to Gasoline Alley, I found my way to Tin Pan Alley and the boutique art house theater at its center.
Walking in the door, I immediately smelled the fresh popcorn and the leather of the antique seats from the Hollywood Theater in Portland. I took in the glass jars of candy filled to the brim with Whoppers and Red Vines, the lush curtains surrounding the movie screen, the multiple taps featuring craft bees, cider and all kinds of homemade teas and sodas.
Owners Micah and Esme LaVoy gave me a fistful of tickets to give away (which I did). When I came back a week later for more prizes, they offered me a job on the spot as a ticket seller and programmer/curator of films. I did an awkward happy dance and spent the next few years spending as much time as possible pouring beers, projecting movies and generally being as annoying as humanly possible.
Never in my life have I been in a space that felt so acutely like home. Since I was a kid, I'd dreamed of helping pick the movies that played at a movie theater, and Micah and Esme instantly made me feel like a member of the family. Adding to the family vibe was the fact that their newborn peed on me when he was two days old.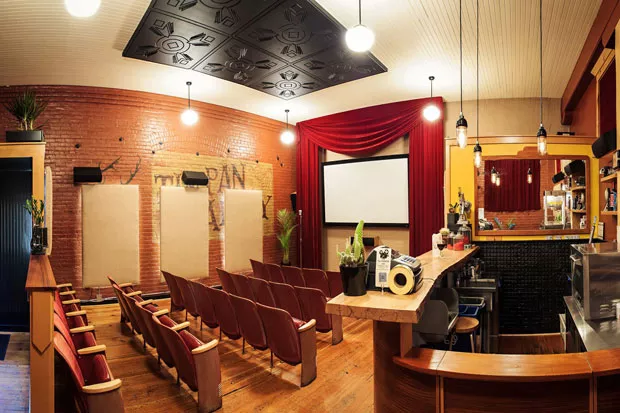 Courtesy of Tin Pan Theater
The delightful and beautiful Tin Pan Theater.
"We just both were really into film and missed the cinema experiences we had visiting Portland and Seattle," says Esme LaVoy. "We had thrown around the idea of having a little movie house one day and when the space in the alley became available, we knew we had to try. Also, Micah was smitten with a tiny cinema in France while traveling which inspired his design of the Tin Pan."
Changes for the Theater
A while back, the couple moved out of town and left the management of the theater to others. Around that time, I got busier at the Source and wasn't able to put any time in at the theater. Just like a family sometimes, you just don't see each other as much as you want to. Then, in the most beautiful twist of fate, BendFilm announced on May 3 that it had purchased the theater.
Esme LaVoy explains: "Honestly, we were starting to feel so disconnected from the theater, living so far away. We really love being a physical part of our business and the Tin Pan needed new local energy."
Executive Director of BendFilm, Todd Looby, had a similar experience when he walked into Tin Pan for the first time—although instead of walking into the theater and seeing Micah and Esme, he encountered Micah and myself.
Keely Damara
From left: BendFilm Operations Manager Abby Caram, Director Todd Looby and Marketing & Development Manager Tracy Pfiffner.
"I was blown away by the genius of that theater's concept and design, especially each intentional and carefully placed detail," says Looby. "From that meeting, talking with two funny, interesting dudes, IPA in hand on a Wednesday at noon, and a delicious tamale in the other that would rival any other I could have gotten in Chicago's Pilsen neighborhood, while sitting at a split log bar in the coolest theater I'd been in... I was hooked."
Looby understands the importance of places like Tin Pan in communities that don't always have access to the same kind of films that L.A., Chicago and New York have.
Keely Damara
Tin Pan Theater is nestled downtown at the intersection of Electric Avenue and Tin Pan Alley.
"The only way I can really describe the Tin Pan is that it is a community living room—and that doesn't necessarily do it justice," says Looby. "Its genius lies in the fact that it doesn't really allow a totally anonymous experience—but you also don't have to speak to anyone if you don't want to. However, you are at least connected with everyone in that theater. You do see everyone in the theater upon entry, several of whom you may know, while ordering and waiting for your drinks and popcorn."
Over my years there, I saw sold-out houses get up and walk out of a movie they hated. A different audience for the same movie would stand up as one during the closing credits and applaud. There was something remarkable about standing behind the bar, and looking at the faces of the audience as they laughed, cried or cheered. The immediacy of watching people associate with art in real time is exactly why I've dedicated most of my life to writing and talking about movies.
A Film Fest With Its Own Space
It's not entirely unique for a film fest to acquire its own theaters, either.
"Several festivals around the country have been building or acquiring arthouses in recent years," Looby explains. "The current landscape in Bend doesn't necessarily lend itself to a new, safe bet on a bigger, standalone independent arthouse theater—but we definitely wanted to do much more year-round stuff. The Tin Pan, though, is the perfect business model to ensure the best, current indies are hitting the screen, getting full crowds, and not at great risk of going broke."
So what kind of changes might the die-hard Tin Panatics have to look forward to? "We'd like to get a bigger screen in there, and I am currently looking at proposals," says Looby. "Though our first infrastructure improvement will be re-upholstering the seats to make them much more puffy and comfortable, but retaining the intimacy they provide. We're looking at ways to easily and slightly tier the seating as well. We hope to raise funds through a Tin Pan Theater Benefactor Capital Campaign to help offset the costs of the sale and afford the improvements, so that we can start early in bringing the space and the programming to its fullest potential. I would have a hard time changing any other detail of the theater, as I think it's perfect."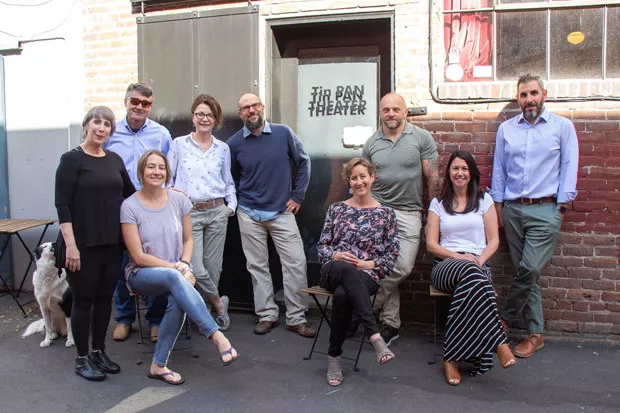 Keely Damara
The BendFilm staff and board of directors outside of the Tin Pan Theater on May 7. BendFilm recently bought the indie theater and took over operations on May 1.
The quality of the movies won't be changing, either. "Programming-wise, people will just see more of the great things they've experienced at the festival and previously at the Tin Pan," says Looby. "We'll add cinema education series, film retrospectives, the 'Food for Thought' film series, the 'Early Release Wednesday Film Club,' continue BendFilm Special Programmer Ellen Shelton's 'Month of Sundays' cinema series and lectures. There's so much we want to do. We're fortunate to have [Festival Programmer] Erik Jambor at the helm, who is one of the most experienced and talented programmers in the industry, and he's really excited to get going. We also want to continue some of the great, special programming Tin Pan has done over the years including things like Spaghetti Western Wednesdays."
Looby doesn't anticipate a gap in movie showings, either. "We have no plans to close for an extended period of time for a re-brand," Looby said. "There may be rare and short closures as we finish the floor and make other improvements to seating and screening, pending funding."
Micah and Esme made Bend a part of their family with Tin Pan. Now with BendFilm, the family will grow into something even larger: a community.