A
fter some public outcry and tense meetings, on March 7, the hearings officer for the City of Bend gave the go ahead for the planned 170-unit apartment building near The Pavilion off Colorado Avenue.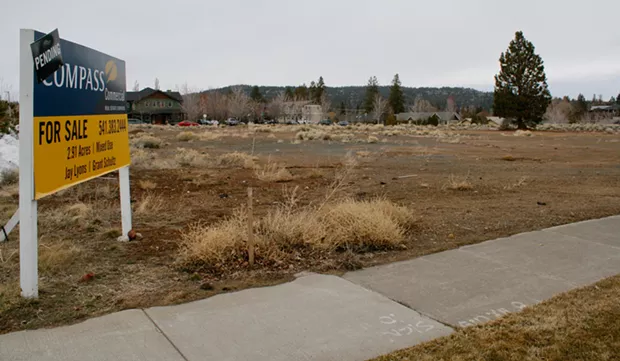 Chris Miller
The bare land by The Pavilion where 170 apartments could be going up if a LUBA appeal is denied.
But that doesn't mean the fight over the apartment building is over. On March 19, William Smith Properties filled an appeal with the City. During the March 20 Council meeting, City staff recommended the Council decline reviewing the appeal—which it did. The appeal will likely end up being heard by the Oregon Land Use Board of Appeals. Liz Fancher, who represents William Smith Properties, said they have 21 days from the final decision to file the appeal with the state.
The proposed apartments have rankled some residents from the beginning. In February of last year, people picketed the proposal before Seattle-based
Evergreen Housing Development Group
had even filed its formal application with the City. Nearly 100 people filled the Pavilion during a pre-application meeting to vent their opposition to the building—citing a lack of parking, traffic headaches and the size and scope of the building near the Deschutes River.
In June of 2018, Smith hired Francher to push for a public hearing. On Jan. 10, a standing-room-only public hearing was held in front of Hearings Officer Will Van Vactor. The meeting was tense and lengthy, with some people calling for Van Vactor to recuse himself because he's a land use attorney. The City has recorded 280 public comments regarding the proposed apartments since Evergreen's formal application was received on June 1, 2018.
While Van Vactor approved the apartment building, he denied the requested 5-foot height variance. If a LUBA decision is upheld, the 2.9-acre development will have 170 apartments with 187 parking spaces. The apartments would be a mix of studios up to three-bedroom units. Evergreen said the apartments would be on the high end of price points, with studios starting around $1,200 per month.