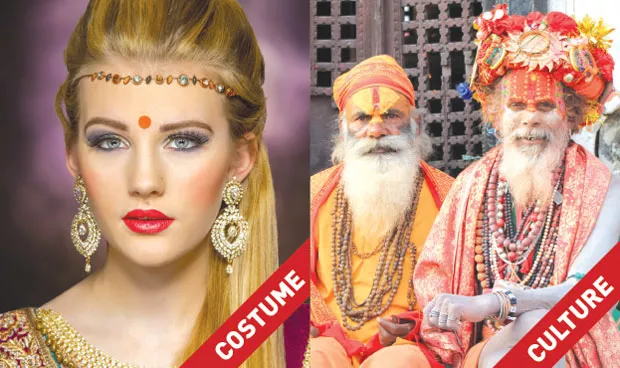 It's almost that time of year again, time to dress up and go door to door asking for tricks or treats—and also to wonder, is this cultural appropriation?
The Cambridge Dictionary defines cultural appropriation as, "The act of taking or using things from a culture that is not your own, especially without showing that you understand or respect this culture." Dressing up as someone from a culture not one's own—portraying a gypsy, geisha, Native person or a Mexican gunslinger, for example, might fit that definition.
Halloween has become a celebration with a central focus on costumes, but somewhere along the way, the lines blurred between costumes and culture—and those blurred lines can create tension and sometimes unintended consequences.
As the Ontario, Canada-based Laurier Students' Public Interest Research Group puts it, "Most folks do not pick out a costume with the intention of being racist or transphobic. But regardless of intentions, appropriative costumes still perpetuate harmful stereotypes and justify more aggressive and violent situations." Among its initiatives, LSPIRG—a not-for-profit primarily serving students at Wilfrid Laurier University—runs an "I am Not a Costume" campaign that seeks to educate people on the negative effects of costumes that rely on cultural dress.
The United States' fusion of cultures may be a factor in the portrayals we see today, says one local professor.
"It's probably been happening since the days of Columbus," said Michel Waller, assistant professor of anthropology at Central Oregon Community College. "In the early days of colonization there was a collision of cultures, languages and civilizations mixed together. I don't think it was all appropriation, it was amalgamation."
Waller proposes a definition of appropriation as: "The dominant group (White European Americans, prominently male) taking something from someone, that has been marginalized and making a comedy, mockery or sexualizing that culture."
Recent years have seen the rise of a host of groups, aimed at pushing back against racial stereotyping and discrimination and other longstanding cultural phenomena; Black Lives Matter, the #MeToo movement and immigration protests, to name a few.
"It's a tough line," said Waller. "On one side people are overly sensitive, on the other it's manifestation of a long-standing power dichotomy."
Halloween is not the only holiday that brings up questions around the line between appropriation and appreciation—but also highlights a melding of cultures in North America.
Dia de los Muertos, most often associated with Mexico but also celebrated elsewhere in Latin America, is another example. Halloween, which originated as the Celts' Samhain events, was celebrated on the night when the ghosts of the dead came back to earth—on Oct. 31, the night before the start of the Celts' new year. Christians later incorporated that tradition into All Saints' Day.
"It's widely believed today that the church was attempting to replace the Celtic festival of the dead with a related church-sanctioned holiday," state the editors at History.com.
Dia de los Muertos, on the other hand, was a tradition started by the Aztecs, honoring the souls of the dead—but it too was later incorporated into the Christian tradition. Today, Dia de los Muertos is a two-day event beginning on Nov. 1, All Saints Day, and continues to Nov. 2. It is a fête of life for those who have passed. On Nov. 1—Dia de los Inocentes, the celebration of babies and children who have passed, begins. The next day is for the adults.
While both have their basic roots in the concept of human death, they began as events in different cultures.
The general rule of thumb around Halloween costumes: If a costume portrays a person from a culture that's not one's own, it's probably appropriation.