It's not often people can say that they're living out their high school dreams. Of the people who are, most would say they're the lucky ones. It's especially a great achievement when the dreams are met alongside your friends. For alternative rock band Aqueous, early dreams formed in Buffalo, N.Y., have become today's reality.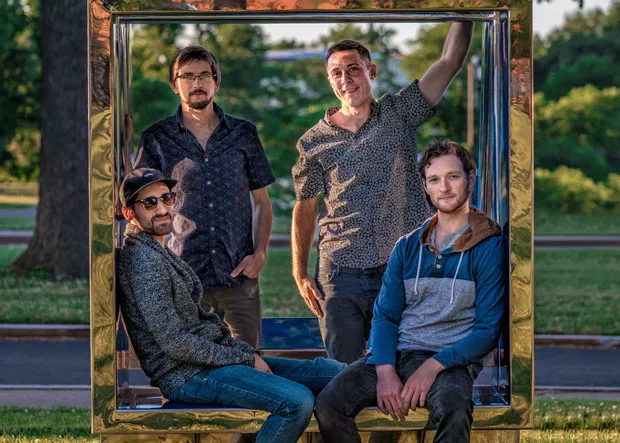 Submitted
Each one of Aqueous' albums brings something fresh to the table.
"When we first started out, we didn't know what we would be able to do with it or what we wanted to do. We all just really loved music and so it was just a gradual progression," says multi-instrumentalist Dave Loss. "We continued on that path and everything continued to grow and get better. We were a little nervous or whatever, but the thing is, this is what we love, this is what we have a passion for. Let's just do it."
Aqueous' latest album, "Color Wheel," is some of the band's best work to date. The songs deliver a variety of genre inspiration, even throwing some hip-hop and electronic-rooted beats into the mix. One of the prime examples of this is on "Split The Difference," a three-minute instrumental perfect for getting your mind into a far-out zone.
"It was probably the most proud we've been with an album. It's definitely the best thing I think we've done so far," Loss says of "Color Wheel."
"Just as far as the songwriting that went into it and the songs we put on there, the overall sound of the album and just the overall package we achieved was really nice. And our fans have really enjoyed it as well," Loss says.
Along with "Color Wheel," Aqueous released a live album titled "Element III" that sits as a series of "best of" performances from the Color Wheel Tour, featuring songs from a variety of albums. "Element III" really sheds a light on what Aqueous brings to the table as a group of performers. My personal favorite cut is called "Kitty Chaser: Explosions," a 25-minute long run that was played in Chicago, Ill. It's definitely a high-octane affair.
"Another thing that was really cool about that album is it was a lot of songs we hadn't played live before," Loss says of "Element III."
"That was the main thing we wanted to do with that album. Present a new piece and whole new album of music fans have never heard before. It yielded some nice results."
Aqueous is currently working on some new music—as the band always is—but there's nothing set in stone just yet. For now you can catch them with Big Something at the Volcanic Theatre Pub Feb 23.
Aqueous+Big Something
Sat., Feb. 23. 9pm
Volcanic Theatre Pub
70 SW Century Dr. Bend
bendticket.com
$12