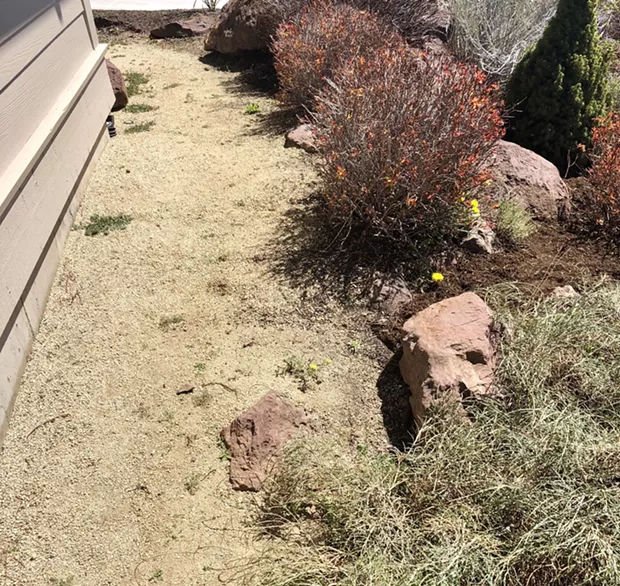 Bend Fire Department
New bark mulch separated from the house with non-combustible decorative gravel.
With the sun finally coming out and the days getting longer and hotter, it's time to think about how to keep your home safe from outdoor fires.
The City of Bend Fire Department and the Deschutes Rural Fire Protection District No. 2 have tips to do just that.
Start by removing any dead brush, branches or other unwanted vegetation
up against your home. Next, clean out your gutters and remove those pesky pine needles and juniper schmutz from your roof and add them to the debris pile, or chuck them in your recycling bin. From May 5-13, homeowners in Deschutes County can take advantage of the Knott Landfill's FireFree yard debris event. Check out firefree.org for other times during the year.
If you light up Marlboros at home, the Fire Department cautions to have a
safe means of disposal for the butts
, so you don't spark a fire in your landscaping.
Speaking of which, Bend Fire also reminds people to keep a
5-foot separation
between any flammable materials—such as decks or siding—and mulch, since sparks from barbeques, cigs or embers from an outdoor fire can smolder in the mulch and travel to your deck or siding and then burn.
A final note of caution for homeowners who use oil-based stains for their decks or fence boards: make sure to
dispose of oily rags
as told by the instructions on the can. DO NOT leave them in a wad on your deck, they will ignite and burn.
For more information on home safety, you can call Bend Fire at 541-322-6300.