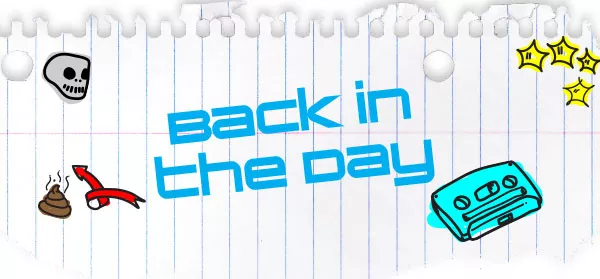 The New Millennium
Profile of a 12-year-old girl
By Keely Damara

Contributed by Keely Damara
Show and Tell, 2nd Grade 1995.
Everyone was talking about Y2K in the weeks leading up to the new millennium. I was 12, muddling my way through my first year in junior high and the possibility of all computers crashing and leaving humanity to fend for themselves was exciting. I loved the Terminator series, after all, and doomsday scenarios are always fun, right?
For those too young to remember the "Y2K bug," it was a problem with computer code that was supposed to trigger the end of the world as clocks struck midnight on Jan. 1, 2000 (spoiler: it didn't).
My idea of partying in 1999 was getting an invite to a sleepover, where we'd watch "Titanic" on VHS for the gazillionth time. It was so long that it was split up between two tapes. I remember because we'd often skip the first one and jump right in with the second after the ship hits the iceberg. Preteen girls don't have time for prologue when there is MASH to be played, the fortune-telling game where we'd predict who each of us would marry and if we'd live in a giant mansion or a shack (spoiler: I didn't marry my lab partner from science class).
My idea of fashion? I sported something similar to a page boy haircut and was fond of overalls, oversized Loony Toons t-shirts and knee-high toe socks sporting all the colors of the rainbow. It was an amazing time for fashion, let me tell you. That year for Christmas, my mother bought me those pleather pants I had been begging for that everyone was wearing on MTV. I wore them to school once. Turns out, pleather doesn't breathe at all.


The Beginning of the Bar Years
A 30-year-old starts a new profession
By Chris Miller
While working as a sales-rep/scheduler/freight manager for a food-grade plastic producer in Portland, I decided to moonlight at a bar we'll call Luigi's on Thursday nights to make a little more money for Christmas. Little did I know this decision would become an off-and-on profession for the next decade.
The first night on the job, I was sent down to the office to get a special bottle of wine, I was told, for a customer. It was a set-up, however, by the lead bartender to break in newbies. As I took the Kwikset key from my newly purchased black Dickies and turned it in the lock, I heard something that resembled a Spanish cow desperate to be milked. Pushing open the door, I saw the owner—who I'd just shaken hands with 30 minutes before—with his expensive khakis draped over even pricier tan leather shoes doing the Buck Nasty with a spray-on-tanned woman atop his cocaine-laden desk. He didn't even pause from his exercise routine to scream at me in Spanish, "Get the f out of here."
I slammed the door shut—but remembered to lock it for some weird "bro code" reason—then went back to my post behind the bar to raucous laughter from my coworkers. They ended up buying me drinks until way past the legal serving hours, and my fall to the dark side was complete.


"Now That's What I Call Music 3"
Snipe Hunting in the New Year
By Anne Pick
As the world waited for the impending doom that wasn't Y2K, my 13-year-old best friends and I gathered at Shari's house to celebrate New Year's Eve. Several of her parents' friends were there along with six to eight 8th grade boys and girls. Eighth grade introduced plenty of new elements to our young lives. I remember a couple of the other girls secretly put vodka in their cans of Sprite, but not me—at that point I had vowed to never drink (fast forward four years later and that was out the door).
The soundtrack for the night: "Now That's What I Call Music: 3," which I bought at Sam Goody in the now-defunct Mountain View Mall. And at the time, we were stoked. What we called music included "What's My Age Again?" by blink-182, "American Woman" by Lenny Kravitz and "The Rockafeller Skank" by Fatboy Slim.
Finally fed up with teen girls singing, "I did it all for the nookie," my friend's parents decided to send us snipe hunting in the woods. We roamed the dark streets after midnight searching for the elusive snipe, cawing out the most ridiculous noises in an effort to attract the creature. Come to find out, the snipe doesn't exist and is a longtime practical joke. Also, "Now That's What I Call Music: 3," not surprisingly, did not withstand the test of time.
Heartbroken Prose
Dumped dude turns poet
By Jared Rasic
I was 19 in 1999, living in the dorms at Central Oregon Community College. One cold November day I came back to my room after class and found my first college girlfriend had moved out completely. This was my first attempt at solving my problems with poetry, something that never seemed to work out as well as I thought it should.
Nov. 16:
You went away when you left me, you sent a letter to your sweater that smelled like the ocean.
Your words caressed the fabric as if covered in lotion.
You said something about wanting your sweater and CDs, so you want your stuff back,
Is that how you treat me?
Bellowing out your name is better than a smile or a handshake,
It's been a while since I felt OK with my namesake.
It makes a difference when you actually answer.
My life is jagged like a seeing eye dog that won't answer its master.
You can hold my pieces if I can play with your Reese's.
You could have fixed my folds while I ironed your creases.
I wanted to explore a bit of your innocent species.
My life was so much brighter with you as the candle,
bringing up my image of your eyes...
I begin to dismantle.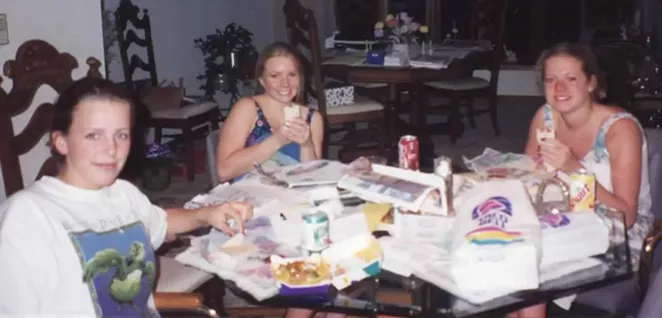 Submitted by Nicole Vulcan
Back in the dizzy, when Taco Bell really was on the menu on the regs.
The Real World in Real Time
If it's written down, it must be true
By Nicole Vulcan
In 1999 I was a student at the University of Minnesota and a reporter for The Minnesota Daily. "Fun" involved escaping the city and heading to the more rural parts of the Midwest.
This is an excerpt from my journal, dated May 17, 1999, during a trip to Wisconsin.
Three small town bars last night—wood décor and men coming back from hunting, good tunes in the juke box, broadcasting Grateful Dead hour when it comes on the radio, burnt peanuts, drunk chicks sing to Abba, hunter boys point their fingers to the sky and sing along. Beer is cheap, rain keeps some away, keeps us inside longer. One crazy local comes back from travels around the world, shouts across the bar at Imane (my friend) asking her name, which she says is Kim.
Guatemala City is a nasty place, he says, diesel fuel almost enough to make you sick, "yeeuch," he cries through stained teeth and rum-heavied tongue. But he wears the clothes of that country, talks big about the places he's gone; everywhere we asked he's been—even to some small islands in the South Pacific that won't be there in a few years when global warming takes its toll.