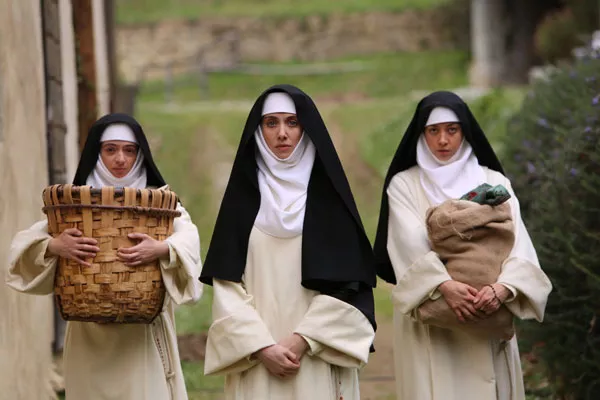 They won't take any of your nun-sense. That was the last one, I swear.
"The Little Hours" has a one-joke premise that could have easily been a "Saturday Night Live" sketch rather than a feature-length movie. For any other movie, that would be an insult—but this perfect cast and team of filmmakers squeezes every drop of hilarity and mirth out of that one joke.

Based on "The Decameron" by Renaissance author Giovanni Boccaccio, "The Little Hours" feels like a '70s arthouse picture combined with a gleefully profane '80s sex comedy, shot through the lens of modern gender politics, all while being set in the 14th century. Somehow, all these aspects are so perfectly curated that the film never suffers from tonal whiplash and it never runs out of steam with what, on paper, is an awfully thin premise for 90 minutes of entertainment.


I wanted to spend more time with these characters and was genuinely taken aback when the movie ended.
Dave Franco plays Massetto, a handsome young servant who's sleeping with his master's wife. When his master finds out, he escapes to a convent filled with foul-mouthed, horny and possibly insane nuns. The perfectly-cast Alison Brie, Aubrey Plaza and Kate Micucci are the three young sisters, with Molly Shannon and John C. Riley playing the head nun and priest, respectively. With guest turns by Fred Armisen, Nick Offerman, Adam Pally, Paul Riser, Jemima Kirke and Lauren Weedman, the bench is so deeply stacked with brilliant comedians that the movie feels like it's 20 minutes long.



That's actually the biggest problem with the film. The characters are so well drawn and the premise so ripe for laughter that it easily could have been a television show (on cable, obvi) and might have even worked better as one. I wanted to spend more time with these characters and was genuinely taken aback when the movie ended.
The anachronistic dialogue was mostly improvised by the gifted cast, as writer/director Jeff Baena shot the picture with only an outline to work from. That sense of freedom is felt in every frame as the film feels like it could jump off the rails at any second and run naked and screaming into the woods.
Underneath all the jokes is also something truly subversive. There are flourishes of Pasolini's adaptation of "The Decameron," and Ken Russell's "The Devils," which were released around the time second-wave feminism was on the rise. This is not as post-feminist as "The Handmaid's Tale," but watching these nuns fulfill their desires for the first time in their lives sends a powerful message.
Yes, "The Little Hours" is sacrilegious. It's also offensive, absurdist and dry as the inside of an old VCR, but the film has more to say about sexism, racism, classism and the failings of the 21st century patriarchy than anything released in theaters so far this year. Late in the movie, when Fred Armisen's clueless Bishop screams at a nun for "living in pleasure," and "loving the world," it's hard not to think about how far we've come and how much further we have to go.
The Little Hours
Dir. Jeff Baena
Grade: A-