D
uring the Bend City Council meeting on Dec.5, councilors voted 4-2 to preliminarily approve an amendment to the City Code to encourage the use of reusable bags and limit the use of carryout plastic bags.
The ordinance bans single-use plastic carryout bag use by retail businesses—like grocery stores—through a "phased implementation approach to enable businesses to use up their reserve stock of single-use plastic carryout bags and to minimize impacts on citizens and businesses through education and engagement."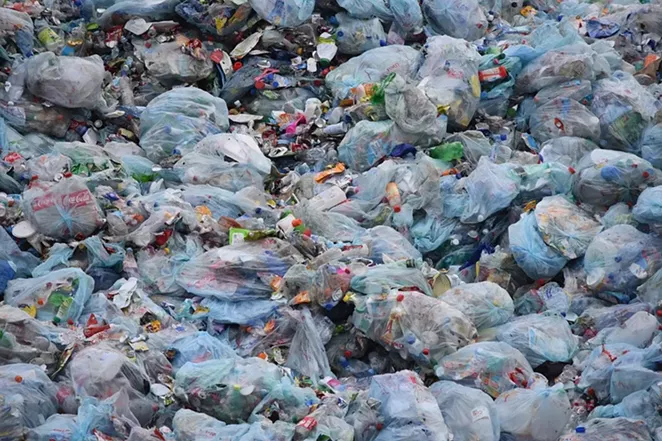 Pixabay
Billions of plastic bags are used in the U.S. annually.
"We've become a disposable society and it's catching up with us," Dr. Mary Coulter, a family practice doctor in Bend said during the meeting. "I'm in favor of a bag ban, but anything is a step in the right direction."
City of Bend Attorney Mary Winters said during the meeting that an estimated 100 billion plastic bags are used in the U.S. Studies confirm this figure. According to an article by WTTW, Chicago's PBS station, studies estimate more than 100 billion plastic bags are used annually in the U.S. And although many plastic bags are recyclable, recent studies by the Environmental Protection Agency show that only a small percentage—just more than 5 percent—are actually recycled, the story's author wrote.
Bend is following an anti-plastic bag trend statewide. Cities including Portland, Salem, Lake Oswego and Ashland—just to name a few—have banned bags outright, or created "pass through" fees to encourage people to use reusable bags when they shop. Bend's proposal has a not-less-than 10-cent fee per bag for consumers who forget their reusable bags.
The
Northwest Grocery Association
wrote a letter to the Council in support of the City's ordinance. In the letter, the NGA said two key components make it work: the required pass-through fee on recycled paper bags, and the ban on plastic bags for all retailers at the check-out counter.
The NGA said the pass through fee encourages the consumer to use a reusable bag or recycle a bag they already have, including previously used paper bags. In addition, the NGA said merely banning plastic and allowing paper bags without a pass-through fee increases grocery costs at an estimate of $35,000 to $60,000 per store, depending on the size.
Councilor Bruce Abernathy said during the meeting that Chicago did a study that showed its plastic bag use went down after the city went from an all-out ban on plastic bags to a fee. According the PBS story, research from the University of Chicago's Energy and Environment Lab and New York University found that of the 25,000 consumers at a large chain grocery store around Chicago, the number of disposable bags used per person decreased from 2.3 bags per trip before the tax to 1.8 per trip since.
Bend's code doesn't create an outright ban on plastic bags. Bags for packaging bulk items, like fruit and vegetables, to wrap meat or fish and pharmacy prescription bags are not being banned—nor are laundry dry-cleaning bags or produce bags, according to the City. And, people who are on government assistance, such as those on the Women, Infants and Children program or those with an Oregon Trail Card can get paper bags for free.
Councilors Justin Livingston and Bill Moseley voted against the bag ban. Moseley said he thought the ban is outside the purview of the Council and that this was more of a state government decision. Livingston was more straightforward with his assessment of the ban saying, "I won't be supporting it at all."
Livingston also brought up a study done by the University of Arizona on the health risks of reusable bags during his argument against the ban.
The
study
conducted by the University of Arizona and Loma Linda University in California, which randomly tested reusable grocery bags carried by shoppers in Tuscon, Los Angeles and San Francisco, found consumers were almost completely unaware of the need to regularly wash their reusable bags.
"Our findings suggest a serious threat to public health, especially from coliform bacteria including E. coli, which were detected in half of the bags sampled," Charles Gerba, a UA professor of soil, water and environmental science said in a media release from Arizona.edu.
According to the study, bacteria levels found in reusable bags were significant enough to cause a wide range of serious health problems and even death. Gerba said 97 percent of those interviewed never washed or bleached their reusable bags, adding that a thorough washing kills nearly all the bacteria that accumulates.
Mayor Casey Roats, who cast the final vote, said the passing of the ban was a tip of the hat about the elections and who's coming on to the Council.
"It's time for us to be more sensible," Councilor Barb Campbell said. "The planet doesn't belong to us."
The Bend City Council will do its second reading of the ordinance Dec. 19.