B
allot
Measure 103
would prevent the enactment or increase of any state or local tax, fee, or assessment on the sale of groceries. Measure 103 would define groceries as, "raw or processed food or beverages intended for human consumption," excluding alcohol, tobacco, and marijuana. Based on the definition, the measure would preempt local governments from taxing soda or sugary beverages.
Currently, Oregon has no statewide sales tax—including on groceries—but has no law preventing such taxes.
A yes vote supports the amendment to the constitution to prohibit state and local governments form enacting taxes on groceries.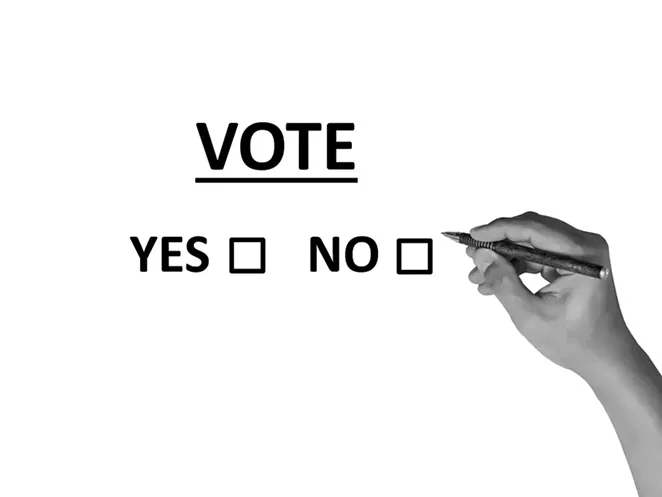 A no vote would retain the authority of state and local governments to enact taxes on groceries. According to voteyeson103.com, many grocery and convenience stores statewide support the measure, as does the Sisters Area Chamber of Commerce and the Oregon Farm Bureau among many others.
Last July, the
Daily Astorian
's editorial board came out for the measure saying, "Grocers are going on the offensive long before a predicted tax battle begins, and it's probably a good thing." They reversed course on Oct. 11 with an editorial against the measure.
Other media outlets are also against the measure.
Oregonlive
said, "The initiative goes far beyond just food purchased at a local grocery store—it bars taxes on the sales, distribution or transfer of raw and processed food at all stages 'from farm to fork.' It's overtly vague, leaving open to legal interpretation just how broadly a ban could apply."
The editorial went on to say, "It would bar local communities from enacting a targeted food or beverage tax of their own, even if their community members enthusiastically supported one. And it creates constitutional restrictions on legislators who must be able to explore different taxing structures in their search for a stable and fair revenue system that shifts some Oregonians' tax burden onto corporations."
Willamette Week
reported that critics of Measure 103 say the measure's sweeping language would make taxing e-cigarettes unconstitutional.
"We would certainly like to be able to tax them," Rep. Barbara Smith Warner (D-Portland) said in the
Willamette Week
article. "You tax to discourage consumption, especially among young people, who are very sensitive to price. But e-cigarettes and vaping supplies are not listed in the exemptions to Measure 103, so the manufacturers will say they cannot be taxed," Warner said.