Bangers & Brews

Featured Happy Hour

Image
Hours: Tue-Sat 12-8pm
Specials:
• $3.50 pints, $1 Tall cans, $1 off sausages, $2 off bangers & mash, $2 off fry starters or specialty fries.
Mon, Tues, Weds, Thurs, Fri, Sat, 3pm-6pm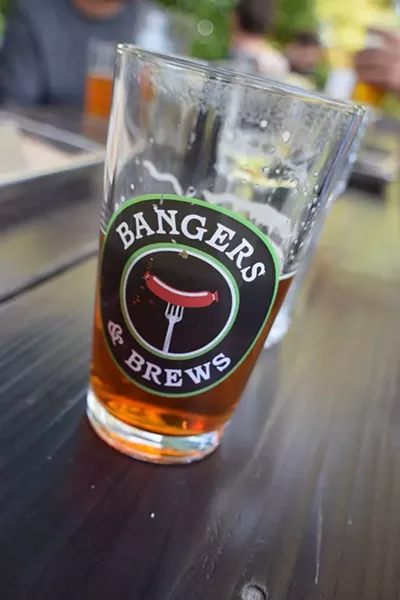 A family-owned spot serving brats—and you guessed it, brews too. Whether they're served with the homemade garlic aioli, or the chicken and apple poultry option, these brats are anything but ordinary. The brats that are offered up at Bangers & Brews range anywhere from the current special, lamb, to its set menu items such as wild boar, water buffalo, duck and bacon, and elk. Those are just to name a few. The selection in meats is astounding. Takeout/Delivery: curbside pickup, Grubhub
This eatery is equipped with Humm Kombucha, Boneyard, and GoodLife beers and Avid Ciders—all staple beverage options for those holding a certain fermentation appreciation.
Specials:
• $3.50 pints, $1 Tall cans, $1 off sausages, $2 off bangers & mash, $2 off fry starters or specialty fries.
Mon, Tues, Weds, Thurs, Fri, Sat, 3pm-6pm
2020 Takeout: Takeout is available 12-2 PM and 4-7 PM, mon-sat. Menu items include sausages, chili, and mac and cheese. Takeout is through curbside pick-up, Ubereats, and Grubhub.