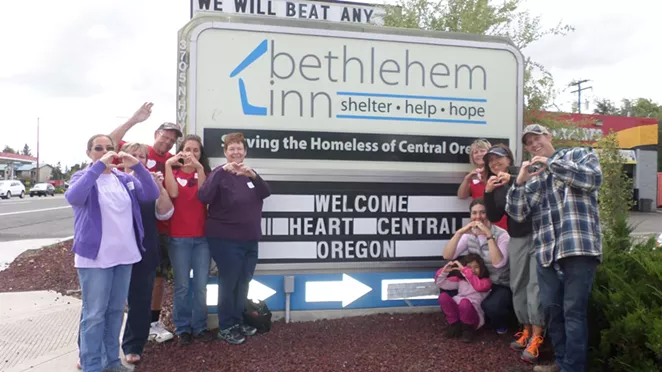 Bend City Council unanimously approved six housing projects funded by income from the affordable housing fee. The fee ordinance, approved in June 2006, prioritizes projects that support the goals identified in the five year Consolidated Plan, which includes addressing the needs of low and moderate income Bendites.
The projects include:
Bethlehem Inn Rehabilitation of Plumbing and heating — $89,635
According to the city's staff report, the homeless shelter—whose largest building houses as many as 82 single adults—uses exterior piping, which is prone to freezing in the winter. It also currently uses more than 20 Cadet Wall Heater recalled in 2000 due to reports of burning particles being ejected from the heaters and setting buildings on fire. To address these serious safety hazards, Bethlehem Inn will move its piping from the exterior to the interior and replace the unsafe heaters.
Families Forward Construction Financing for Affordable Housing — $175,000
These funds will be used to construct a single family home for a family at or below 80 percent of the area median income.
Housing Works (Central Oregon Regional Housing Authority) Dagget Lane Construction — $1,100,000
This project, assisted by Council's approval last night of the sale of city-owned property to Housing Works, will include 28 units—14 two-bedroom and 14 three-bedroom units for families at or below 60 percent of the area median income. The city will use proceeds from the $125,000 sale of the Dagget Lane property to improve pedestrian access in the area.
Central Oregon Veterans Outreach — Rehabilitation Financing for Spinnaker Street and Dekalb— $6,500
Part of the funding ($1,500) will go toward landscaping at Housing for Heroes' 12-unit apartment complex and the remainder ($5,000) will go toward fixing up a single-family rental.
Bend Area Habitat for Humanity — Property Acquisition — $90,000
Habitat for Humanity will use the funds to purchase two infill lots and build single-family homes for families earning between 35 to 60 percent of the area median income.
Saving Grace — Rehabilitation — $25,000
The local domestic violence shelter will use the funds to install a commercial kitchen range hood and complete other rehabilitation and security improvements on the property.