We've been covering the hell out of Bend's bicycle infrastructure improvement plans, so it's a happy day when we can reveal results. Though the bike lane below (on Greenwood) is not new, the high-viz green paint is.

Brian Potwin
On Hwy 20/Greenwood Ave. and 8th St (both east and westbound).
Bend also recently got its first sharrow, near NE 8th St. and NE Greenwood.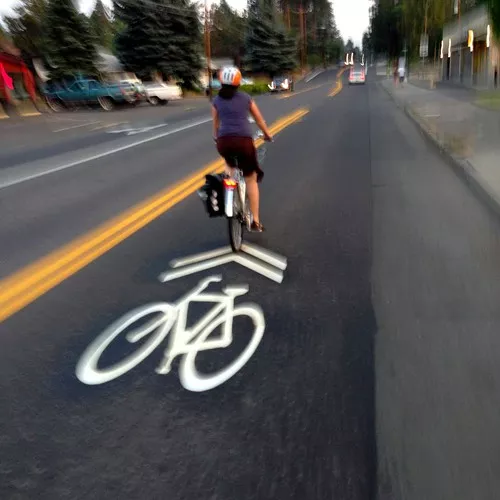 Brian Potwin
Sharrows keep riders centered in the road and clear of opened car doors.
[jump]
As you've no doubt noticed, they've also begun work on the Riverside/Franklin project, which should be completed by fall.
And, just last night at a Bend Metropolitan Planning Organization meeting, Commute Options executive director Jeff Monson again asked that the city implement a bike share program (Commute Options already has its own). Councilors Mark Capell and Victor Chudowsky were both in favor of such a program. Both said they'd help Monson do some "fact finding" and help search for grant money.
"I think it would be awesome—let us know what you need," said Cappel.