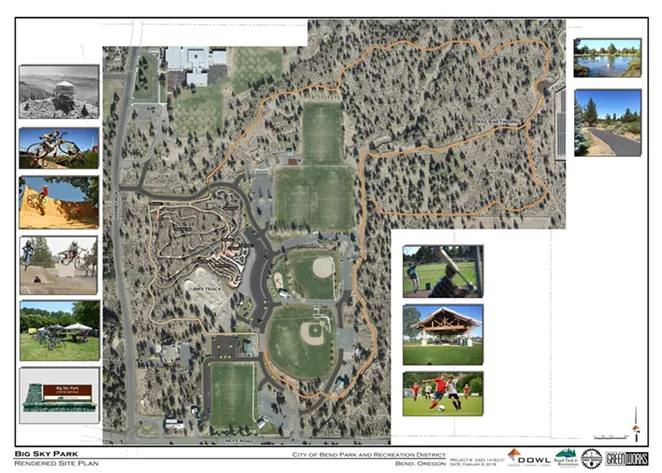 Bend Park and Recreation District
Cycling enthusiasts will soon have the chance to ride a new bike park on Bend's east side—but first, riders may want to kick in some funds.
The park is scheduled to open in the fall of 2019 at Bend Park and Recreation District's Big Sky Park, though park officials say they're a bit short on fully funding it. The plan for the site includes pump tracks, a dual slalom course, cyclocross and single-track trails, a bike trails area and a children's skill area for up-and-coming gnarly riders.
Perry Brooks, a BPRD landscape architect, worked on the design for the various pieces of the bike park. He sat down with the Source Weekly to talk about the progress.
"We're in the midst of doing construction drawings with all those parts," Brooks said over coffee. "It looks so awesome... yeah, it's going to be great."
Brooks said BPRD is working closely with many local professional mountain bikers, including Carson Storch and Cam McCaul, on the design of the slopestyle courses to design a world-class course that could put Bend on the map internationally.
"If we could hold a slopestyle event out there, that would be huge," Storch said.
"We are really trying to build a world-class facility, so we can draw people—have Portland events coming over here—and having events that do UCI [Union Cycliste Internationale] circuit races here for downhill and mountain biking, cyclocross... you know, having a real destination."
The 25-year-old Storch was born in Bend and cut his teeth riding trails around town, but he said he learned most of his jumping skills during competitions, or when he was fortunate enough to travel to other areas that had progressive slopestyle courses.
"We will have beginner, intermediate, advanced and pro-line," Brooks said. "Our starting tower, we're designing a fire tower—a lookout-looking thing—you know, a reference to what's around here with the big forest fires."
"Then we will have a session zone which is a shortened version," Brooks said. "We're going to stack storage containers on top of one another—so we can get 15, 18 feet of height."
Storch said he's stoked to see the plans come to reality, and that one of his goals as a professional rider is to pay it forward.
"There's a big scene of the younger generation of kids who ride a lot," Storch said. "My goal is to give back to the community."
The budget for additions to Big Sky is $4.1 million, coming from BPRD's budget—which all comes from property taxes and system development charges, according to BPRD. Brooks said most of the funding is earmarked for infrastructure and the new access road, which leaves the bike trails needing help from the community.
"We're a little short as far as the building the bike park stuff, so we're going to start a campaign and work to do some fundraising in the community," Brooks said. "So we need to raise probably, to build it all out, about another $400,000."
Not to worry, Benditos, Brooks has done all of this before. Before moving to Bend, he helped build—and fundraise—a park in Colorado.
"We moved here from Boulder and I built a very similar bike park in Boulder called Valmont," he said. "We worked with the Boulder Moutainbike Alliance—the COTA [Central Oregon Trail Alliance] of Boulder—and we were able to raise $600,000 in eight months—$200,000 of it was a grant from the state—but $400,000 of it was just fundraising."
In addition to the bike park, plans for Big Sky include a new access road off Hamby Road that will serve as a common point of access for the park and Buckingham Elementary School. Plans are to add 300 to 350 new parking spaces, a ½- to a 1-acre area for radio-controlled cars, and new trail connection to Buckingham Elementary and an informal outdoor education area about .75 to 1.5 acres in size.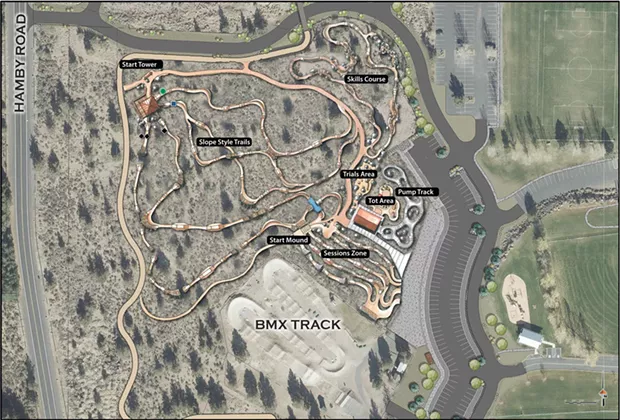 Bend Park and Recreation District