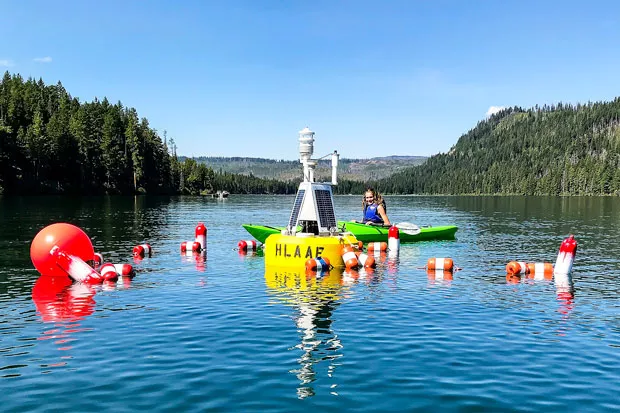 Conrad Weiler
The High Lakes Aquatic Alliance Foundation data buoy in Suttle Lake, with the photographer's granddaughter, Chayse Teeple, looking it over.
For those of us who have been looking at the Three Sisters and what's left of the year-round snow on the slopes, it's pretty scary. Several of the historical snow fields are gone, melted by long periods of intense heat.
Yes, there's still plenty of water under the Three Sisters, but it's being sucked out of the ground at a pace no one has ever seen before. Years ago, U.S. Forest Service Geologist Larry Chitwood told a group of visiting geologists there was 40 years of water stored under the Three Sisters—but Chitwood likely never envisioned the hundreds or thousands of new lawns, golf courses and farms that are now thirsting for this precious resource.
In order to keep an eye on the water left on, and under, the Cascades—and its impact on the high lakes fisheries and aquatic ecosystems—there had to be someone with a method capable of continually collecting water data. The someone who saw that need is retired Oregon State University limnology professor, Franke Conte, living in Camp Sherman.
Knowing money to purchase the necessary equipment would be a long and drawn out project for government agencies to acquire, he decided a local group could do it better and quicker. He got a whole bunch of people gathered into his living room in his Camp Sherman home and said, "Welcome. Here's what I'd like to see all of us do..."


And from that brave beginning he established the High Lakes Aquatic Alliance Foundation, today about 45 strong. With Conte's guidance, the foundation purchased a solar-powered, $40,000, NexSens CB-450 data buoy in July of 2016 and placed it in Suttle Lake.
The buoy, manufactured by the Fondriest Foundation, located in the Ohio River Valley region, is equipped with everything aquatic scientists require to understand the condition of the lake's water. To keep aquatic ecosystems healthy—as well as the fish and other plants and animals dependent on it—HLAAF makes sure the agencies needing the data are getting it.
Nate Dachtler, U.S. Fish and Wildlife fish biologist at the Sisters Ranger District, depends on the data from the buoy for a great deal of his work.
"For Sisters Ranger District, the bouy helps collect important water quality information on Suttle Lake that we don't have the time or funds to collect. Historically, the Forest Service and others have collected water quality information on Suttle Lake, so this helps build that baseline data and can be used to look at changes in water quality in the lake over time," he said.
Warm Springs fishery biologists receive the same data, helping to remove the dam at Lake Creek to make fish passage easier.
Conte explained why he chose to use the CB-450. "My selection of the Fondriest environmental aquatic buoy system is based upon the fact that the solar-powered buoy can be placed anywhere in Suttle Lake and later on the Lake Abert water surface. The data collected by the buoy's chemical sensors can be made into electronic emails by the solar computer on board and sent from the buoy to the solar satellite as a graphic picture. All of this is done at no cost to us."
HLAAF is made up of a group of volunteers dedicated to sustaining the health and nutritional values of the lakes and their tributaries, for the benefit of living organisms inhabiting these waters. Weiler is the foundation's photographer. Dave Huni, a graduate of Cornell University's engineering school and a retired U.S. Air Force officer, is the director of hydrology.
The CB-450 can handle just about everything a limnologist and/or fish biologist needs to understand about a body of water. Among them: the amount of chlorophyll in the water, pH, Photosynthetically Active Radiation, Luminescent Dissolved Oxygen, Oxidation Reduction Potential, restivity of the water, Total Dissolved Solids and so much more.
If you come upon the buoy—or you make a special visit to Suttle Lake to view this remarkable piece of equipment—please keep a distance of at least 10 feet. There are pieces of equipment protruding beneath the surface that can be damaged.
Before summer makes way for the cold of winter, HLAAF will have a day when Huni will be at the buoy to give an on-site talk to people interested in hearing how it works and what the data means to fish biologists and limnologists.