It's been over two decades since the Bend-La Pine Schools district added a new high school to its ranks. This is the year and Caldera High School, located in southeast Bend, is slated to open this fall to incoming ninth and tenth graders. Starting next year, one grade level per year will be added which will result in full enrollment by 2023.
The new high school will include nearly 60 classrooms, including several Career and Technical Education classrooms, a 600-seat auditorium, a library as the central focal point of the school, a football stadium and other sports fields, two secure main entries and more.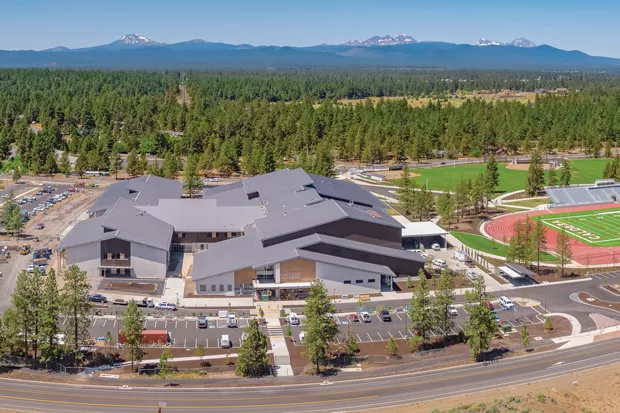 Fisheye Aerial Media
Bend-LaPine Schools presents Caldera High School, opening this fall in Bend.
According to Chris Boyd, Caldera's principal, "Our project-based approach will ensure that students are ready for their future pursuits. In our core programs, students will engage in science instruction that begins with physics and chemistry and then progresses to biology and future lab-based experiences. Our applied mathematics and connected learning experiences across the humanities will further ensure that students develop the skills and knowledge necessary to thrive."
According to Boyd, Caldera will prioritize belonging, safety, and relationships as their foundation, "knowing that learning and future success are built upon this groundwork".