Tuesdays & Thursdays
Mommy & Me: Breastfeeding Support Group
MOM FRIENDLY
– This weekly support group invites all new moms or moms-to-be to join in. There are lactation consultants and other moms to help answer questions and get some social support. All are welcome, including partners and siblings, no matter how you are feeding your baby. Check Facebook for updates as space may be limited while COVID-19 precautions are in place. Thursdays 1-3pm at Central Oregon Locavore and Tuesdays Noon-2pm at the Redmond St. Charles Women's Center.
Two locations | Free
facebook.com/ MommyandMe BreastfeedingSupportGroup StCharlesBend
Tuesdays in August
Ninja Elite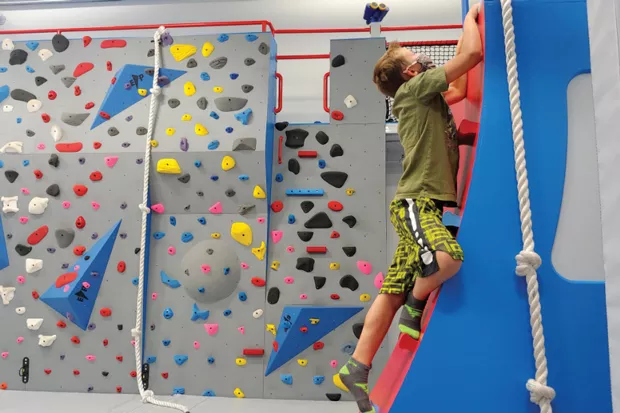 Courtesy of Free Spirit Yoga + Fitness + Play
Ninja Elite classes at Free Spirit Bend are challenging and fun.
PLAY
– Kids (age 8 - 12) increase your athletic performance through the exciting sport of Ninja Warrior! Through focus and determination, we will coach you through the three main components of Ninja Warrior: gymnastics, ground-based obstacles and rock climbing. The wide variety of Ninja challenges will keep you guessing and improving! 5:15pm.
Free Spirit Yoga + Fitness + Play | $72
Freespiritbend.com
Wednesdays
Bend Farmer's Market
EXPLORE
– Rain or shine, this outdoor market will be open all season long offering fresh fruits, veggies and local treats. Make this a weekly stop! 2-6pm, through Oct. 16.
Downtown Bend | Free
Bendfarmersmarket.com
Fridays
Amelia's World Puppet Show
PLAY-TIME
– Join Amelia Airheart Monkey and Miss Hannah for a fun and uplifting interactive Zoom puppet show! All ages welcome, those three and under should be accompanied by a sibling or parent/caregiver to assist with interaction. Message ACORN School of Art & Nature on Facebook to request the Zoom link. 4-4:15pm
Online | Free
Facebook.com/acornartandnature
Sundays
Mask-up Mornings
EXPLORE
– The Museum has carved out a special time for visitors who wish to continue visiting in a mask-only environment! Simply show up and pay regular admission. Face coverings will be required during this window in all indoor galleries. Visitors may remove their face coverings while outdoors. 8:30-10:30am
High Desert Museum | $5
Highdesertmuseum.org/mask- up-mornings
Sundays
Sisters Farmers Market
EXPLORE
– Experience the bounty of the growing season at the Sisters Farmers Market this year. Shop for fresh produce and local goods every week. 11am-2pm, through Oct. 3.
Fir Street Park | Free
Sistersfarmersmarket.com
August 21 & 28
Bird Walk
Tom Lawler/Courtesy Sunriver Nature Center
Learn to identify local bird species at Sunriver Nature Center August 21 & 28.
EXPLORE
– Join Tom Lawler, expert local birder and nature photographer, to discover the rich bird habitats of Sunriver. Learn to identify a variety of species found in the wetlands, meadows and forests surrounding the Nature Center. Sundays, 8-11am.
Sunriver Nature Center | $10
snco.org/events/2021-08
August 23 - 26
Youth Cooking Camp – Flaky Pastry
CREATE
– Have some fun making pastries. Have your child (age 7-17) join in this hands-on camp where they will learn to make Croissants, Puff Pastry, and Danish from scratch. These doughs are very challenging unless you know the proper techniques for them. Monday-Thursday, 11am-2pm.
Kindred Creative Kitchen | $200
thekindredcreativekitchen.com/calendar
August 26
Write-On! Live Fan Fiction
LEARN
– Explore fan fiction writing as a way to keep your favorite stories alive. Whether you wished a book had ended differently, or just love the characters, this is for you. Together we'll explore the many forms of fan fiction and find some inspiration. Attend online or in-person! Thursday, 4-5pm.
Downtown Bend Library | Free
deschuteslibrary.org/calendar
August 27-28
Airshow of the Cascades
EXPLORE
– Browse the Erickson Aircraft Collection for free, which houses the largest privately owned collection of vintage Warbirds in the world. They will also host a vintage and antique Car Show and Aircraft Fly-In Show. Families can experience glider and helicopter rides, enjoy Friday fireworks, sample great food, live music and so much more! Friday, 2-10pm & Saturday, 9am-5pm.
Madras Municipal Airport | $6-$20
cascadeairshow.com
August 28
Soul of the City: A History of Drake Park
LEARN
– Celebrate Drake Park's centennial with a guided tour along the iconic Mirror Pond. After a short walk from the Deschutes Historical Museum the tour weaves through the park, exploring the history and happenings that has made Bend's first city park the "Soul of the City."
The tour is less than a mile of walking, beginning at the Deschutes Historical Museum and ending in Drake Park. Saturday, 2:30-3:30pm.
Deschutes Historical Museum | $5
deschuteshistory.org/events
August 29
Family Triathlon
MOVE
– Swim, bike run, as a family! The swimming portion of this non-timed event will be held in the safety of the supervised Olympic Pool. The mountain biking and running portions will be held in Juniper Park. The event focuses on family participation. Mom, Dad and other adults, are encouraged to support their kids. Cheer from pool side and next to the bike course or even run with your kids to the finish line. All abilities welcome. 8:30-11:30am.
Juniper Swim and Fitness | $30-$36
Register.bendparksandrec.org
August 29
With Your Child: Dual Canvas Painting
ARTS & CRAFTS
– Enjoy a relaxing Sunday afternoon of art! A guided acrylic painting experience. Each pair of painters will receive a canvas to create an image and when placed together will turn into one masterpiece. Each registration includes a parent and a child. Sunday, 12:30-2pm.
Art Station | $45-$54
Register.bendparksandrec.org
September 3
First Friday Art Walk
EXPLORE
– Held in Downtown Bend, the historic core and heart of the City. Join hundreds of other locals and visitors in celebrating art the first Friday of every month in Downtown Bend! This is the last art walk of the season! Friday, 5-8pm.
Downtown Bend | Free
Bendfirstfridayartwalk.com
September 8
Music on the Green: Hokulea Dancers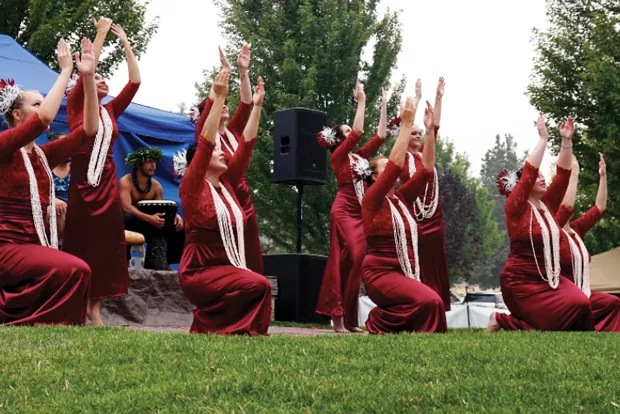 Courtesy Redmond Chamber
Experience the beauty of traditional Hawaiian dancing at Sam Johnson Park in Redmond September 8.
DANCE
– Redmond's very own traditional Hawaiian Dancers are back and are always a crowd favorite! This high energy troop will showcase traditional Hawaiian Island dance and drumming. Come join us as we say Aloha to summer in the true Hawaiian style. Wednesday, 6pm.
Sam Johnson Park | Free
redmondsummerconcerts.com
September 12
The Great Drake Park Duck Race
EXPLORE
– Tickets are now on sale for The Great Drake Park Duck Race, marking the 32nd consecutive year of businesses and community members raising much-needed funds for local charities. Sunday, times TBA.
Drake Park | $5
Theduckrace.com
Begins September 14
Family Story Time
READ
– Interactive story time with books, songs and rhymes. Join us for stories, songs and rhymes designed to support early literacy skill development, social emotional awareness and family engagement. Days and times vary depending on location.
Deschutes Public Libraries | Free
deschuteslibrary.org/calendar
September 18
Diamonds & Dust
PLAY
– Healing Reins invites you to join a gala experience like no-other. Just think, a socially-distanced Picnic in our Paddock that includes all of your favorite traditional Diamonds & Dust gala activities. Dancing, live music, drinks, great food, friends and of course an auction and paddle raise! All while you are surrounded by fresh outdoor air, beautiful scenic mountain landscapes and roaming horses in the pasture! Saturday, times TBA.
Healing Reins | Tickets on sale Aug. 2
healingreins.org/diamonds-dust
September 18
Kids Falling For Nature
Courtesy of Deschutes Land Trust
Who's up for a nature walk? Join Deschutes Land Trust September 18 at the Metolius Reserve.
EXPLORE
– Bring the kids and join the Deschutes Land Trust and Mary Yanalcanlin of East Cascades Audubon Society for a fall nature exploration! Explore the pine forests of the Metolius Preserve and search for woodpeckers and the obvious signs they leave behind. Discover why birds are harder to find at this time of year and enjoy the fall colors of the changing season. Perfect for kids ages 4-10 with a grown-up in tow. Saturday, 1-3pm.
Metolius Preserve | Free
deschuteslandtrust.org/hikes-events
September 23 & 24
Wildlife Tracking Certification
LEARN
– Learn to recognize tracks of mammals, birds, reptiles and invertebrates on your landscape, and to interpret animal movement and behavior. This explorative practice reveals a hidden world of wildlife sign and develops the ability to find subtle evidence of animal presence. Thursday & Friday, 8am-4pm.
Local Location TBA | $275
southsoundnatureschool.org
September 26
River Neighbor River Walk
LEARN
– Learn more about our "Riverhood" and River Neighbor ecology in this one-hour walk guided by Think Wild experts. Join the small group for socially distanced walks along the Deschutes River to learn about the wildlife along this riverscape and the benefits of beaver in our riparian ecosystems. This short, informative walk is family friendly and free! Sunday, 8-10am.
Old Mill District | Free
Thinkwildco.org/events
October 1-3
Bend Fall Fest
Brian Becker
Creativity abounds! Pumpkin painting at the Bend Fall Festival.
CONNECT
– Get ready for some fall fun! The 2021 First Interstate Bank Bend Fall Festival is back and better than ever. Celebrate autumn in Central Oregon with a Harvest Market, Kid's play zone and fun run! Friday, 5-10pm, Saturday, 11am-10pm and Sunday, 11am-5pm.
Downtown Bend | Free admission
Bendfallfestival.com
October 1-3
Sisters Folk Festival
LISTEN
– All the town will once again be a stage when the festival returns in 2021 after a COVID-19 hiatus! This year will feature seven venues all over town, including Sisters Art Works, Village Green, the Open Door, Oliver Lemon's (formerly Melvin's) and more. Friday-Sunday.
Various Venues | $85 - $200
sistersfolkfestival.org
October 9
Kids' Fairy Houses
EXPLORE
– Let your little one's imagination run wild! Join the Deschutes Land Trust and Martha Lussenhop at the Metolius Preserve to build your own fairy house. Use materials found in the forest, create your own small fairy abode and imagine the fairies that might come visit. Build confidence exploring and enjoying nature. Perfect for kids ages 3-5 with a grown-up in tow. Saturday, 1-3pm.
Metolius Preserve | Free
deschuteslandtrust.org/hikes-events
October 10
Beat Beethoven's 5th 5K & 1 Mile Race
MOVE
– Can you run the 5k faster that it takes Beethoven's 5th Symphony to end - 33 minutes? There's also a one-mile walk, a free kids' obstacle course, food/drink, costume contest and Beethoven himself will be running the 5k. Virtual race also available. Sunday, 9am-Noon.
COCC | $20-30
Beatbeethoven5k.com
October 17
Fall Foliage Photo Workshop
LEARN
– There is no question that fall colors are a force to be reckoned with in Central Oregon. Join Toni Toreno, professional photographer and lover of fall, who will take you on an autumn photo trek that's sure to leave you will some epic photos to take home with you! Sunday, 1-8pm.
Box Factory | $249
Bendphototours.com/fall-foliage-workshop
Calendar Spotlight
August 26 & September 2

Movies in the Park
FILM
– Come together with neighbors and friends at your local park for movie night two Thursday evenings. Bring chairs and water or a full picnic. "Zootopia" will be playing August 26 at Kiwanis Park and "Onward" will play September 2 at Ponderosa Park. Everyone is welcome! Movie starts at dark around 8pm.
Kiwanis Park/Ponderosa Park | Free
Bendparkandrec.org
September 26
Teton Gravity Research Film
FILM
– Get ready Bend! Teton Gravity Research is returning to the Tower Theatre for the winter kick-off party of the year. Get hyped for winter with their new feature length ski and snowboard film, "Stoke the Fire." Choose between the family-friendly matinee at 3:30 pm, the early evening show at 6:15pm or the late show at 9pm. There will be prizes from YETI, Atomic, Volkl, The North Face, Sierra Nevada and more. Children 10 and under are free with an adult.
Tower Theater | $11-19.50
Towertheatre.org