Submitted
Take a night off while the kids enjoy Paint Night, Dec. 14.
Wednesdays
Open Studio
ART — Perfect creation activity for ages 3 and up! Make a mess with pastels, paints, cardboard, wood and upcycled items.
Creative Wellness Studio - $15
creativewellnessstudio.com
Thursdays
Mom's Running Group
RUN — All moms welcome—with or without strollers! Join other mothers for 3 to 4.5-mile runs at 8- to 12-minute mile paces. This is a fun and encouraging group for moms of all running levels. Rain or shine.
FootZone - Free
footzonebend.com
First Friday of Every Month
First Friday Art Walk
ART — A fun, year-round event, First Friday Art Walks are family-friendly and include art, music and drinks at various downtown businesses. Most downtown shops extend their hours for the art walk, creating a lively experience for family and friends.
Downtown Bend - Free
downtownbend.org
Every Second Saturday
Kids Yoga Party
PARTY — Kids will learn about mindfulness through playful breathwork, meditation, games and activities! Suitable for ages 4-12.
Wild Thing Yoga - $20
wildthingbend.com
November 17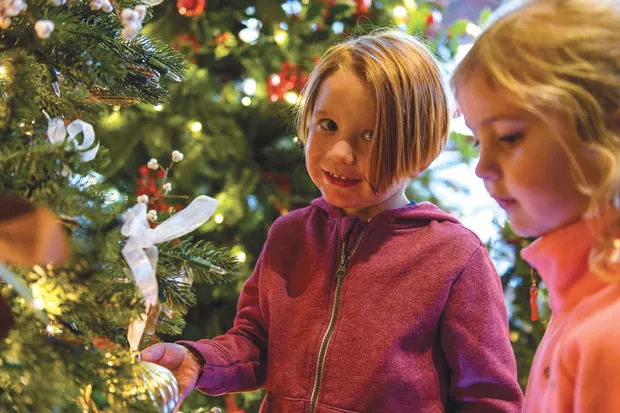 Submitted
Bring your family to the Grand Illumination at Sunriver Resort, Nov. 17.
Grand Illumination
LIGHTS — This year's event will include a visit from Santa, live music, children's craft projects, train rides, and more!
Sunriver Resort - Free
destinationhotels.com/sunriver-resort
November 18-20
Studio Ghibli Fest: "Castle in the Sky"
MOVIE — An animated masterpiece, "Castle in the Sky" is a story of courage and friendship by award-winning director Hayao Miyazaki.
Regal Cinemas Old Mill 16 - $12.50
regmovies.com
Monday-Wednesday November 19-21
Foodie Fun
COOK — No school? No problem! Kids will spend this three-day camp creating delicious foodie art from papier-mache.
Art Station - $195-$234
bendparksandrec.org
November 22
I Like Pie Run
FUN RUN —Come to the Old Mill for a Bend Thanksgiving tradition! Two untimed events will benefit NeighborImpact and Girls on the Run. Registration is required. Please bring 5 lbs. of non-perishable food per person. 9-11am.
Old Mill – prices vary
footzonebend.com/happenings/i-like-pie
November 23
5K Turkey Trot
FUN RUN — Run (or walk, if you're still full from Thanksgiving) to support NeighborImpact! Dress up in your Thanksgiving-themed costume for a chance to win a prize!
Sunriver Resort - $45
destinationhotels.com/ sunriver-resort
November 24
The Nutcracker
BALLET — Bring the whole family to enjoy this classic holiday favorite performed by the students of Bend's Academie de Ballet Classique.
Tower Theatre - $7-$21
towertheatre.org
November 26 (Every Other Monday)
Mindful Kids Camp
MINDFULNESS — Each week, kids will explore mindfulness in a hands-on way, integrating movement. Suitable for ages 4-6 and 7-11.
Wild Thing Yoga - $15/drop-in, $10/class w/ punch card
wildthingbend.com
November 28 & 29
Backpack Explorers: Invention Convention
EXPLORE — Engineers change the world. Here is your chance to jump into the world of engineering by building, testing and inventing. Suitable for ages 3-5.
The High Desert Museum - $15/child. Members receive 20% discount
highdesertmuseum.org
November 29
David Benoit Christmas Tribute to Charlie Brown
MUSIC— Contemporary jazz piano legend, David Benoit, is paying tribute to an incredible piece of entertainment history with his Christmas show, featuring music from the Charlie Brown special.
Tower Theater - $32, $47, $57
towertheatre.org
November 30
Write Here: Teen Writing Group
WRITE— Develop your skills and share your work at monthly meetups. 4–5:00 p.m. Suitable for ages 12–17.
Deschutes Public Library – Free
deschuteslibrary.org
December 1
The Christmas Parade
PARADE— Don't miss this time-honored tradition in downtown Bend complete with floats, marching bands, fire engines and more. 12pm.
Downtown Bend – Free
bendchristmasparade.org
December 1
Jingle Bell Run
RUN—Be part of the longest-running, holiday-themed 5K race series anywhere – and fight to conquer arthritis! The run kicks off the Christmas parade downtown at First Interstate Bank at 11:30am
Downtown Bend – prices vary
events.arthritis.org
December 1 – January 1
Gingerbread Junction
SWEETS— Marvel at the beautiful and intricate candy and cookie creations at Gingerbread Junction. Gingerbread houses will be on display in the Abbot Room of the Sunriver Resort.
Sunriver Resort – Free
destinationhotels.com/ sunriver-resort
December 3
Jim Brickman "A Joyful Christmas"
MUSIC —Come enjoy the distinctive piano style of this hit-making songwriter and musician.
Tower Theater -$50, $60, $73
towertheatre.org
Mondays - December 3-10


Submitted
Join the fun of Kindermusik at Cascade School of Music.
Kindermusik: Family Class
MUSIC — A dynamic and integrated learning experience for everyone! Celebrate and cherish family fun music activities with your littles 12 months to 5 years old.
Cascade School of Music - $45-$54
bendparksandrec.org
December 3
Harlem Globetrotters
BASKETBALL — See some of the most talented dunkers in the world, including Guinness World Record holders. The Harlem Globetrotters put on the ultimate family-friendly show!
Deschutes County Fair & Expo Center - $27
expo.deschutes.org
December 5
Santa Gift Shoppe & Photos w/ Santa
SANTA — Students can shop for holiday gifts during the day and the shop will open to the public in the evening. BYO camera to snap a photo with Santa!
Vern Patrick Elementary – Free
patrick.redmond.k12.or.us
Wednesdays - December 5-12
Handmade Presents for Little Hands
CREATE — Kids will paint and design unique keepsakes with a variety of materials. Children must be accompanied by adult. Two sessions: Ages 2-3 and ages 3-6.
Art Station - $39-$47
bendparksandrec.org
December 8
DIY Doll: Holiday Edition
CREATE — Kids ages 6-10 will enjoy creating little holiday cookies, stockings and gifts for their dolls, such as the American Girl or Generation Girl dolls.
Art Station - $69-$83
bendparksandrec.org
December 8
STEAM Team
LEARN— Enjoy a Saturday full of learning and fun! This is a Science, Technology, Engineering, Art and Math program for ages 10+. No registration required. 2:30pm.
East Bend Library – Free
deschuteslibrary.org
December 8-9
Holiday Magic 2018
MUSIC— Treat your family to the talent of the Cascade Chorale presenting beautiful traditional music of the season.
Tower Theatre - $15, $18 or $35
towertheatre.org
December 12
Homemade Caramels
BAKING— Learn to make this delicious treat to give as holiday gifts or to keep for yourself! We'll go through the whole process of making caramels and have some to take home. Ages 12-17. 2:30pm.
Redmond Public Library - Free
deschuteslibrary.org
December 14
Parents' Night Out: Friday Night Paint Party
NIGHT OUT — Get messy and have fun! Kids will collaborate on a large painting project along with their very own piece of artwork to take home.
Creative Wellness Studio – $25
creativewellnessstudio.com
December 14
"Elf" (2003)
MOVIE — After unintentionally wreaking havoc on the elf community due to his large size, a man raised as an elf at the North Pole is sent to the U.S. in search of his true identity.
Tower Theatre – $7-$12
towertheatre.org
December 21


Submitted
Winter Solstice Celebration at the Pavilion, Dec. 21.
Winter Solstice Celebration
SKATE — Ice skating, tasty holiday treats and hot cocoa, raffles, a fun photo booth and figure skating performances by the Bend Ice Figure Skating Club. All ages.
The Pavilion – $6 with canned food donation
bendparksandrec.org
December 21-23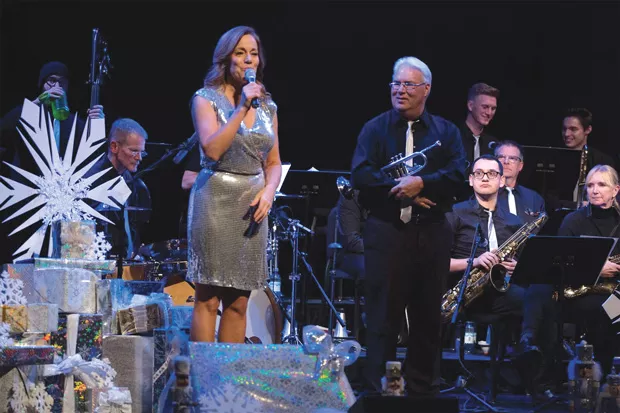 Submitted
A Swinging Tower Christmas, Dec. 21-23.
A Swingin' Tower Christmas
BIG BAND — Santa is coming to town—this time with an 18-piece band led by trumpeter Jim Tennant! It's a family-friendly night with songs, stories and dances by Central Oregon's top performers.
Tower Theatre – $17/adults, $12/12 and under
towertheatre.org
December 22 & 29, January 19, February 2 & 16
Blacklight Blast
WINTER FUN — Fly down SHARC's winter tubing hill, illuminated with black lights and glow sticks! Reservations required, call 541-585-3147.
SHARC – $12/SROA Member, $15/general public
sunriversharc.com
December 26
Teen Night Pool Party
POOL PARTY — Teens will enjoy an ice cream social followed by water games, contests and a pool party! For ages 12-18.
SHARC – $7/SROA member, $10/general public
bendparksandrec.org
January 8-31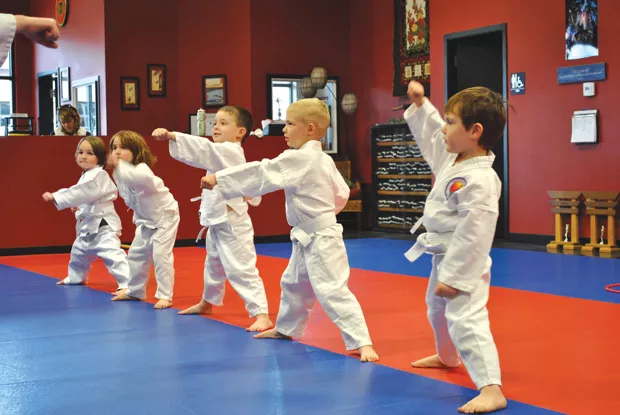 Lil'est Dragons
MARTIAL ARTS — Littles will learn the basics of Tang Soo Do Karate — helping them learn discipline, confidence and teamwork. Uniform included.
Odyssey Martial Arts – $64-$77
bendparksandrec.org
Wednesdays - January 9-February 20
Creative Computer Coding
TECH — Each week on Early Release Wednesdays, kids grades K-5 will storyboard and brainstorm creative ideas to bring to life on the screen using iPad-based visual programming languages.
Buckingham Elementary – $80-$96
bendparksandrec.org
January 12
Cascades Wedding Show
BRIDES—Planning a wedding for yourself or a loved one? The Cascades Wedding Show is the largest, most comprehensive bridal show in Central Oregon. With more than 100 vendors from every corner of the bridal industry, you will find all of the resources you need to plan your dream wedding—or someone else's!
Riverhouse on the Deschutes – $10/adv., $15/door
cascadesweddingshow.com
January 12
Go! How to Get Going and Achieve Your Goals and Dreams
READ — Author Marcia K. Morgan explores how women and girls recover from lost goals and dreams and shares tools to get back on track.
Roundabout Books – Free
roundaboutbookshop.com