Submitted
It's Kid's Day at the High Desert Museum March 27.
Monday-Friday
Stroller Strides
FITNESS
— This total-body condition workout is designed for moms with kids in tow.
FIT4MOM Bend | First class free, packages avail.
bend.fit4mom.com
Mondays
Starflight After School Club
CLUB
— This club meets weekly to guide youth through Camp Fire's age-specific, growth mindset-based national curriculum, exploring what are called "Trails" — themes that build life skills, understanding and a child's sense of self-worth. Open to all K-3rd graders.
Amity Creek Magnet Library | $60
ultracamp.com
Mondays
Mommy/Daddy & Me
PLAY
— Incorporate art, storytelling, animal demonstrations, games, movement, music and literature into an enjoyable class for both children and adults! For ages 2 – 4, accompanied by a parent. April 29th: Chickens and Dinosaurs! | May 6th: Scavenger Hunt! | May 13th: Weather! | May 20th: Pollinators!
Tuesdays
Youth/Adult Slackline
LEARN
— This class teaches a combination of basic poses, transitions, floor exercises, stamina drills and games. All ages and levels welcome.
Tula Movement Arts | Drop-in and class packages available
tulamovementarts.com
Tuesdays
Creativity Lab for Toddlers
ART
— Come join an art class specifically designed for toddlers to engage in age-appropriate open-ended art-making activities. Children will have the chance to explore a variety of materials in a safe and playful environment that you don't have to clean up! Drop in for ages 1-3 years old w/caregiver.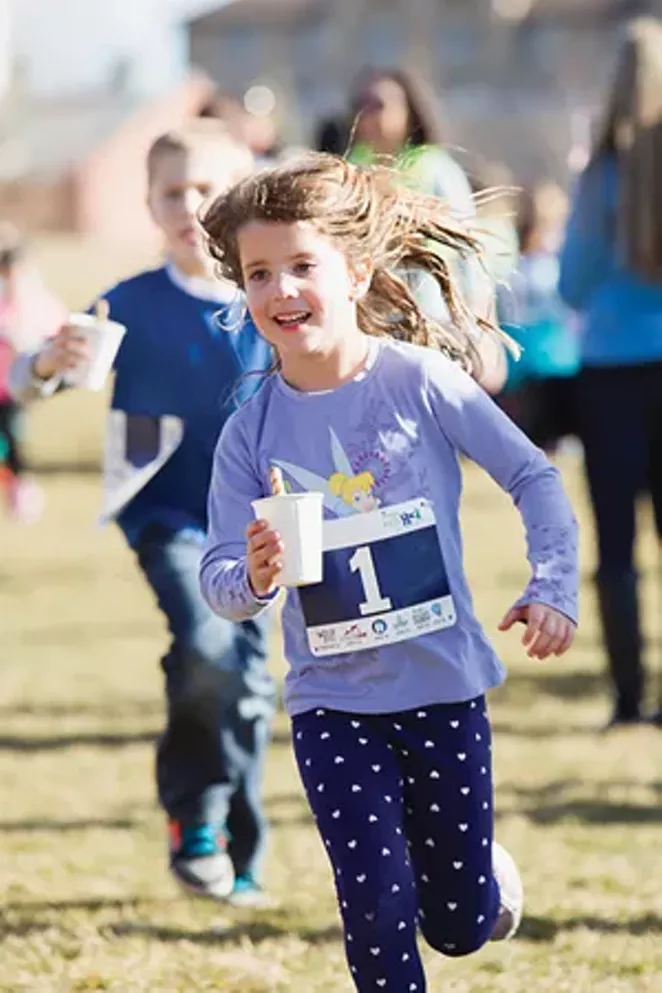 Submitted
Kids Rock the Races, Hot Cocoa Run.
Tuesdays
Mom & Baby Yoga
PLAY
— Mothers with babies through early walkers are invited to stretch, strengthen, relax and have fun in a child-friendly environment. Moms will focus on shoulder opening, easy yoga sequences and postnatal core-building while spending time bonding with their babies and connecting with fellow new moms. No experience necessary.
Tuesdays-Fridays
Creativity Lab for Preschoolers
CREATE
— Children will be introduced to a variety of media and techniques through process-oriented exploration and investigation. Ages 3-6 years old w/caregiver.
Wednesdays (April 17-May 1)
Drawing for Kids
ART
—This class offers new approaches to shake things up and move kids past drawing with hard outlines. We'll explore fun and radical techniques such as automatic drawing, super-large-scale drawing, trace monotype and reduction drawing. Valuable for both budding artists and ambitious art students. For ages 9 and up. 3-5pm.
Wednesdays
Creative Story Time
STORYTIME
— Bring your little for this unique story time featuring a different book each week, followed by an art-making experience inspired by the story. Perfect for ages 1.5-5 years.
Wednesdays
After School Wednesday
SKATE
— Come skate with Coach Gabe after early release from school every Wednesday!
Wednesdays (through April 17)
Go Fly a Kite After School Club
KITE
— Design, build and fly your own kites! Kids will be able to get creative and have the opportunity to learn about aerodynamics and engineering as they put their designs to the test. Let's go fly a kite! Open to all K-3rd graders.
Amity Creek Magnet School | $78
ultracamp.com
Wednesdays (thru March 27)
Kids Camp: Art Around the World
ART
— Learn and create art around the world. Ages 6-9 years. Online registration required.
Thursdays (thru April)
Skating Open Practice
SKATE
—Come get some skating practice in! This special 40-minute practice session is open to the public from 6:20-7:00pm
The Pavilion | $6 including skate rental
bendparksandrec.org
Thursdays
Kids Skill Building Series-Wood/Welding/Craft
BUILD
— Kids ages 10-14 will have a lot fun in this monthly class series while learning valuable skills. The classes include making a Glockenspiel, stitching a leather wallet, creating sheet metal art and crafting a cutting board, cedar birdhouse, classic toolbox, planter box and more. All materials will be provided, and the kids will go home with a handcrafted project each week. Students are required to sign up for the whole series unless otherwise noted.
Thursdays
Art Club
CRAFTS
— A unique after school program that develops creativity, for ages 5-11! Register for a single drop-in session to try it out, or sign up for a month of sessions.
ARTdog | $24/class, packages available
artdogbend.com
First Friday of Every Month
First Friday Art Walk
ART
— Downtown Bend swells with a ton of art events on First Friday, including some family-friendly events at local businesses like Wabi Sabi.
Third Saturday of Every Month
SELCO Family Art Day
ART
— Family Art Day invites children, ages 6-12 accompanied by an adult, to craft a family-friendly art project. Instructors will lead each session. All materials provided.
SELCO Community Credit Union – West Bend Branch | $5
selco.org/art
March 22
Intro to Dungeons & Dragons
PLAY
— Learn about DnD and how to build a character. Ages 12-17 years.
March 23
Celebrate "World in the Snow"
ART
— Create art pieces to celebrate the 2018 Caldecott Winner, "Wolf in the Snow." Ages 6-9 years.
March 23 & 30
Sky Hunters
FLY
— Raptors take flight overhead in this intimate demonstration. Experience these powerful predators like never before as our wildlife curators showcase the birds' agility and grace.
March 24
PreClay
ART — This is a starter class for little artists to experience the wonders of clay. Children will squish, push, form, flatten and create a ceramic piece and decorate it with bright colored glazes. (Child must be accompanied by adult).
March 25-29
No School Day Recreation Swim
SWIM
— When school's out, swimming is in!
March 27
Kids Day
PLAY
— Hands-on activity stations will be set up throughout the museum for kids to explore microscopes, pelts, etc.
High Desert Museum | Free with museum admission
highdesertmuseum.org
March 27
LEGO Block Party
BUILD
— Kids + 1 gazillion LEGOs = fun. All ages.
March 27
River Art Workshop
ART
— Create river-inspired art to submit it to the Honoring Our Rivers Project. All ages.
March 28
Tiny Explorers: Ribbon Play
EXPLORE
— Tiny Explorers encourages new parents to kick-start a healthy life enjoying the outdoors by getting their little ones in nature at a young age. The program focuses on new families with infants and toddlers, from birth to 3 years old.
March 29
Royal Tea Party
TEA TIME
— Wear your finest for a taste of royalty, entertainment and refreshments. Ages 2-11 years.
Submitted
Come to a free demo at the Learning Groove with Ms. April—April 6.
April 6
The Learning Groove with Ms. April
LEARN
— Join Ms. April for a free demo of her parent/child music and movement class for children ages newborn to 4 years old! Learn, sing, dance, make friends and bond with your child.
April 7
Little Fry Run
FUN RUN
— Help your Little Fry hatch into a runner — register them for the Little Fry Run, a part of the PacificSource Kids Rock the Races series! If your child is too young to run with the big salmon, this fun run will still get them moving upstream. A non-competitive, healthy event kids 3-10 will enjoy. Everyone receives a finishers ribbon for participating.
April 12-14
Big Wave Challenge
Snowboard
— Big Wave is back again! Every year Mt. Bachelor holds this one-of-a-kind event inspired by the event's host — legendary surfer and Mt. Bachelor Ambassador, Gerry Lopez.
See website for full event schedule. Everyone welcome!
April 13
Brooks Resources 50th Anniversary Community Appreciation Day
FREE DAY
— Free admission to the museum and all the exhibits within, courtesy of Brooks Resources.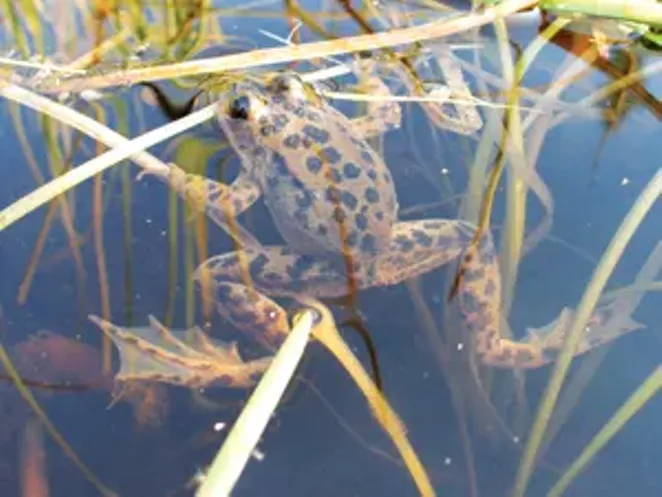 Submitted
Build homes for amphibian friends with Children's Forest April 13.
April 13
Puddle Stompers: Toad Houses
NATURE
— Get the creative juices flowing by building natural homes for amphibian friends with the Children's Forest of Central Oregon and Discover Your Forest. Ages 3-5 with family.
April 13 - June 1
The Learning Groove with Ms. April
LEARN
— Join Ms. April for her spring parent/child music and movement class for children ages newborn to 4 years old! Learn, sing, dance, make friends and bond with your child. Gotta Dance Studio | $135/6-week session (Must pre-register)
thelearninggroove.com


April 17
Dyslexia & School
LEARN
— Representatives from Bend-La Pine Schools will help parents understand how they can best work with the school district, teachers and administrators regarding support for their children with dyslexia.
Samara Learning Center | $5 donation suggested
decodingdyslexiaor.org
April 20
Earth Day Fair & Parade
CELEBRATE
—The Environmental Center organizes Bend's annual Earth Day Fair & Parade – a colorful celebration of the natural world and our vibrant community. Join us for live music, local food and family-friendly activities in downtown Bend. See the website for a schedule of events.
April 20
Thorn Hollow String Band
MUSIC
—Hear some toe-tapping tunes from the pioneering house band at the High Desert Museum. Bring the whole family - dancing encouraged!
High Desert Museum | Free with Museum admission
highdesertmuseum.org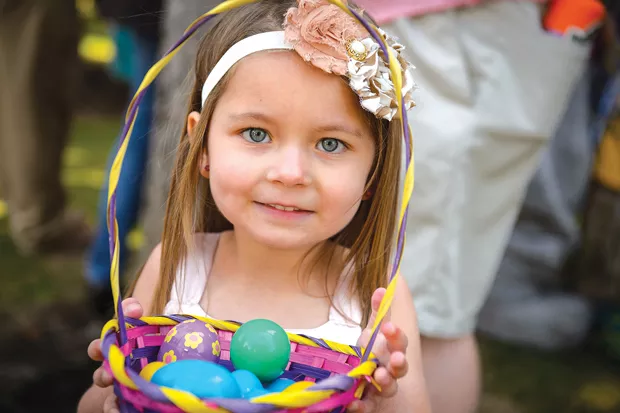 Submitted
Sunriver Resort Easter Brunch and Egg Hunt April 21.
April 21
Easter Brunch and Egg Hunt
EASTER
— Join Sunriver for their annual Easter egg hunt and fabulous Easter brunch at Carson's American Kitchen!
April 27
Oregon Spotted Frog Stewardship Adventure
NATURE
— Learn about the Oregon spotted frog and how to keep our local watershed healthy in this interactive workshop. Take a field trip to an Oregon spotted frog habitat and participate in a stewardship project. For children ages 7 to 10 and a caregiver.
High Desert Museum | $10, members receive discount
highdesertmusum.org
April 27 & 28
Banff Mountain Film Festival
FILM
—Ignite your passion for adventure! For the past nine years, Friends of Realms has hosted the Banff Mountain Film Festival World Tour as a fundraiser for Realms Middle School and now the new High School too. The Banff Mountain Film Festival World Tour will exhilarate all with amazing big-screen stories
May 3-5
Children's Yoga Teacher Training w/ Deven Sisler
YOGA
— This teacher training weekend is for parents, caregivers, yoga teachers and educators who want to share the benefits of yoga and mindfulness with children. Learn poses, guided meditation, partner yoga, use of story and mindful games for ages 7-10 years old and more!
Namaspa Yoga Studio | $400/ before April 15, $450/after April 15.
namaspa.com
May 11
Birds Beyond Borders: A Migratory Bird Day Event
BIRDS
— Celebrate International Migratory Bird Day, cosponsored by the partners of the Children's Forest of Central Oregon and Oregon State Parks. This family event features kid-friendly bird walks, educational activities, cultural and art activities and more. Activities offered in English and Spanish.
High Desert Museum | Free, $5 state park fee per vehicle
highdesertmuseum.org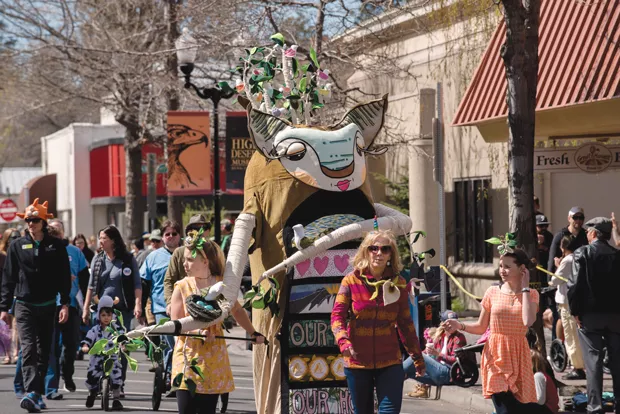 Submitted
Earth Day Fair and Parade will come to downtown Bend on April 20.
May 11
Dyslexia for a Day Simulation
LEARN
—Come experience dyslexia for yourself. Participants experience the power of empathy as they take part in a variety of activities that mimic the learning experiences and associated frustration and anxiety that students with dyslexia face on a daily basis. 9:30am – 12:30 pm
May 11
With Your Child: Wildflower Gardens
MAKE
— Just in time for spring, create wildflowers with your child, ages 5 and up! Families will work together to create tack-fused and slumped piece depicting wildflower gardens in fused glass. Additional charge of $30 paid to instructor for raw materials and firing cost.
May 18
Puddle Stompers: Fledgling Fun
NATURE
— Spark a sense of wonder for nature through imaginative play, exploration, songs and stories with the Children's Forest of Central Oregon and the High Desert Museum. Ages 3-5 with family.
May 18
With Your Child: Spring Nests
MAKE
– Create a unique bird's nest using clay. Build your nest using small coils and then sculpt little birds and fun eggs to fill your nest! Paint your eggs with colors and designs — or go for a more realistic look. The sky's the limit!