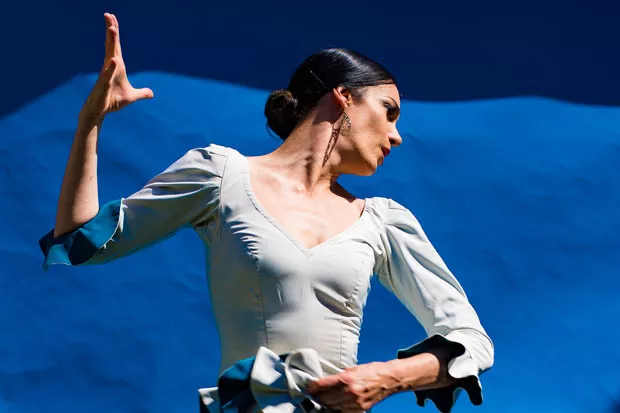 Tito Fuentes
"Flamenco Fuentes" - Savannah Fuentes of "Féria," performs at the Capitol Sunday.
Flamenco artist Savannah Fuentes executes her precision dance moves with ease, while admitting feeling a heavy burden of responsibility to represent her art in the finest possible form. She performs "Féria" at The Capitol in Bend Sunday.
"I don't tour with local performers," Fuentes explains. "I feel a big responsibility to bring the best of this art form, because I truly love it and care deeply about it. I bring the best artists I can. Pedro (Cortes, guitarist) is an excellent artist and a great accompanist. The guitarist has to accompany all the percussive footwork, but he also has to accompany the tones of the singer (vocalist and percussionist Jose Moreno). It's a really difficult job. We all interact together. That's what makes the impact in flamenco dancing."
Flamenco tells a story using lyric phrases, or Letras, Fuentes says, "like phrases of poetry. A lot of them are pretty sad. It runs the gamut of emotion—there's happy flamenco too, but a lot of it is sad. It is the music of oppressed people. This music is a form of resistance, something cathartic for people that were experiencing hardship and racism. There's a background of people being taken out of their homes.
"When Queen Isabella decided she wanted to make Spain all Christian, all these people were forced into southern Spain. The Sephardic Jews, the Islamic people, and of course the Romani people. Definitely the Letras tell a story, and I try to interpret and embellish on that."
The trio starts each performance with an introduction to the history and culture of flamenco. "The music is very different. The culture is very different. The show has to do with the Spring Fair (the annual flamenco festival, or Féria, of Seville, Spain). It started off as a livestock fair that would happen every year after Holy Week. Then it morphed into this big event, three days of flamenco celebration, dressing up in flamenco outfits, singing and dancing. There's a specific dance called Sevillanas, a more festive, party dance. I personally don't dance the Sevillanas, but I put the music in the show to represent the theme."
Fuentes says while she's true to the essential art form, she chooses to express herself with an American bent. "I'm a little bit different. I don't wear the really loud costumes, I'm a little more reserved. My dresses are toned down, more modern. That's how I choose to represent myself, because I am American. I don't want to pretend be a person from southern Spain. I hope to be a little bit more innovative. That's my aesthetic."
Fuentes has performed throughout the western United States, but says she especially loves the Pacific Northwest. "I think of that kind of joy of going to California or Oregon or Washington in the early summer. That's why I thought of Féria. I find a lot of joy here. It's where I'm at home. This area, these three states I love and I was so happy to be returning here. That's what inspired me for the show."
Féria, an evening of Flamenco Bend
Sun. July 1, 8pm
The Capitol
190 NW Oregon Ave, Bend
$20, VIP $33
thecapitolbend.com
541-678-5740