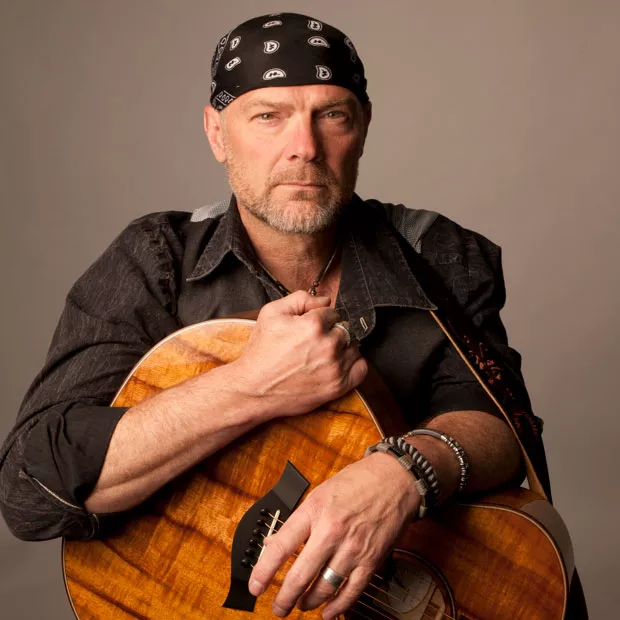 Laura Bombier
Celebrate nature with "Survivorman" Les Stroud at the Tower Theatre and on the lake with Wanderlust Tours.
You may recognize musician, filmmaker and survival expert Les Stroud from his hit television series "Survivorman." In addition to embracing nature in his screen career, Stroud draws from the blues, folk and acoustic genres to reflect the spirit of adventure in music. Stroud celebrates the release of his latest album, "Bittern Lake," by bringing people together for cave and kayak tours with Wanderlust Tours. We chatted with him ahead of his visit to Bend.
Source Weekly: How do you use music to connect listeners to nature?
Les Stroud: That's a bigger question than you might think. It really falls in line with everything, even my film work. At the base of my desire to create is an agenda that connects people to the natural world, that gets them outside again. Certainly lyrically, it's a big one. Also sonically, it's a matter of utilizing natural sounds, which I'm doing on the next album I'm recording. Finding a rhythm within the song of a bird. I think in the end the reinforcement of celebrating nature through music and art—speaking and protecting it—gets into people's psyches when they listen to the music, and it inspires them to get back out there.
SW: How do you think music can make an impact when it comes to environmental preservation?
LS: In some cases, especially with live performances, look at a venue like the Tower. It facilitates the gathering. You're going to listen to great tunes with like-minded people. It becomes a facilitator in many ways. Recently, it's been on my mind in my film work and work as a producer, that I want to do a project on music and activism. We know that music has had at least a galvanizing effect throughout history. If music and galvanized people can make people come together, why not the environment, as well?
SW: Where do you get your best writing done? What does your writing process look like, especially out in the wild world?
LS: I don't write at all when I'm out in wilderness. I really prefer to be there and be in the moment. I let nature do what it does, infuse me with its chemicals, make me more sharp-witted. I come home, allow it to percolate, then pick up the guitar, the pen and paper and see what comes out. There might be a specific imagery, what I'm remembering is the feeling. It feels less contrived if I allow it to settle within me.
SW: What do you love about recording with everyone all in one room, like you did for Bittern Lake?
LS: I think a lot of musicians love it for one thing, because it's old school. When you think of the classic albums, everyone worked on them as they went. I wanted to facilitate that and everyone fell in love with the process. I gave musicians who normally do 37 takes to get their guitar part right to really get into the music. They only have five chances and then we're moving on to the next song. I have everyone stay at the house, sit by the lake, share a glass of wine. It's a really full atmosphere that creates a lot of happy accidents. Most of the industry is correcting accidents. I love happy accidents. Some of the greatest parts of the best songs are accidents.
SW: If you could perform anywhere in the world, where would it be and why?
LS: Bend, Oregon, because they are having me back and I think what we're doing in Bend is exactly what I want to do, but many times over. Celebrating nature through art. If I can go out on the Wanderlust tour on Friday, have them come to my concert on Saturday, all of that speaks back to what you originally asked me. People getting excited about nature again.
SW: How did it come about that you're leading a cave tour and kayak excursion while you're here?
LS: I played last year at the Tower and everyone was happy. How can we expand this and get everyone excited? What if I came up a day early and went kayaking with them. Spinning off of last year and advancing it this year. I love that Malibu is leading the way in banning plastic; Bend could lead the way with celebrating nature. I would really love Bend to be a leader in this.
SW: What's next for you?
LS: I have a follow-up album ready to go. I'm releasing a new film about a school shooting. I also have a new series on Nat Geo Wild called "Alaska's Grizzly Gauntlet."
Note: Stroud's "Art in Nature" tours were sold out as of the date of publication. Check out wanderlusttours.com for more information.
Les Stroud
Sat., June 9. 7:30pm
Tower Theatre
835 NW Wall St., Bend
$17-$35