Summer break is here­—and whether it's due to a sudden change of plans or procrastination, you might be finding yourself faced with finding last-minute care for your school-age kids.
As you search the internet and begin to make calls, you realize the situation is dire.
Enrollment dates are long over.
Many summer programs are filled with wait lists.
Before you descend into panic, consider the following approaches to making it through the child care crunch. Central Oregon has a wide array of summer programs for school-age kids. Sure, the enrollment deadline for many has passed and some are full, but there are still options available.
Bend Park and Recreation District
Julie Brown, communications and community relations manager for
BPRD
, confirms that registration for summer camps opened in March. However, she says that while families have been signing up for programs since spring break, and availability is limited, there are still options available.
Brown says, "Bend Park and Recreation District has dozens of summer programs for children, ranging from art, rafting, archery, cave exploration and survival skills to jewelry making, baking, science, coding, robotics and more— and several still have openings."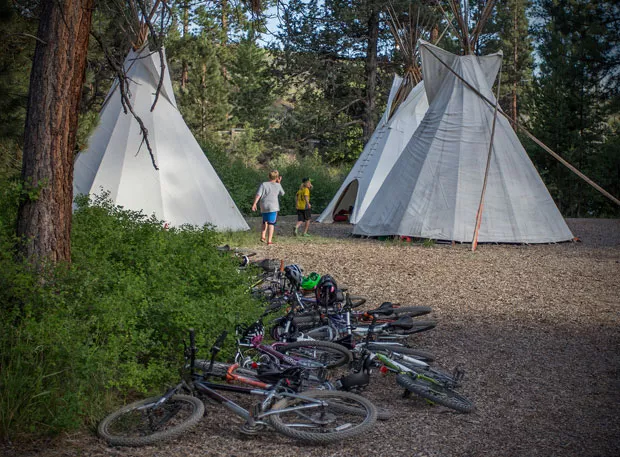 BPRD
Cougar Camp culminates in an over-nighter in teepees, for kids 8-13.
If parents are looking for a camp, the BPRD Cougar Camp still has openings. "It runs as a day camp Monday, Tuesday and Wednesday with hiking, biking, swimming, games and nature exploration. Wednesday evening is a family barbecue and camp activities before campers stay overnight in teepees and are dismissed at noon on Thursday," says Brown. The camp serves kids ages 8 to 13.
Parents can see which classes, programs and camp sessions are still available by visiting the Bend Park & Recreation District registration page online at Bendparksandrec.org.
Boys & Girls Club of Bend
If you're a working parent looking for more comprehensive care for your kid, the
Boys & Girls
Club of Bend is the go-to program for affordable all-day care. Good news! They still have some openings left in their 10-week program, which kicks off on June 18.
Executive Director Amanda Gow says the Boys & Girls Club program is designed to be a source of support for the working family. "It's not so much a day camp program, like those offered at Park & Rec. It's full-time care for families who have to work." Families can choose from a variety of schedules, but keep in mind that the program is designed to build on itself over the course of the full 10 weeks.
According to Gow, the full program costs $1,200 for the summer and scholarships are available. For 2018, the Boys & Girls Club of Bend provided over $100,000 in scholarships for families. Families who sign up for the program can expect their kids to enjoy programming that includes a curriculum with weekly themes such as Adventure Land, Sports Extravaganza and Around the World in Five Days.
For details and information about enrollment visit the program website at bgcbend.org or call 541-617-2877.
Can You Leave Your Child Home Alone?
While summer classes and camps are a good option for families with school-aged children, they can take a financial toll—especially when there's more than one child in the home. Many parents struggle with determining when it's OK to leave their children at home on their own or when to allow an older sibling to care for a younger one.
Oregon state law states that the individual with custody of child under 10 years old "commits the crime of child neglect in the second degree if, with criminal negligence, the person leaves the child unattended in or at any place for such period of time as may be likely to endanger the health or welfare of such child." In other words, it's against Oregon state law to leave kids alone at home for an extended period of time if they're under age 10.
While there's no specific state law surrounding the legal age kids must be before they can start babysitting, ORS 161.290 states: "A person who is tried as an adult in a court of criminal jurisdiction is not criminally responsible for any conduct which occurred when the person was under 12 years of age."
Whether it's to learn the skills kids need to stay at home alone, or to help watch younger kids, the American Red Cross offers babysitting classes for children ages 11 and older.
When deciding whether your child is ready to be left without adult supervision, ask yourself the following questions:
Do they know basic first aid?
Can they take care of their own basic needs responsibly?
Are they trustworthy?
Do they consistently make good decisions on their own without guidance?
Before you leave your child on their own, make sure they're clear on your rules and expectations as well as what to do in the case of an emergency. If you have a neighbor or friend who is available while you are gone, see if they'll volunteer to be an emergency contact and let them know what your schedule is.
Child Care Swaps
Mindy Noe is the owner of The
Village Preschool
. Her son Damian is eight years old and aging out of her preschool program. "(Damian) isn't old enough yet to take off on his bike by himself to a friend's house, unless they live really close by, and camp options can be really expensive," says Noe. "Luckily, I am self-employed and plan to have him do some work with me this summer... to earn a little spending money for himself. For the most part, though, I want him to enjoy his summer, play outside, ride bikes, fish and swim." Noe has organized a child care swap with a close friend to make sure her son has plenty of active, fun time.
In addition to child care swap and self-care, volunteer opportunities for kids exist throughout Central Oregon. While finding summer care for your children is always challenging, there are still plenty of options available for families willing to do a little phone work and a whole lot of creative thinking.
If you're still holding out hope for a specialized camp that matches your child's unique interests, an extensive list of Summer Camp offerings throughout Central Oregon can be found online in Bend Nest's summer camp roundup at: