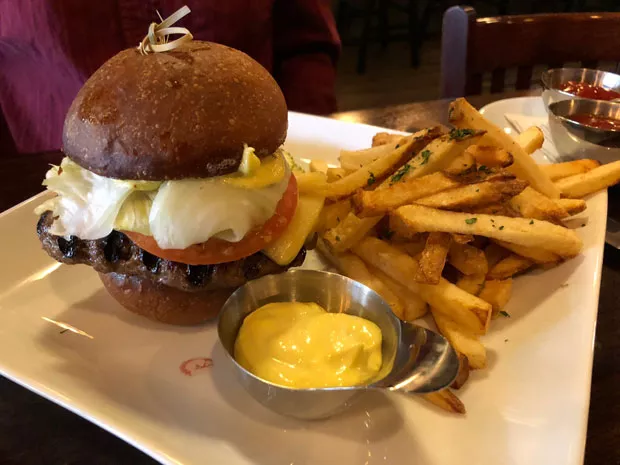 When Luke Mason left the French Market last year, I was disappointed. He's a wildly creative chef, dedicated to farm-to-table cuisine, who can turn a plate of simple carrots or mushrooms into a flavor adventure. When I heard he was the executive chef at a new restaurant, Citizen Bar & Kitchen, I couldn't wait to enjoy a menu from him again.
Located in the former High Tides Seafood Grill spot on Bond Street in downtown Bend, Citizen Bar & Kitchen is owned by the team from Bowtie Catering Co., Sanda Costello and Gene Soto. The pair remodeled the interior, uncovering the original 1927 wood floors and adding a bar. The walls are a velvety shade of charcoal, the light fixtures are modern and reclaimed wood acts as rich wall art. The overall feel is hip and modern, but the "seat yourself" sign is a reminder that it's still casual. My dining partner, Dee Meyer and I found a table away from the two large parties seated at the front of the restaurant.
We ordered cocktails so we could take our time looking over the menu. I ordered the Kentuckiano cocktail purely because it was labeled as the bartender's nightmare, on account of its volume of ingredients: bourbon, Amaro Nonino, Aperol, Dolin Rouge Vermouth, Peychaud's Bitters and an orange peel. Meyer had a harder time choosing a drink. She wanted a light, refreshing glass of Riesling, but there wasn't one on the wine list. Instead she ordered a spicy Marjorie, a margarita with fresh muddled jalapeños, pineapple juice, lime juice, triple sec with a jalapeño and lime garnish. The Kentuckiano was boozy—which I appreciated because I like to taste alcohol in my cocktails. If you like Manhattans, you'll enjoy the Kentuckiano. I also tried Meyer's spicy margarita. The heat from the muddled jalapeño bloomed in my mouth, and the sweet pineapple balanced the flavors and calmed my hot taste buds.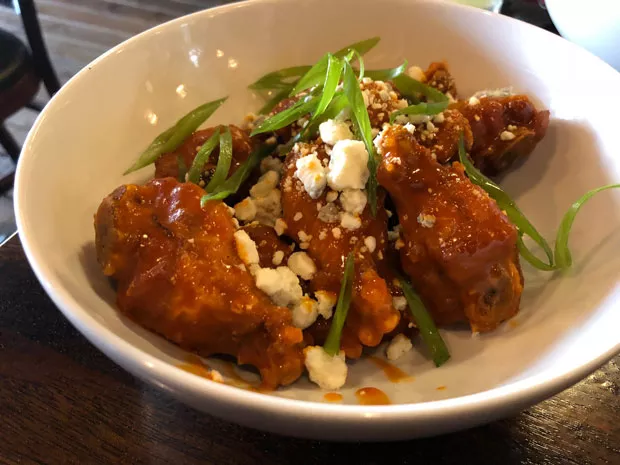 I asked Meyer if she thought the menu seemed weird. I was surprised to see buffalo chicken wings alongside appetizers such as grilled artichokes with preserved lemon aioli and steamed clams with pork belly and house grilled crusty bread. The list of entrees also included fancier items such as scratch pasta with pea and Pacific Northwest foraged mushrooms, as well as a burger and a pastrami sandwich, which I would consider more pub food than New American. Really though, the menu seemed so strange to me because not long before my friend, Karin Roy, had texted me photos of the elegant dishes she ate at the opening. Her photos looked nothing like what was on this menu. I know Chef Mason cooks seasonally, the had menu probably changed, but something was off.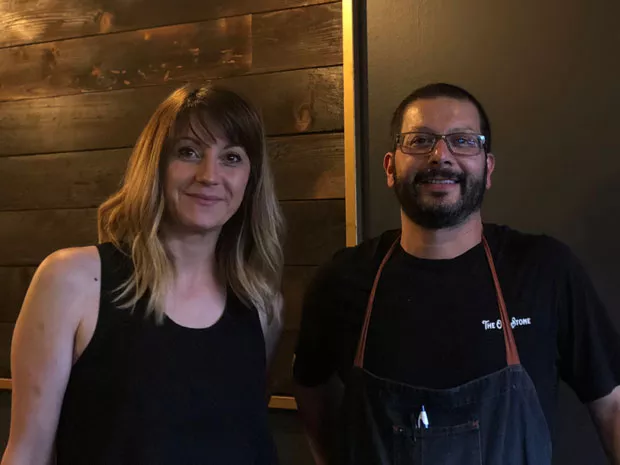 Later in the evening Costello sat down with us. It's easy to connect with her; she's charming and has the kind of magnetic personality perfect for the restaurant world. A few months ago, Costello became an American citizen. She's originally from Romania, so it's the reason the restaurant has its name.
About opening the restaurant, she said, "I want Citizen to be inviting. That's why you seat yourself. I didn't want it to feel stuffy." Then she let us know Chef Mason was no longer with them, saying they let him go two weeks after the restaurant opened. Costello said not enough people were "getting" the menu. They had to explain a lot of the ingredients, and many diners felt the portion sizes were small. Costello and Soto were worried their new restaurant wouldn't be successful if they didn't try to cater to their clientele, so they added dishes including chicken wings and sandwiches. Currently, Soto is the chef, and he and Costello are balancing their catering company and the new restaurant.


The food we had at Citizen was good, but besides the cocktails and fresh-baked bread with two kinds of butter—blue cheese and rosemary—nothing we ate really stood out. We ordered chicken wings and a burger, but you can order them across the street or next door. Citizen has an identity problem, but one I believe they can fix. Costello showed me the building's creepy, cool basement with original lava rock walls, which she dreams of turning into a speakeasy—the kind where you need to be in the know to get in. With the great cocktails, I think that just might be the key to finding Citizen's place in the world.
Citizen Bar & Kitchen
1045 NW Bond St., Bend
citizenrestaurantbend.com
541-241-8711