E
lectric-powered scooters are a growing trend in cities nationwide, including Portland.
But during the April 3 City Council meeting, Assistant City Manager John Skidmore told the Council that Bend isn't prepared to bring shared electric scooters into the city just yet.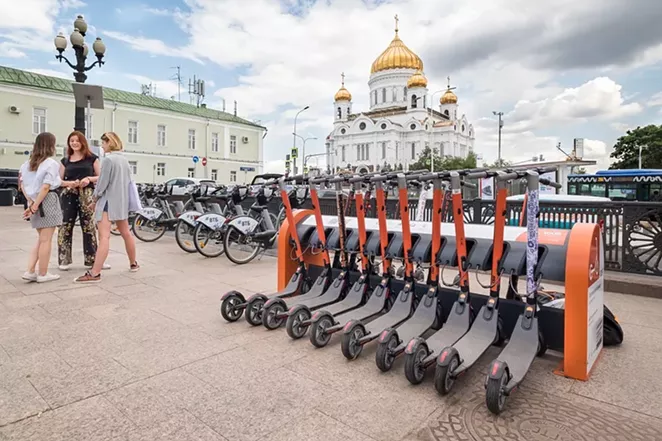 Pixabay
An example of public scooters in Moscow, Russia.
Skidmore said the City doesn't have the employees to implement the scooter program, saying it needs three fulltime employees for such a thing.
"We don't have the resources to manage this program," Skidmore told the Council.
Portland held a pilot program in 2018 designed to assess whether—and how—e-scooters could help meet the city's transportation needs. According to the pilot findings, during a four-month period, over 700,000 people took trips covering over 800,000 miles on 2,043 e-scooters. According to a poll by DHM Research, 62 percent of all Portlanders viewed the scooters positively at the end of the pilot.
The
City of Portland's 2018 E-Scooter Findings Report
found that the scooters largely replaced driving and ride-hauling trips. Thirty-four percent of local riders and 48 percent of visitors took an e-scooter instead of driving a personal car or using a ride-share app.
The report said users preferred riding on low-speed streets and in bike lanes—including Portland's bikeway network. According to the report, users ranked bike lanes as their preferred road type—ranking sidewalks last. The City of Portland said the scooters were capped at 15 mph, which made them too fast for the sidewalks.

The report also said improperly parked scooters on sidewalks had negative impacts on accessibility and created a hazard for people with visual impairments.


Currently, riding an e-scooter on sidewalks is illegal in Bend. And, according to Skidmore, Bend Park and Recreation District prohibits them on its property. Sizemore also said The Old Mill District isn't supportive of the scooters at this time, either.

Portland leaders said in their report that for all of the positives about scooters that emerged during the pilot, they also learned valuable lessons about the challenges related to making scooters a permanent part of the City's transportation system. Because of this, the City decided to run a second pilot program this year to collect more data and test solutions to the challenges that emerged during last year's pilot. The City of Portland said it would focus on improving equitable access across the city and ensure safe and legal riding and parking during this year's pilot program.
Tourism and traffic
At its April 3 meeting, the Bend City Council also debated about how to better research how visitors impact Bend's transportation system, discussing three options on the table. Mayor Sally Russell and councilors Gena Goodman-Campbell, Bruce Abernethy and Barb Campbell spoke in favor of the most in-depth option, which would create additional data and analysis of transportation system users, build on the City's 2016 Traffic Count Analysis and match traffic count data with transient room tax data and visitor data.
That option—Option No. 3—is also possibly the most expensive. According to the City's presentation, Option No.3 could have a budgetary impact of $50,000 to $100,000. Councilors Bill Moseley and Justin Livingston were in favor of option No.1—already budgeted for—which would have Visit Bend update its survey and create a better summary of existing traffic data.
New councilor Chris Piper was in favor of option No.2, which would give the Council a better understanding of how other communities measure tourism impacts and identify new data sources. According to the City, it would have a budgetary impact of around $10,000 for a literature review and an unknown cost of the traffic analysis.
The Council ultimately decided to wait for additional analysis of the options and the budget deliberations in May.