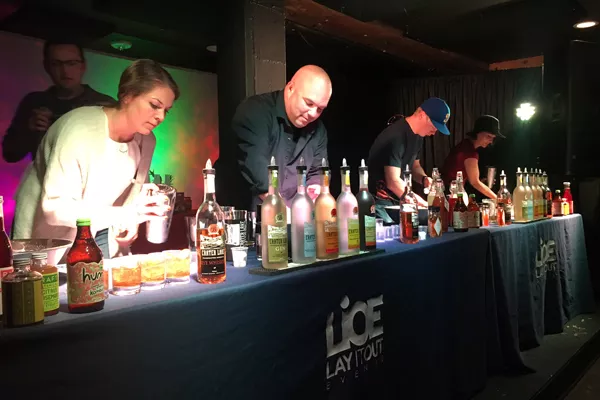 Ashley Sarvis
Central Oregon bartenders face off in prelims, vying to reach the Bite of Bend final round
I was eight drinks deep and hoarding them all. After another week spent embroiled in the daily onslaughts of political controversy after political embarrassment, these were the moments I could claim 100 percent editor privilege: To be one of the chosen few allowed to judge the esteemed competition that is the Bartender's Brawl. So what if eight beverages (sample size, of course) were waaaaayyy more than I could handle, even if I was footing it home? I'd earned this coveted spot, and I was owning it all.
Turns out though, I really didn't need to do any hoarding. The audience members were having just as much fun as I was—and they didn't have the "burden" of telling each of the bartenders why their drink was good—or wasn't.
Each year, in the run-up to the main event at the Bite of Bend, bartenders from around Central Oregon gather in these preliminary competitions to show off their skills. Like the final round, (which takes place at the Bite of Bend Mixology Showcase June 23) in the prelims, each bartender makes a prescribed beverage; usually something that's making the rounds of the cocktail set that year. (During round one last week, it was a Sazerac. The pulse of the cocktail set 2017, on point!) Each judge gets one of each bartender's drinks; as do the audience members who choose to participate. Sure, their drinks are in a small plastic cup while we judges get an actual glass, but hey, I don't do this job for nothing.
Next comes the round in which each bartender makes a drink of choice, choosing from any of the line of spirits that Crater Lake Spirits offers. For us, the drinks ran the gamut from sweet to tangy to nearly straight-up boozy. In that round, it's up to the bartenders to size up their audience and deliver something that those of us who wield the judgy notecards are going to enjoy. The two bartenders who manage to impress us most move on to the next round of the competition, where in my case, they're going to have me back at the judge's table hoarding drinks again for the next four weeks.
But as mentioned, the "official" judges aren't the only ones who get in on the fun. There's also an audience award, which participants vote on through the FoodFu Cocktail App.
If you're a cocktail enthusiast, all you have to do is show up the day of the event and grab a punch card for your samples. If you're a bartender, there's still time to join the competition—which of course, comes with prizes. Check out the Bite of Bend website for more. BiteofBend.com/libations.
Bite of Bend Bartender's Brawl
Preliminaries:
June 7, 5:30-6:30 pm. Hideaway Tavern
June 14, 5:30-6:30 pm. J-DUB Restaurant & Bar
June 21, 5:30-6:30 pm. Greg's Grill
Finals:
June 23, 6-8 pm. Bite of Bend Mixology Showcase, downtown Bend