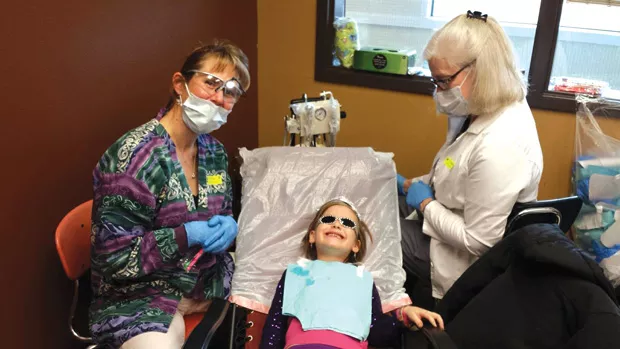 According to the Centers for Disease Control and Prevention, one out of five children between the ages of five and 11 years old has at least one untreated, decayed tooth. The statistics aren't much better for children between the ages of 12 and 19 years old, with one out of seven suffering from an untreated cavity. Tooth decay is one of the most common chronic childhood conditions affecting large swaths of Central Oregon's youth. Along with the toll it takes on children's overall health and self-esteem, dental issues directly contribute to the rising rates of absenteeism in local schools, with some schools clocking rates at more than 30 percent.

The vast majority of children in need of dental care belong to low-income families or families experiencing financial strife. It's no secret that receiving regular, preventative dental care is expensive. Even with dental insurance, the cost of preventing or treating dental issues can take a toll on a family's finances. Fortunately for Central Oregon residents, Kemple Memorial Children's Dental Clinic has been working to make sure that at-risk children are able to get their dental needs met at no cost to the families.
The Kemple Clinic is currently celebrating 20 years of serving Central Oregon families. The facility first opened its doors in 1998, when Dr. H.M. Kemple turned his goal of opening a clinic that could give all children in Central Oregon access to quality dental care into a reality. Meeting this goal was no small feat. It required countless hours of fundraising, finding community partners and collaborating with schools before success was realized, but the efforts paid off and continue now 20 years later.
According to the clinic's Executive Director, Suzanne Browning, Kemple is the only Central Oregon non-profit dental clinic and program that serves the uninsured, underinsured and underserved. Along with a clinic facility that offers preventative and diagnostic dental services, Kemple provides portable screen and seal programs, oral health education and also gives referrals to a significant network of dentists for urgent or emergent dental needs.
"We began our School-Based Screen and Seal programs in Central Oregon five years ago in Deschutes, Crook and Jefferson counties," says Browning. The programs were made portable and are currently delivered in schools and community service organization venues."We worked in concert with Oregon Health Authority who welcomed our involvement and certifies our Screen and Seal Programs each year."
In 2018 alone, the Kemple Clinic treated thousands of local children. It has provided more than 4,000 sealants. Over 6,000 kids received no-cost dental screenings. 300 children and young adults were given preventative and diagnostic care, and nearly 150 patients received acute or restorative care from Kemple's network of volunteer dental professionals.
"We take great pride in the fact that we do all of this with only two and a half paid staffers supported by wonderful volunteer dental assistants, hygienists and dental offices willing to treat acute needs of at-risk children and young adults at a very low cost to the community at large," says Browning when asked about the clinic's greatest accomplishments.
The sheer number of free services and treatments provided by the clinic is impressive. But equally so, is the large number of volunteers and organizations that come together to make the offerings possible. Kemple has over 140 volunteer dentists, hygienists and dental assistants who offer their time and skills for free. Their volunteer hours equal over $700,000 of in-kind care. Similarly, over 50 community service groups partner with Kemple and offer screening venues.
Looking forward, there are exciting things on the horizon for the Kemple Dental Clinic. "As we move into our new school year, we have solidified a partnership with the four dental care organizations—Advantage Dental, Capitol Dental, MODA and Willamette Dental—that serve the OHP patients in Central Oregon," says Browning. She explains, "This partnership addresses a significant need in our community...something that has not been easily addressed over the past few years: providing regular, preventative dental visits to OHP children."
According to Browning, the demand for the treatment of urgent and emergent dental issues from OHP patients takes priority and has reduced the availability of regular, preventative dental appointments with OHP providers. She says the lack of OHP dental providers to meet this demand in Central Oregon has only served to exacerbate the problem, and passage of SB 558 Cover All Kids (effective Jan. 2018) has added more children to the demand for services.
"Kemple Clinic is proud to expand the reach of our key preventative care services to serve OHP children who have difficulty obtaining appointments for these basic services," says Browning. Kemple has already started treating OHP children in their clinic.
When asked what the community can expect from the much-needed Kemple Clinic in the upcoming years, Browning says, "We continue to quickly adapt our services to the needs of the community." A trait that after 20 years, is something to celebrate.