On a sunny Monday morning, Courtney Van Fossan pedals her trishaw, or bike taxi, through the Old Mill District at relaxed pace, taxiing 90-year-old Leanne McConville and Jennifer Rogers, McConville's care manager for the day, both seated comfortably in the canopied passenger seat.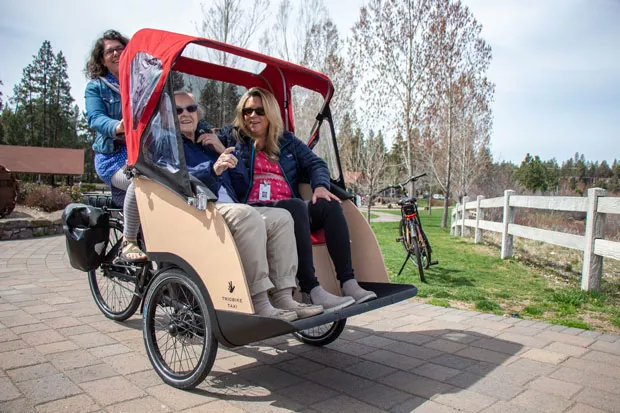 Keely Damara
Courtney Van Fossan pilots an electric-powered tricycle taxi through the Old Mill District, with 90-year-old Leanne McConville and her care manager, Jennifer Rogers, in tow.
The bike, imported from Denmark from a specialty e-bike maker called Triobike, has an electric assist motor that helps Van Fossan move along at a leisurely pace without breaking a sweat. Which is good — she needs her breath to carry on a conversation with her guests while on the bike taxi rides she offers through Cycling Without Age.
Van Fossan, who studied social work in college and has previously worked with older adults, said her love for bicycling made Cycling Without Age — a movement born in Denmark that aims to get older adults back on bicycles, adapted for their mobility — a fitting project for her to take on in Bend. She describes herself as "that mom." She regularly carried her kids on a cargo bicycle, dog included.
"For me, carrying someone by bike is really an act of love, I really believe that," said Van Fossan. "I've had that experience and get to now help other people have that experience."
She founded the Bend chapter of Cycling Without Age with her partner, Amy Castaño, in 2016 after seeing a TEDx talk by Danish Cycling Without Age founder Ole Kassow, in which he talked about the movement to get seniors outside, experiencing their cities via trishaw rides and — just as importantly — sharing their stories and building relationships.
Getting a specialty bike made for taxiing people about took some work. Two years ago, Van Fossan solicited the help of a woman in Northern California who owned a trishaw — cold calling her on the off chance she'd be willing to lend her the bike for the first Open Streets event on Bend's east side.
"I was like, I can take a no," said Van Fossan, with a laugh. "She said, 'Oh, well, we're going up to Eugene, so we'll just swing through Bend for Open Streets and bring you the bike."
Keely Damara
Courtney Van Fossan pilots an electric-powered tricycle taxi through the Old Mill District, with 90-year-old Leanne McConville and her care manager, Jennifer Rogers, in tow.
Ask and you shall receive — or in some cases, she hasn't had to ask at all.
Van Fossan said she's had overwhelming support from friends and colleagues who have found out about her new enterprise, offering to help with everything from filing 501c3 nonprofit paperwork to her employer, Bend Electric Bikes, offering to house and maintain the e-bike.
The bicycle, which arrived mid-March, was largely funded by Van Fossan herself — along with a handful of donations facilitated through the global Cycling Without Age organization.
For older adults experiencing limited mobility, getting out and enjoying the outdoors can be difficult. Jennifer Rogers is one of the managing partners of Bend Senior Care Management, which has operated in Bend for over three years. One arm of the business is life enrichment and socialization.
"It's how we are able to get seniors out, that have given back so much to our community, and have them feel fulfilled," said Rogers. "Where they're still living with a lot of dignity and respect — and still having fun."
The assisted rides around town are great for older adults looking for a little fresh air outside of their assisted living homes, said Van Fossan, but taking the time to listen to their stories and to enjoy conversation is just as important.
While cycling about and spotting dogs with Rogers and McConville in the Old Mill District, she chats with the 90-year-old Mt. Bachelor Assisted Living resident about her life. McConville, whose maiden name is Mitchell, spent nearly 40 years working in New York City as the director of Radio City Music Hall production costumes, designing fancy frocks for the famous Rockettes.
She said she doesn't get to go out as often as she used to, but when she does, she likes to learn about history — and she never turns away a friendly dog looking for some company. McConville said the trip around the Old Mill was lovely and she would like to take a ride again in the future. Biking was something she always enjoyed in her younger years, she said.
"It took me a long time to get a bicycle, but when I finally did, I thought the world came to an end — it was just the most wonderful thing in the world," said McConville.
Keely Damara
Courtney sits in a trishaw, or bike taxi, that she recently purchased for the Bend chapter of Cycling Without Age.
Van Fossan looks forward to piloting free rides for seniors this spring and summer, through partnerships with assisted living communities in Bend as well as individual inquiries through Bend Electric Bikes.
For those interested in volunteering to give seniors tricycle taxi tours around Bend, or those interested in scheduling a free tricycle ride, contact courtney@cyclingwithoutagebend.org.