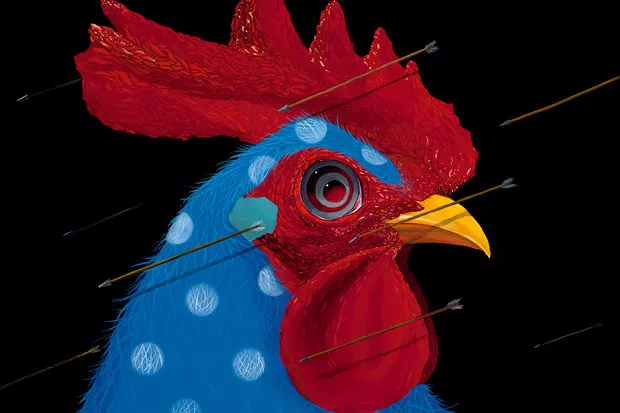 This weekend, Bend's Old Mill District will see artists from around the country descend upon the banks of the river for the annual Art in the High Desert. This week's cover artist, Darrell Driver, will be in attendance for the third year, making the trip from his home in Salt Lake City.

Driver is a self-taught artist who began painting seven years ago. In that time he's created an estimated 600 paintings, each with an associated narrative.
His piece on this week's cover, "Let's Rub Our Wings Together," is an oil painting on linen canvas, featuring eight species of birds navigating the sky on the back of a koi fish. While Driver chose to paint a variety of species so there would be contrast in the image, the image itself speaks boldly, beyond the technical aspects of painting. Driver's painting speaks to our own existence of acceptance in our everyday life—on the bus, in cafes, etc.—where we are often surrounded by people who we don't know, but we are peaceful with. "Let's rub our wings together, like let's work together and get through it," Driver says. The finished painting is 36 inches by 36 inches and took approximately 220 hours to compose.
Driver works as an appliance repairman during the day, spending the hours after his family eats to paint well into the early morning. Driver says he's lucky to have an employer who allows him to take longer periods of time off so he can travel with his wife and their children to showcase his work. He says he attends about 15 to 40 art shows a year, loving the critique and reflection it brings him. "I like when people come by and give me a local shitty remark or tell me I'm great. It helps the ego out in one way or another," Driver says with a big laugh.
He's excited to showcase a new painting, only being displayed this weekend for the second time. "Here Comes God... Act Normal" is a 5-foot by 5-foot painting bursting with life and color.
Driver will be set-up at Booth 61, live painting a new piece that will be following this new direction of inspiration—a piece he warns, "might be mind-blowing."


Darrell Driver
On the Source Weekly cover this week 8/22.
Correction 8/22: An earlier version of this article incorrectly spelled the artist's name. We regret the error.