Deschutes County District Attorney John Hummel is making a big ask for staffing during this year's budget setting. In a letter to the Deschutes County Budget Committee, dated March 4, Hummel said the department needs an increase of 12 full-time employees in order to provide full prosecution services in the county.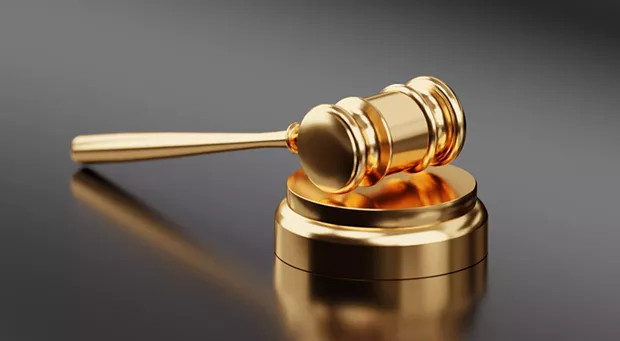 Hummel said if the budget committee—overseen by the County Commissioners—chooses not to authorize the additional positions, "then to represent the State well in cases involving homicides, sexual assaults, domestic violence, robberies and impaired driving, I would reluctantly have to eliminate other services we provide to the public."
If Hummel's budget is denied, he said starting July 1, his office would no longer pursue prosecutions in cases of misdemeanor driving while suspended, crimes eligible for the County's early disposition program, all Class B and C misdemeanors—except domestic violence, child sex abuse and crimes against law enforcement—nor violations of probation—except cases involving violence against a person or a downward departure from a prison sentence.
Hummel said the DA's office would also have to stop training students in the Central Oregon police officer reserve academy, end victim assistance to people seeking restraining orders or victims of misdemeanor physical violence—with the exception of domestic violence cases—and end assistance to people applying for the address confidentiality program. Hummel said his office would no longer provide the accommodation of police officer vacations while scheduling trials, the Victim Impact Panel that educates people on the dangers of impaired driving and follow up efforts to collect restitution information from victims of crime.
Over the past six months, Hummel said he and his staff conducted a comprehensive review of the office's staffing structure. The conclusion: Morale is low, turnover is high, the work product is compromised and the staff's ability to keep the community safe is at risk.
According to Hummel's letter, last year, 42 percent of the attorneys and 18 percent of the trail assistants resigned, compared to the 10 percent resignation rate countywide.
"I don't think I've lost any motions or trials because I was underprepared (either due to good facts or taking work home); however, I'm losing it emotionally and physically," a deputy district attorney wrote Hummel in response to Hummel's request for specific examples of how understaffing negatively impacted their work." "This is the effect of being short staffed: I can't keep a work/life balance, I'm constantly stressed and overwhelmed, I just finished up a 20-minute crying session in my office, I'm irritable, depressed, exhausted and on the verge of tears most days (but don't have the energy to actually cry.) ...I used to be a positive outgoing person but this workload has basically crushed my spirit."
Hummel offered three sources of funding in his letter to the County. He said the County General Reserve Fund is larger than it has ever been. In fund year 2014, for example, the fund sat at $640,000. In 2018, it was $10.5 million and projected to be $11.6 million for 2019. The DA said the county receives more than $300,000 from the state as a portion of the tax proceeds from marijuana sales. Hummel also said the county receives nearly $7 million annually in Transient Room Taxes, and after distribution to the Sheriff's Office, Central Oregon Visitors Association, Deschutes County Fair and Expo Center, and the Sunriver service department, there is a $427,000 reserve balance.
Even though Hummel's done some of the funding legwork, it's not yet clear whether the budget committee will see those as opportunities to staff up in the DA's office. (Editor's note: Hummel introduced this information at a press conference March 6, as this issue hit stands. As a result, the Source was unable to consult Commissioners on their reactions to the staffing analysis before press time.)
At least one sitting commissioner has expressed a desire to cut the County's overall budget. During Vice-Chair Patti Adair's campaign endorsement interview at the Source, Adair said she would look to cut the County's budget in a quest for "fiscal responsibility." Although she didn't directly answer questions about where she would look to make budget cuts, she did make vague statements about the salaries of current county employees.
Hummel specifically asked for four deputy district attorneys, two trial assistants, one office manager, two victim advocates, one victim advocate technician, one administrative support person and one paralegal.
"We achieve our mission of Community Safety and Justice through our people," Hummel said in his letter. "We don't have heavy equipment, we don't build things, we have the bare minimum hardware and software, and we have few vehicles. What we have are people who work their tails off every day (and many nights and weekends) to keep our community safe."