In a sea of uncertainty, these designers—some featured at this week's BendDesign conference—are creating solutions to solve humanitarian issues
Interviews compiled by Magdalena Bokowa
1. Angela Luna
Creator, ADIFF
» Designing multi-use clothing solutions to provide shelter and warmth
A jacket that turns into a tent. Or a sleeping bag. Or a backpack. Or an inflatable raft. Yes, you read that right.
These bold inventions by designer Angela Luna are an attempt to help homeless people and refugees—one coat at a time.
Inspired by the ongoing Syrian humanitarian crisis, Luna says in 2015, she saw the now-infamous image of a drowned Syrian refugee child lying face down in the sand. She decided to act.
"I just remembered feeling so helpless and I thought, OK, where is there a design problem we could offer a solution to? I decided to see if there was a way design could play a positive role in what was going on in the world."
Luna designed an arsenal of dual-purpose clothes— jackets that are reflective for visibility, a sleeping bag that can be converted into a coat or a tent, which can also be used as a jacket. "With fashion you can dress people and help people," she says.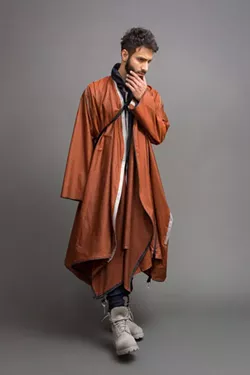 Luna, who's in her 20s, says the products can be used anywhere—distributed to homeless populations in the U.S. or even to address worldwide refugee crises. Far-reaching aid groups, such as one in China, have already asked for jackets for temporary shelter.
The recent design graduate will have the first shipments of the tent-jacket distributed in early 2018. "Each jacket responds to an issue that a refugee faces on a daily basis," Luna says. Having spent countless hours researching and speaking with humanitarian agencies, she said the most common issues which came up were shelter, warmth and visibility—and the ability to camouflage, at times. "On the inside it's reversible... one side is reflective," she says. "It's designed for hiding because I know refugees do have issues with needing to be seen and needing to hide (at) other times."
Though the designs comes with a steep pricetag—$350 for the tent jacket— Luna says 10 percent of sales will go toward donating a jacket to a displaced person, and her visibility jacket is a "buy-one-donate-one" philanthropic model.
See Angela Luna speak at this year's Bend Design Conference:
"Clothing for Crisis" talk — Oct. 26, 1:30 pm, Tower Theatre
MASHUP: Conscious Intention with Conscious Ink — Oct. 26, 5 pm, Hot Box Betty
"Recontextualizing Fashion" talk — Oct. 27, 10:30 am, The Capitol
2. Ibrahim Bilal Mubarak
Co-founder of a Right 2 Dream Too, Right to Survive Homeless Camps
» Offering a place of rest in Portland for the homeless
"Everyone has the right to rest, the right to sleep, the right to dream, too—but where they get to do that remains the question," says Ibrahim Bilal Mubarak, co-founder of Dignity Village, Right 2 Survive and Right 2 Dream Too, all permanent homeless camps in the Portland metro area.
"People are getting arrested for looking for a decent place to sleep. What does that tell you? It tells you they don't care about us. We got to stand up and fight back. You walk down the streets here, how many people sleeping on the streets, how many people without housing? Even people that work, they can't afford it. And the shelters are the new prisons," he says.
Mubarak, who himself has been chronically homeless in the past, acts as liaison between private and public owners to facilitate the resting camps. He advises Portland city officials, community leaders and neighborhood associations on homeless issues—including training police and social service workers in homeless advocacy. His camps have strict rules: no alcohol, drug or weapons use— and "no disrespect."
Zoning challenges have made it difficult to replicate the successes of these homeless camps in Deschutes County, yet Mubarak and his camps serve as an inspiration for many searching for solutions to the ongoing housing crisis.
The importance of eight hours of uninterrupted rests was profiled in a letter written to Ibrahim from a "dreamer" identified as Adam. He outlined the integral benefits of the camps, stating, "...(my) appreciation for those who have allowed me to have a safe place to rest and relax. A place of safety from the streets, a place where I could go, collect my thoughts, and escape from the crazy, chaotic world of being homeless in Portland.
"I feel that there should be more places like yours where one can seek sanctuary and be in a drug- and weapons-free environment. It comforts me that one can create a place like yours where the larger community can be so helpful providing food, clothing and other donations. As a result their situation can be made better."
Mubarak spoke about homelessness at a forum at COCC this month.
3. John Cary
Architect, Ted Talk Curator, Author
» An Advocate to Dignifying Design
"I believe design functions as the soundtrack to our lives, that we aren't even aware it is playing...it sends us subconscious messages, about how to feel and what to expect."
John Cary, architect and author, is trying to combat bad design with something he calls dignified design. "I went into architecture because I thought architecture was about designing and building for spaces for all people to live their best lives," says Cary. "What I've found is that it's ultimately a very white, male, elitist profession, seemingly oblivious to the world's needs. I believe so strongly in design because I believe it has the unique ability to dignify, it can make people feel, valued, cared for, comfortable, seen, honored and respected. That's dignity."
Cary says he operates his life work— from designing rural Malawian hospitals to free clinics in Arkansas— based on two levels. "Firstly, my motivation is deeply pragmatic. I want to change the practice of architecture and design. I want to alter how we build, what we build with, whom we build for.
"On another level I'm a big believer in design, to change lives, to bring dignity to the disenfranchised, the poor and to all of us....Well designed spaces shape our idea of who we are, what we are worth and what we deserve in the world. That is the essence of dignity."
"Yet, when we think of spaces, that makes us feel exactly the opposite. Uncomfortable, unsafe, insecure, insignificant, those spaces are much more abundant in fact."
Cary experienced this exact feeling, with the birth of his daughter a few years ago. Here he was in a world-renowned Californian hospital, in an intimate moment with his wife with other expectant parents-to-be, yet the design of the maternity ward made him feel uncomfortable and isolated. "You couldn't find a comfortable chair to sit in... and during our entire three-day stint in the hospital we didn't meet any other parents or newborn babies. What kind of design is that?"
Cary and his wife yearned for the rural Rwanda hospital they had experienced years before, where women were in a close-knit room together, facing out onto huge windows, streaming in light. He's been advocating for such design changes throughout his career and played a role in convincing the Malawian government to build a new rural maternity village which celebrates and designs "around compassion, empathy and dignity."
Cary, who curates Ted Talks and recently released a new book entitled, "Design for Good," says his ultimate role is that of a connector. He has aided in projects from free clinics in rural Arkansas for the uninsured to Los Angeles, "skidrow" transitional housing complete with supportive services, to a 22-mile Atlanta beltline and a 17-pavilion women's center in Africa made with "500,000 bricks that the women pressed themselves. It was designed as safe space for them," he says.
The lessons he's learned throughout his career? Firstly, that pro-bono work, though rooted in good intention, doesn't work. "What I found is that in order for these projects to happen, there has to be seriousness on all sides and that the fees actually benefited the project." None of the programs described above were done pro-bono—a 180-degree turn for Cary who wrote the book, "The Power of Pro Bono," just seven years ago.
Another lesson? That competition—the usual bidding made by architectural firms—didn't benefit these sort of projects. Rather "reputation and relationships" prevailed over all. His result? "Projects that turned constraints into opportunities. They were all super low budget, complicated... but they helped build local economies."

See Cary speak at this year's Bend Design conference:
"Dignifying Design" talk—Oct. 26, 10:30 am, Tower Theatre
MASHUP: Giant Jenga Design Wisdom—Oct. 26, 5 pm, Velvet Lounge