T
he Rebecca Foundation, the nonprofit organization providing cloth diapers to families in need, shuttered its doors last week and is under investigation with the Oregon Department of Justice. The organization was founded by Amanda La Bell, a candidate for House District 54 who ended her campaign last month after it was revealed that she had not earned a college degree, as was listed in her statement in the Oregon voter's pamphlet.
"We have received four complaints into our charitable activities division," Kristina Edmunson, spokeswoman for the ODOJ, said in an email to the Source. "We are reviewing those complaints."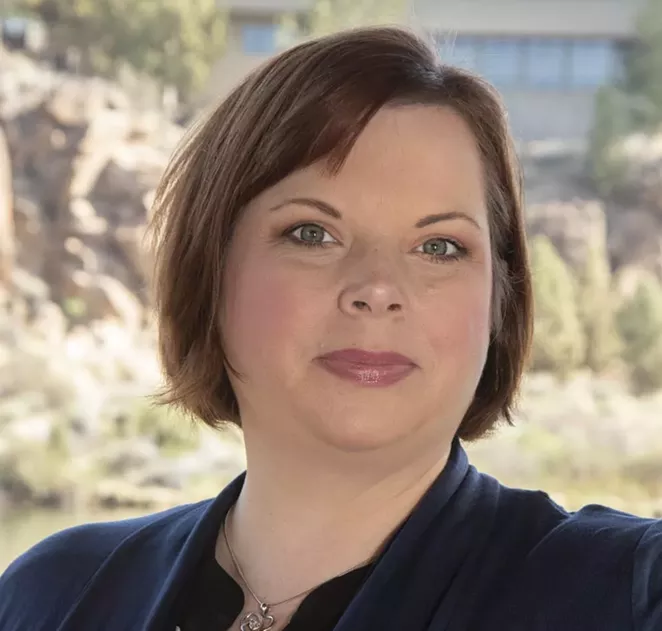 Submitted
Amanda La Bell is the founder of the Rebecca Foundation.
The Rebecca Foundation's website and Facebook page were both shut down as of last Thursday, three days after the entire board of directors for the nonprofit posted a letter of resignation.
"Recently, information came to light that led us to feel concern for the future of our organization. When we have sought clarity and openness, we have been met with obstruction. Ultimately, several board members privately requested that the CEO step into a non-executive role. She declined and instead directed us to announce her resignation," part of the letter read.
Allison Snoddy, who until May worked for the Foundation in Indiana, alleged thousands of dollars in grants and other funds raised for the foundation have gone missing, including $2,000 in grant funds from a church in St. Louis.
Leigh Kalista, the former president of the St. Louis, Mo., chapter of the Rebecca Foundation, said she got involved after buying a $25 package of new diaper covers and inserts for the foster children she provides care for.
"After I received my package, I wanted to step up and help the organization," Kalista said in an email. "I went through the online training that they offered and became the St. Louis chapter president. After just a few months of opening my chapter, a local church reached out to me and donated $2,093.31.
"I contacted Amanda La Bell, the CEO of The Rebecca Foundation, and Amanda instructed me to send her the check," Kalista continued. "She said that once she received the check, it would go into my chapter's account. She said that I would be able to tell her what I needed, and she would order supplies for me."
Kalista said that she told La Bell she needed newborn diapers. She said La Bell told her the diapers would be ordered, along with other items Kalista said she didn't order or need. Kalista said the first box that came was indeed what she'd ordered, but the second box consisted of a large amount of used prefold cloth diapers—many that were thrown out because they were too stained and some even torn, Kalista said.
Kalista said she received a check from the Foundation in February, and both boxes of supplies in April. Then she checked with La Bell in June to see how much money she had left to spend.
"She wouldn't give me a straight answer," Kalista said. "She only said that I needed to tell her what I wanted and that it would be ordered. I never received any other packages from Amanda, and I never found out what happened to the rest of my donation."
Snoddy said La Bell's been involved in other nonprofits, including the Skyline Foundation in Bend, a nonprofit supporting Bend-La Pine School's new charter school, Skyline High School. According to the Oregon Secretary of State's Office, La Bell is listed as the founder of the organization. Snoddy alleges La Bell was also part of the Free Spirit Performing Arts based in Tennessee.
A search of the Tennessee Secretary of State's website didn't show any businesses registered under that name, but a story on the website,
Knoxnews.com
in June 2013 stated: "La Bell is a homeschooling mother of two and runs a non-profit, The Rebecca Foundation's Cloth Diaper Closet, which is a national cloth diaper-lending service based in Maryville. She studied music and performing in Panama City, Fla.
'I was fortune enough through the years to work with the Atlanta Symphony and Orchestra, perform at Carnegie Hall, work off-Broadway, tour with Kansas and even teach amazing kids along the way,' La Bell said.'"
"She seems to have somehow held every title imaginable and she frequently moves to start over in a new town and is considering name changes," Snoddy said.
The Source reached out to La Bell for comment but received no response.
She announced last month she'd ended her campaign, but because she did so after the deadline to remove candidates from the ballot, La Bell's name will still appear on voter's ballots as a candidate on the Working Families Party ticket for House District 54.