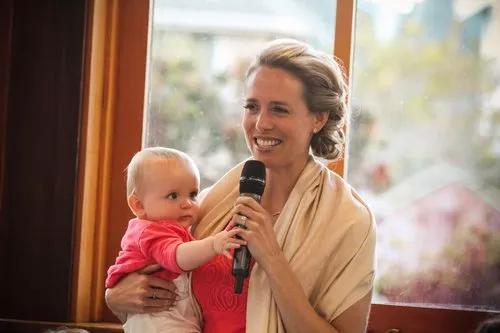 Photo courtesy of Carrie for Schools
Our pick: Carrie McPherson Douglass
ENDORSEMENT for Administrative School District Zone 7 At Large (Bend-La Pine School Board): Carrie McPherson Douglass
See video of our endorsement interviews below.
In this race, each of the three candidates brings something valuable to the table, but we believe strongly that the Bend-LaPine School Board needs more members with education backgrounds.
School board members are our best advocates for students and teachers in Salem. Unfortunately, in 2016, the Bend-La Pine school board made the unique decision among school districts around the state to publicly endorse a "no" vote on Measure 97. While the measure may have been flawed, this was a reflection of a board less concerned with advocating for school funding, and one more concerned with protecting business interests that may have been harmed by the passage of the measure.
Candidate Troy Reinhart is a strong business leader who would advocate well for the Bend-La Pine district in Salem. Furthermore, we wholeheartedly agree with his stance that the school board—and the district in general—should improve its communication with the public. Troy got our attention with his denunciation of the poor communication to parents, especially around the recent Highland School gym collapse. However, Reinhart still believes that the state has a spending problem rather than a revenue problem, and we can't support that position. Reinhart points out that revenues are up while overlooking the staggering number of kids in attendance that are also up as corollary to the rising tax base. In these tough, tough times for schools, Bend-La Pine needs someone who can keep an eye on the bottom line, while more importantly advocating for new and larger revenue streams for our kids.
Candidate Ricardo Olegario has a strong background with school budgets. He currently sits on the Bend-La Pine budgetary committee. He would be a solid advocate for the district, but, by comparison with the competing candidates in this race, he is simply outmatched in business acumen on the one hand and educational specialty on the other.
We are endorsing Carrie McPherson Douglass because she has committed her life to education. With a teaching degree, along with an MBA, and commitment to student achievement—through the educational nonprofit she's led for the past 15 years—we believe Douglass has her priorities in the right place and is a good fit for the direction in which the Bend-LaPine School system is heading.
We agree with the assertion Douglass made during our endorsement interview that people who understand education are able to ask tougher, more specific questions about the vision, standards, budget, staffing and other issues that fall upon school boards to decide. We encourage her to find a strong voice to tackle these many issues with the fortitude and assertiveness the job requires.
Vote for Carrie McPherson Douglass for the Administrative School District 1 Zone 7 At Large spot.
Need more information before you decide?
Read our endorsements for the candidates in the local, contested races, all the way up to election day, May 16.