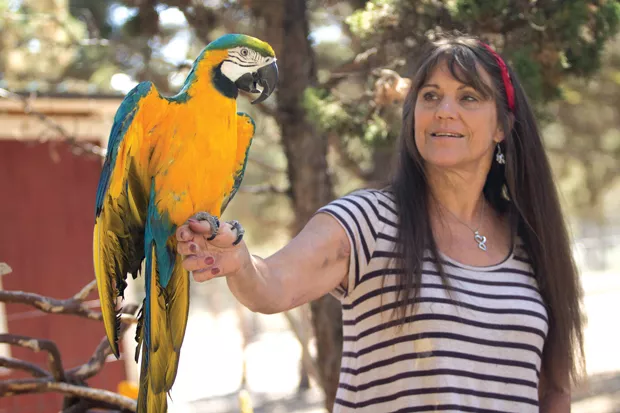 Kyle Switzer
Linda Rose Forney and her pet macaw, Cosmo.
Peter, a friendly Patagonia cavy, sniffs and greets us, while checking out the van. We have just arrived at Gramma Rose's Keeper of Peepers a few miles outside of Prineville, where the owner of this large South American rodent runs an exotic animal farm and petting zoo.

Originally from Molalla, Linda Rose Forney and her husband, Dave, moved to Prineville four years ago to build their dream animal farm. "We moved here for some breathing space and for the beauty," Rose says. "Here in Juniper Canyon, people live the way they want to." Realizing that it could take years for her vision to come to life, Rose recently decided to open her doors and welcome interested families to her unique animal farm. Animals who live here are from all over the world—some are rescued, some endangered, but all are loved deeply.
Rose owns hundreds of animals, and while there are definitely some favorites, all are family. Speaking of favorites, Charlotte, a young red kangaroo stands off a bit in the distance but is keeping a close eye on us. With a short hello and then one quick lunge, Rose has the furry friend in a sling, which makes it easy for us to hold her. Rose not only has an impressive collection of exotics, but is extremely knowledgeable about each and every one of them. While holding Charlotte (I had never held a kangaroo before), I listen as Rose shares some interesting marsupial facts.
Nearby and among Rose's newest acquisitions are a gaggle of nene, an endangered species of goose from Hawaii, who are crowding together to get a closer look. In the forefront, a dusty large tortoise inhabits a kid's swimming pool.


Kyle Switzer
5-year-old, Skye, enjoys some time with a gosling.
"I want to focus on wholesome fun for children," Rose explains, "Especially for those who don't have access to this type of fun. For kids who are nervous around animals or are afraid for some reason, I want them to leave here with more confidence than they came with." Rose tailors the visit to what works for each family. She is especially interested in working with special needs children and already has had some success with introducing autistic kids to horseback riding.
The petting zoo is now open to the public, and unlike being at a zoo, children interact up close with the animals. We enjoyed snuggling ducklings, holding a squirming rat, petting sheep and so much more. Rose recently trained her horse to pull a cart so that even little ones can go for a ride.
Throughout the property, charming enclosures, hutches and ponds dot the land. Moving along the cool shaded pathways, we come to a perch where Cosmo, Rose's pet macaw, calls out and even talks to us. Rose holds the large colorful bird. "His plumage is usually much more vibrant," Rose explains, "But he is molting right now."
Rose's first love is with the birds. Here on her farm, she breeds and raises all sorts, from ducks to swans, pheasants and guineas, she has several varieties of pigeons, exotic chickens and even a pair of black swans. They are all her pets, including one feisty bantam named Monster.
Rose traces her love for birds back to her childhood when she lived at Christie School for Girls in Marylhurst. "There I could keep two parakeets as pets. I earned money for the cage and took care of them." Rose says, "When I was adopted, though, I was not allowed to have any animals. I made a decision that I didn't ever want a child to be denied access to a pet. Later, I began raising doves and donating them to children."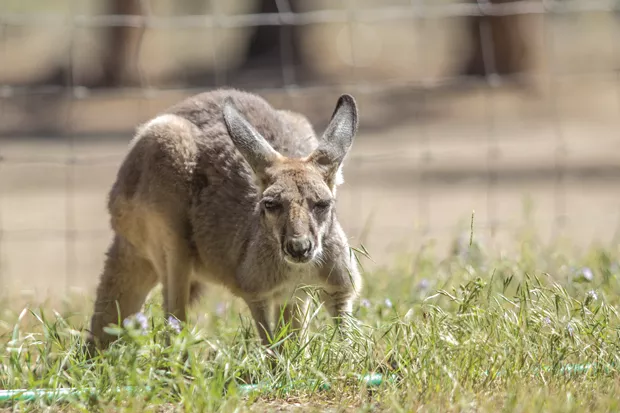 Kyle Switzer
Charlotte, a red kangaroo.
On the farm, the enclosures are clean and fresh-smelling; water in the pond is crystal clear. We are soon treated to a visual and auditory smorgasbord of colors, feathers and songs as we move along and peek in the aviary. Rose points out nesting pairs of doves in baskets and even lets us hold their eggs.
Directly behind the aviary, her black swans are swimming on the pond. Originally from Australia, with their elegant necks and shiny plumage, the swans are beautiful to watch as they practice their synchronized swimming. Peter, the cavy, who has accompanied us on the tour, taunts them. They strike back, hissing and pecking at the rodent causing quite a show.
As the tour winds down, we are finally introduced to Daisy, a Meishan pig from China and her buddy, Sasha, a mini Lamancha goat who both welcome us in their pen with snorts, kisses and nibbles.
Rose's hospitality is unmatched. She hosts all kinds of families and even urges them to bring a picnic and stay awhile.
Plan your visit:
Gramma Rose's Keeper of Peepers
13737 SE Shawnee Rd.
Prineville, Ore. 97754
Family Day
No reservations required
Sat., Sept. 8
10am-5pm
$4/person
Reserve your visit
Anytime
Call Linda Rose to reserve:
503-460-7908
$8/person